One of the seven executives on the cover of the 2022 Dallas 500, Rebecca Acuña represents government affairs for PepsiCo's portfolio of 22 brands, which bring in more than $1 billion each in annual retail sales. Tapping into her passion for politics, in 2020 she took on the challenge of overseeing President Biden's Texas campaign. It was a task outside of her comfort zone, but jumping beyond those bounds is a high priority for the emerging leader.
Education: University of Texas at Austin (BA-Government)
Birthplace: El Fuerte, Sinaloa, Mexico
First Job: "I was a communications director for a State Representative in the Texas legislature. I learned rapid response and communicating with cultural competence."
Best Advice: "'When you're no longer learning, it's time to move on.' In my mid-20s, I was at a job I loved. It was fun, I executed it well, and it built up my confidence. A close friend and mentor invited me to coffee and asked me, 'what's next?' Surprised by his question, I emphasized how happy I was at my current role. He asked, 'Are you still learning? Is there a new skill you will learn my staying longer? Is there a new project you will lead?' His words shaped the rest of my career. While not always leading to a career change, his advice encouraged me to take on new projects, take bigger risks, and challenge myself to get better and learn from everyone around me. I look to take on projects outside of my comfort zone to ensure that I acquire new skills and get stronger."
Dinner Party: "I would enjoy having a meal with Arcilia Acosta, president & CEO of Carcon Industries and Cynt Marshall, CEO of the Dallas Mavericks. Not only did Arcilia grow and rebrand her father's construction company, but she supports other women through her actions. And Cynt is a magnetic and transformative leader that I would follow anywhere."
Destinations of Choice: "I would choose México City for an explosion of culture and gastronomy; Sintra, Portugal for a romantic walk and magical garden experience; New Orleans for live music and decadent elegance; Miami for kayaking in Biscayne Bay, enjoying sandy beaches, and perfect winter weather."
Nonprofit Cause: "I am involved with organizations that help to change the face of political power by working to elect more women and people of color to public office."
Hobbies/Passions: "I satisfy my shopping addiction in Santee Alley, the Los Angeles garment district. I really look forward to the fashion and bargain hunting. For something closer to home, I enjoy supporting and mentoring young people interested in public service, particularly in the communications field. I find hiking and long walks therapeutic."
Local Fare: "The walk-up Trompo Taco in Bishop Arts serves up tasty tacos al pastor and the best elote in town."
Fun Fact: "I keep an emergency bag of spicy chips under the seat of my car."
Dream Car: "A slow drive in a convertible on a sunny spring day with just a hint of cold in the air."
Toughest Challenge: "As part of our Winning with Purpose agenda, PepsiCo and Frito-Lay are working toward numerous robust goals when it comes to sustainability. For example, last year, PepsiCo announced a transition to 100 percent renewable electricity for our U.S. direct operations, and we are transforming our fleet at our Modesto, California, site to near-zero and zero-emission technologies to further reduce our environmental impact. "
Second Home: "Thanks to the Community Reinvestment Act, I purchased my first home: a one bedroom, one bath condo in Oak Cliff's 75211, with a low down-payment. While I currently rent out the property, it allows me to build wealth and have the peace of mind of always having a roof over my head even in a worst-case scenario. When I was younger, my parents had to sell our family home when we were in a tight financial situation. This experience taught me to plan for tough situations like layoffs, or a family emergency, even in the best times."
Proud Moment: "My proudest moment came when we recognized the need to remove systemic barriers that inhibit low-income students from pursuing higher education, PepsiCo and The PepsiCo Foundation announced a $40 million scholarship and professional mentoring program to support Black and Hispanic community college students. The scholarships will provide 4,000 students in 20 cities, including Dallas and Houston, with funding for tuition and living expenses as well as professional mentoring, training, and work experience."
A Better DFW: "We need more parks and green spaces for adults and kids. These spaces foster outdoor family time and encourage physical activity."
Walk-Up Songs: "Although the lyrics are not PG, any song by Pitbull. The high energy music lifts my mood and makes me want to conquer the day."
Must-Read: "How to Win Friends and Influence People by Dale Carnegie. Contrary to its self-serving title, the book is about the importance of treating everyone with respect and listening more than you talk."
Future Forecast: "I cannot wait to see those I have counseled, supported or mentored in politics take positions of leadership and make a positive difference in our community, city, and state. When we all pay it forward, our community wins."
Industry Trend: "I'm glad we have an opportunity to lead positive change on sustainability. At PepsiCo, we believe that there is an opportunity to change how the world produces, distributes, consumes, and disposes of foods and beverages to tackle the shared challenges we face. We aim to use our scale, reach, and expertise to help build a more sustainable food system; one that can meet human needs for nutrition and enjoyment, and continue to drive economic and social development, without exceeding the natural boundaries of the planet. As well as being good for our business, working to realize this purpose is also the right thing to do. Where our food system may be operating in an unsustainable way, it can create supply chain, operational, and financial risks for our company. By contrast, addressing risks within our value chain and the wider food system effectively can create new opportunities for competitive advantage and future market growth, while also supporting the communities in which we operate."
This Q&A is extended content from Dallas 500, a special edition produced by D CEO that profiles the region's most influential business leaders. Visit www.dallas500.com for details.
Get the D CEO Newsletter
Stay up to speed on DFW's fast-moving business community with weekly news reports, interviews, and insights.
Author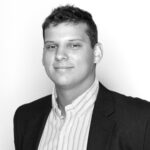 Ben Swanger is the managing editor for D CEO, the business title for D Magazine. Ben manages the Dallas 500, monthly…