It's no secret the airlines industry took a massive hit during the pandemic lockdowns of 2020. Passenger traffic was down 96 percent year over year in April 2020. Recent research suggests numbers are improving, but the industry will still report net losses to the tune of $52 billion.
Business travel is still in flux, and international restrictions are ever-changing, so conditions for the industry's anticipated recovery are still TBD. Additionally, there are changes at the top of the local biggies, with Bob Jordan replacing longtime CEO Gary Kelly at Southwest Airlines in 2022 (Kelly will stay on as executive chairman) and American Airlines preparing for Doug Parker's retirement.
As the industry takes off into unknown skies, a recent panel on customer engagement at Southern Methodist University had executives discussing lessons learned and marketing tactics for the world ahead.
Here are excerpts of some key takeaways and predictions from the experts: Hal Brierley, CEO of The Brierley Group, executive in residence at SMU, and one of the creators of American Airlines' AAdvantage rewards program; Kurt Stache, former senior vice president of marketing, sales, and loyalty at American Airlines; Geoff Cottrill, chief marketing officer at Topgolf; and Thaddeus Arroyo, CEO of AT&T Consumer.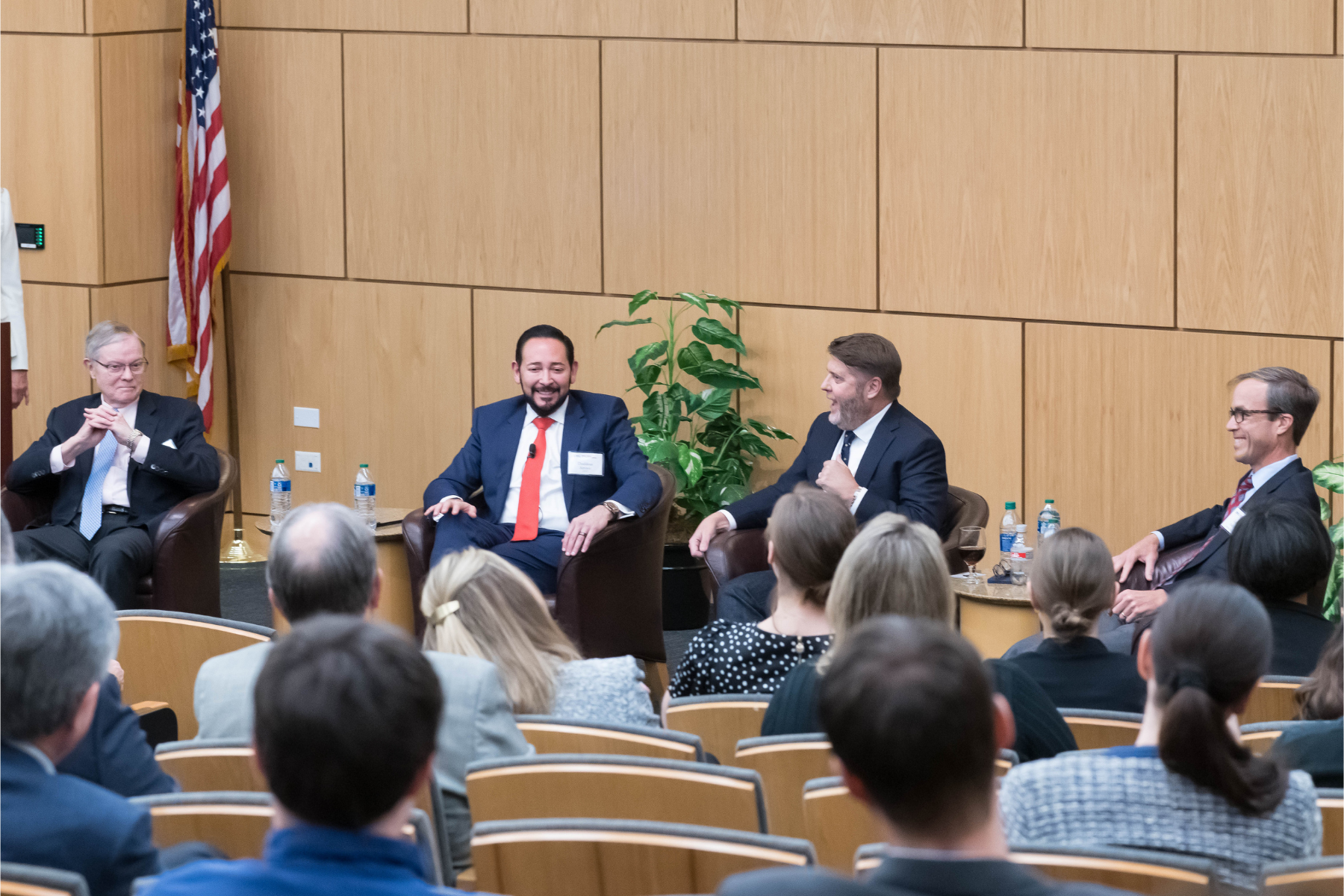 Boosts from frequent flier programs and credit cards.
Stache: "We raised debt on our balance sheet aggressively in the first three or four months [of the pandemic], and who would have thought that the best way to raise money was to take advantage of the frequent flyer program. These programs are worth billions of dollars to the airlines, and they are the highest-margin part of the business. That source of revenue, besides getting all of you to fly American as much as possible, is to open a credit card; these credit cards generate billions of dollars for the airline. So, we were able to go to banks and lenders and say, 'This is a stream that COVID [brought] it down for a few months—credit card spend went down about 70 percent—but guess what? Three months later, credit card spend boomed, because all of you were at home, and between Zoom calls, ordering what you needed to order."
Brierley: "It's interesting 75 percent of all travelers have one or more credit cards that earn airline miles or hotel points. Forty percent of all travelers have two or more of those cards. Forty percent of those people [who have two or more cards] put 80 percent of their charge activity on that card. And during COVID, literally, the people with two-plus cards, increased the share of spend on their travel card by 32 percent. … Early on, people were saying no one's going to travel again. Well, that was crazy. People said loyalty programs were going to die. That was crazy."
Leisure travel is back, but business travel is still stalled.
Stache: "There is a desire for travel—always has been, always will be. There's nothing like visiting friends and family and seeing the world. And airlines in this country are probably roughly between 80 and 90 percent back to pre-pandemic levels from a leisure perspective. The big billion-dollar question is what happens to business travel? It's simple math in the airline business. for big international global network carriers like American, Delta, and United … business travelers generate over half of the airline's revenue.
So, [business travel is] a very high-yield business—and it's coming back. You see it. The question is to what extent and how long will it take to get it back? In an industry with really thin margins, that is the difference between making money and losing a lot of money. … There are a couple of levers in the airline industry that can help, and things have already been underway."
Empathy in marketing will be key—for all industries.
Brierley: "I don't think there's ever been a time for more uncertainty around what the consumer wants and how the consumer is going to act. The word that is the most misunderstood, or not understood at all, is empathy. And start to think about what the consumer wants. Marketers spend far too much money on promotion, and not nearly enough time listening.
Arroyo: "There's going to be unique opportunity in understanding this unmet demand. This isn't a six-month issue. This is probably a multiyear issue of what ultimately, we built and backlogs of demand over the last two years in this abnormal environment."
Cottrill: "It's something we forget about in marketing: We forget to care about people the people that we sell things to. As you enter the marketing world, don't treat empathy as the newest buzzword. But that's what we do in marketing. Ad Age writes a story about empathy, and suddenly, everyone's talking about it. … It's a requirement that you can put yourself in someone else's shoes. It's not about you. It's about them. So, empathy with a capital E."
Get the D CEO Newsletter
Stay up to speed on DFW's fast-moving business community with weekly news reports, interviews, and insights.