A Corinth-based coffee shop owner is out to transform Gainesville, a small North Texas border town, with a 60,000-square-foot redevelopment project. Plans call for a hotel, climbing gym, coffee shop and roastery, restaurants, event venue, and more to be housed within the space.
"We're trying to be that catalyst to try to get people to start migrating up that way," said James Combs, founder of Combs Coffee.
The development sits on a 5-acre city block bordered by Broadway and Scott streets to the north and south and Dennison Street and Pecan Creek to the east and west, just down the street from Gainesville's downtown. Its eight buildings were built between 1888 and 1918 and were once home to a flour mill, creamery, icehouse, and power company. Later, Coca-Cola purchased the icehouse portion of the space and turned it into a bottling plant, then a brand museum.
Most recently, a recycling center operated out of the icehouse and portions of another building on the property.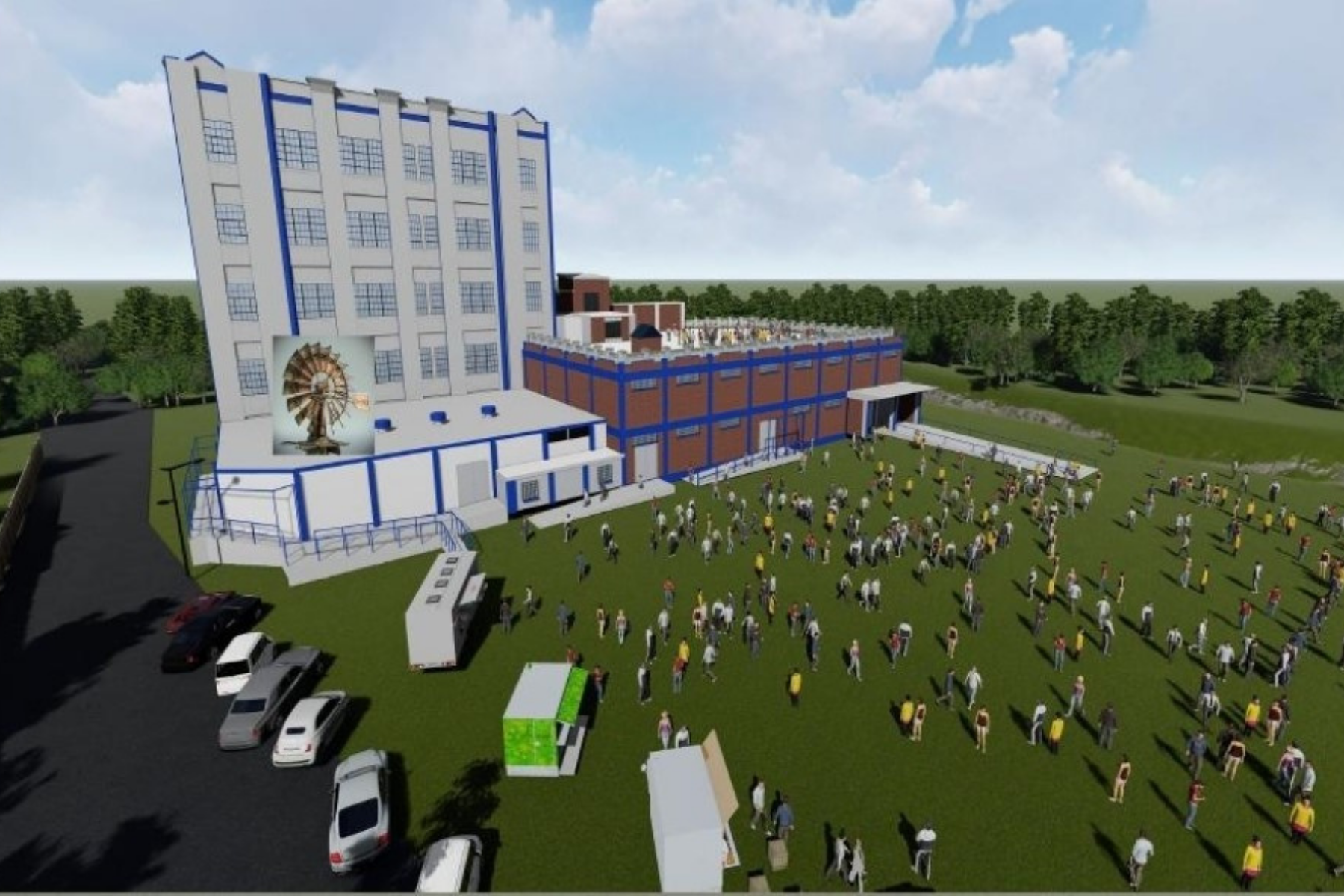 "We're trying to blend some of the old nostalgia of the history of the complex and get it registered as a National Historic Site," Combs said. "While also giving it more of a 'resto-mod' type of feel." The replacement cost of these buildings would be roughly $25 million in today's market, he added.
A Place for Coffee, Creatives, Cuisine, and More.
The front building of the development, on the intersection of Broadway and Dennison Streets, was once a scale-house, where mill workers would weigh trucks full of grain. Now, it is home to Combs' 2,000 square-foot coffee shop. His roastery, which is housed in another building on site, is the world's largest solar-powered coffee and cacao roasting operation. Power sources are split between the two buildings—31 kilowatts atop the roastery space and 8 kilowatts above the shop.
"We have 108 solar panels that we strapped on to the top of the coffee shop and the roasting spaces," Combs said.
Combs left a career in finance to launch his coffee concept and roasting operations in 2013, making a name for himself in the specialty coffee community for his entirely solar-powered operations, hydroponic gardens, and ethical sourcing.
He purchased the new Gainesville location, which he calls CAB (Community and Business) Station, in 2020, and used the time during the pandemic, when contractors' work was slower, to remodel the portion that is now the coffee shop. Stash Design, the firm behind Davis Street Espresso and Wild Detectives' décor, helped Combs use upcycled and repurposed materials, such as reclaimed wood and an old tractor seat, to furnish and adorn the space.
"Every single thing we could think of, minus the machines, is reclaimed," Combs said.
Behind the shop sits a lone food truck in an open field, where Combs hosts a community market on Saturdays through his nonprofit, also named CAB Station. The nonprofit is dedicated to helping budding entrepreneurs launch their small businesses. The field is also home to a concert stage made from shipping containers.
"I wanted to take my experience being on the board of directors of the Denton Community Market and set up something similar up here," he said.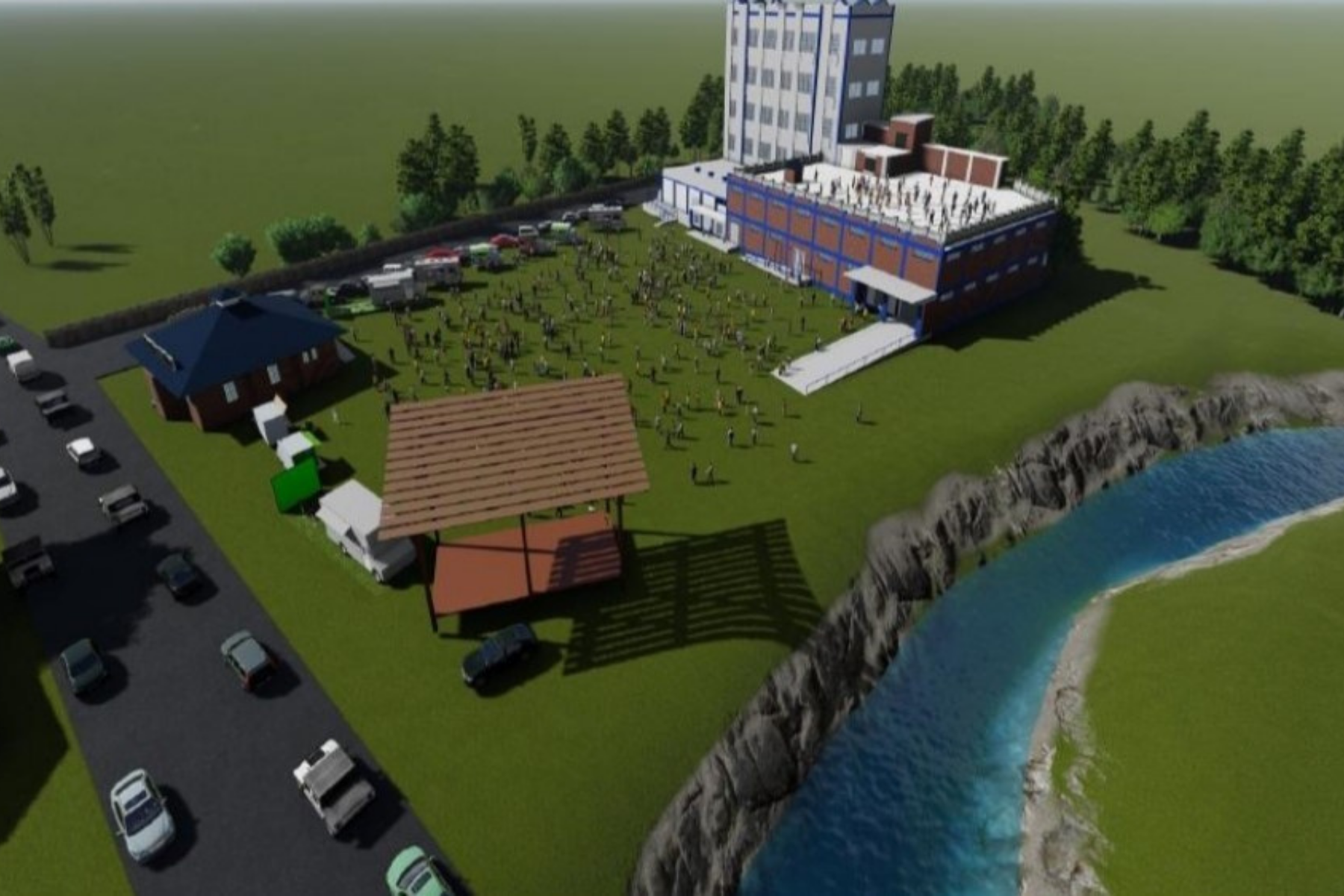 A building behind the market space is a two-story, steel, concrete, and brick structure that Combs has spent the pandemic clearing out. Because the 30,000 square-foot structure once housed a flour mill, its materials and steel columns are built to last— able to withstand an explosion, a common occurrence among mills back in the day.
"The last flour mill that they have in this town burned to the ground," Combs said. "They built this one in its place and they over engineered the living daylights out of it to make sure that it would not burn."
He's working with Oak Cliff's Tyler Station co-owner, Gary Buckner, as a business partner and minority shareholder to model the lower level after their design, which features a collection of roughly 215–500 square-foot vendor booths.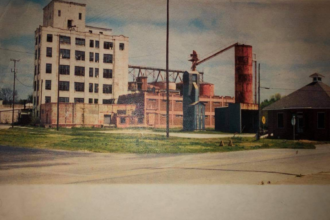 "We're potentially going to have a restaurant in here, but primarily we want to make this [lower level] a maker space," Combs said.
He's hoping some of the makers will be able to provide bites and services for future brides, as the upper level may become an event and wedding venue with a commercial kitchen.
Another portion of this two-story building and perhaps its rooftop, which Combs has replaced with walkable material, will be dedicated to a restaurant concept from one of Petra and the Beast's minority owners, who is a native of Gainesville.
"[He is] dead set on putting a restaurant in here," Combs said.
The building next door, a six-story structure, Combs says will become a hotel. Both buildings house basements that Combs would like to turn into speakeasy-type locales, with perhaps a whiskey tasting room somewhere in the underground mix. Historic tunnels, rumored to originally connect these structures to the larger town, still connect the two buildings, and Combs intends to put them back into working order.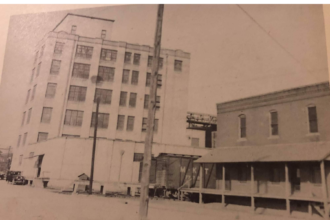 "During prohibition, [Gainesville] went completely dry and was really conservative, and Fort Worth was not so," Combs said. "So, a lot of people bringing lots of cattle and grain, they just went to Fort Worth. They bypassed Gainesville. … So, this town shriveled up based on that one decision. But, at the same time, the infrastructure here was so much mightier than Fort Worth was at the time, they just kind of shot themselves in the foot."
Named after U.S. General Gaines, the town struggled to prosper in the 1850s due to constant threats from Native American attacks on the other side of the Red River. After the Civil War, it became an established cattle town, accessible via the Katy Railroad, which ran through Texas from the north and connected Gainesville to Fort Worth and cities further south. Gainesville was propelled through the Great Depression with help from a nearby oil discovery and its nationally renowned circus, but it remained a small border town. By 2000, its population was just over 15,000. Now, it is home to roughly 16,500 North Texans with a median household income of $44,753, according to the 2019 census.
The development is positioned in the heart of the town, just blocks from Main Street and the historic stretch on California Street, which resembles the centers of many Texas small towns—a row of shops and local businesses along an old brick avenue. An Amtrak station is nearby, offering accessibility from larger cities. I-35 North runs through the town west of the development, and U.S . Highway 82 runs just north of the town.
Ideally, Combs would like to work with a large hotelier to manage and operate the hotel, but he is entertaining offers from locals who are interested as well as pondering the possibility of running operations in-house. "We're still in the very early stages," he  said.
Climbing to New Heights in a Historic, Small Town
Behind the hotel is a former grain refinery, where mill workers would dump the grain after weighing it at the front building, process it, and transport it to the six 150-foot silos on the building's backside.
Combs wants to make the building and its accompanying silos into a rock climbing gym and bungee jumping station. He has already hired Ben Wright and Tanner Fontenot, the two men behind the redesign of the Carrollton silos climbing gym, which can still be seen from Interstate 35, though it went out of business as a result of COVID.
"We took a look at what [Combs] had and what he was planning and were just blown away," Wright said.
A skywalk will connect the hotel and the climbing gym. The new gym will feature several types of climbing—bouldering, top rope, and lead climbing—inside, in addition to outdoor climbing options on the gym's exterior, where Combs plans to have a mural painted. The rooftop will house a bungee jumping station, Combs said.
"What we're trying to do is bridge that gap between the indoor side and the outdoor side [of climbing]," Wright said.
Wright and Fontenot plan to base their current company, which hosts adventure rock climbing trips across the country, out of this new location in Gainesville.
"For me, that location is prime to explode," Wright said.
A long building on the far side of the development once housed an icehouse, and later, the Coca-Cola bottling plant and museum. It then became a recycling center, which operated until Combs took over.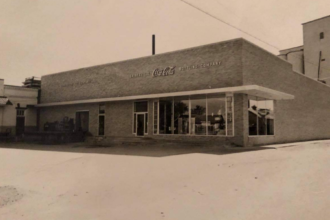 Combs says old-timers still swing by with bags of cans occasionally, but now, the 10,000-square-foot space is what he calls his coffee laboratory and his roastery. The front portion of the building houses a counter and roasting machine, where Combs holds coffee education classes and stores bags of roasted coffee beans. A room next door houses even more equipment for classes. Upstairs are Combs' offices.
The back portion of the building will become a car museum, an effort led by Combs' father, who has already moved several collectible vehicles into the space. His father's light sport plane, which has set five Guinness World Records, including flying to all 50 states, will also rest there. The father-son team is restoring the space to its former glory, in a sense.
"It was a car museum back in the '70s," Combs said. "One of the previous owners was a car dealer in town named Frankie Schmitz, so he had a car museum back here and a Coca Cola Museum."
The final building, formerly a creamery, will also return to its original purpose: Comb's hopes to reinstate a creamery or ice cream parlor inside the building and fill its some 20-odd rooms with restaurant and dessert concepts.
"There's a ton of opportunity for more established businesses to be involved," Combs said.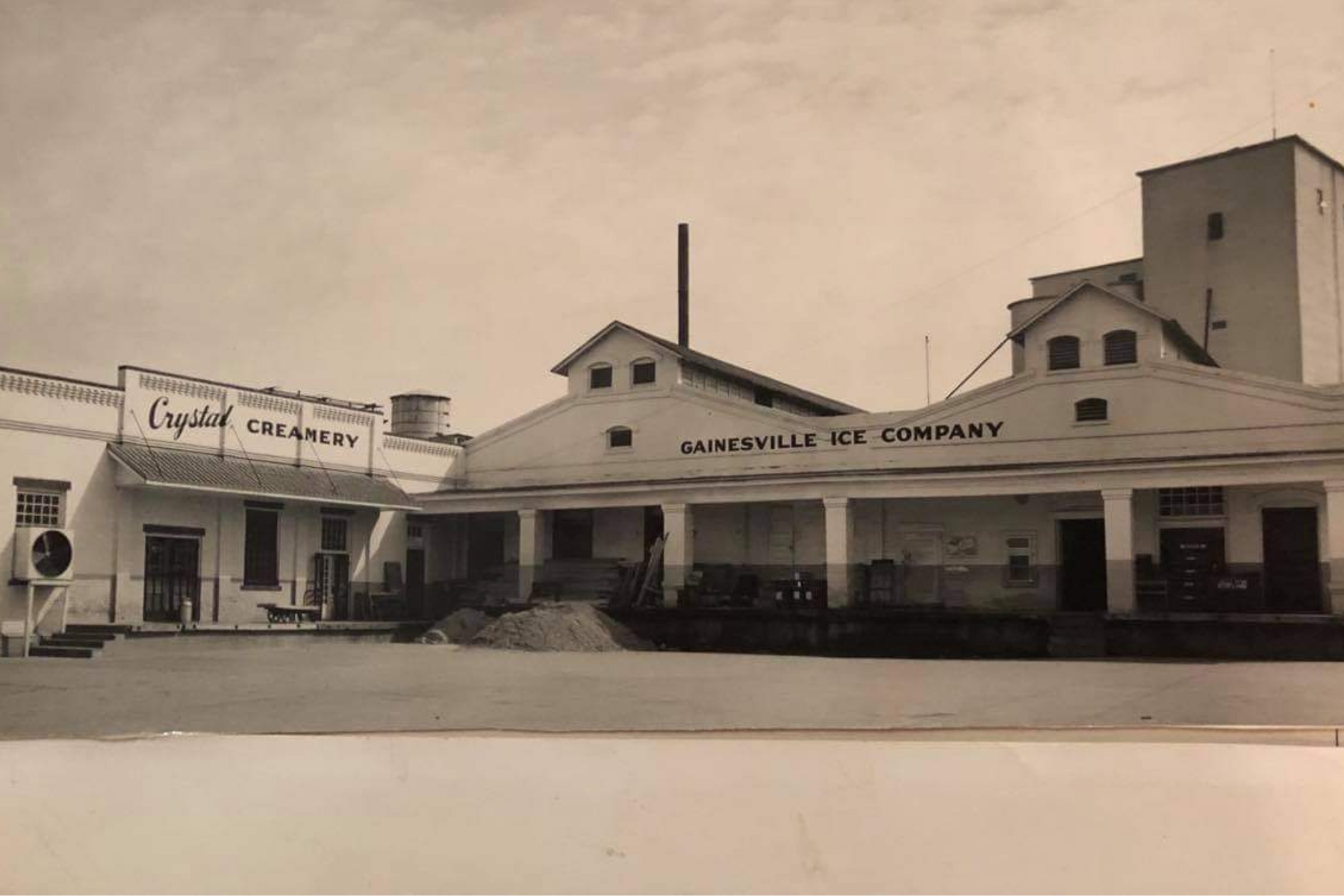 The Road to Completion
With the coffee section of his new undertaking up and running, Combs' next step is fire safety and establishing the historic development under the proper tax credits. The sprinkler system alone is running Combs upward of a quarter-million.
"We kind of backed off the throttle until we can get proper funding," he said.
So far, Combs is aiming to keep his enterprise entirely self-funded, aiming to acquire an additional $17 million from lenders.
Combs is working with sustainability-centered and Dallas-based firm Sunergon and Oikia 21 on the entire development's architecture and engineering. He is also in talks with the owners of the large scrapyard neighboring the property to purchase it and convert it into space for parking.
Combs has spent well over two years working with the City of Gainesville to ensure this property is properly permitted and classified historically. Rezoning took a long time, according to Combs.
"We had to get it rezoned to a mixed-use plan development," Combs said.  "That took a very, very long time, trying to just talk and convince everybody within city council, and the mayor, and city manager about what our plans were to do this and showing them Tyler station as a model of something that was bigger than this that was completed.." he said.
Once the space was rezoned, Combs worked to get certificates of occupancy in all eight buildings. Now, he is working to update the user type from storage to retail, update fire safety and HVAC elements, and earn historical tax status. Once all that is done, Combs says he has been assured the work can be completed in two years.
"Our engineers and architects said they can get this knocked down about 24 months, which would be crazy," he said. "I'm hoping that it's that easy, and we can get lightning to strike, and everything just catches on fire."
It sounds like a tall order, but Combs, who admitted to having worked 19-hour days in the week prior, is used to, and up for, the challenge.
"I'm definitely a workhorse," he said.
And the economic impact for Gainesville, Combs believes will be huge, creating a memorable stop on the road from Dallas to Oklahoma City, improving parking for the downtown area, and creating jobs and space for entrepreneurs to grow their businesses.
"It'll be a huge boon for the area in general," Combs said. "I think it's just going to draw a ton of traffic into it. The parking spaces alone are going to be a huge asset to the city."
Eventually, he hopes to expand into other cities with similar historic rebuilds, too.
"If we can do this, right, I think this is a model that can be scaled and replicated in multiple cities," Combs said.
NOTE: A previous version of this story indicated that a Petra and the Beast spinoff was eyeing space in this development. The story has been corrected to show that that restaurant space will be a concept from a minority owner at Petra and the Beast, not a spinoff in menu or design. 
Get the D CEO Newsletter
Stay up to speed on DFW's fast-moving business community with weekly news reports, interviews, and insights.