M Crowd Restaurant Group CEO Edgar Guevara says he intentionally made each Mi Cocina's design unique.
"We were starting to go down the path of building similar style buildings and doing a lot of things that are similar because it's easier on the office," he said. "My approach is different."
M Crowd will open its 22nd Mi Cocina at Klyde Warren Park next Monday (Oct. 18). Mi Cocina on the Park will be located in the coveted spot previously occupied by Savor, which closed in 2020.
"Mi Cocina has a rich history in Dallas, and the opening of this unique landmark location coincides beautifully with the celebration of our 30-year anniversary serving our loyal supporters," said Guevara, who stands on the shoulders of the brand's founders Ray and David Washburne, Bob McNutt, and Michael "Mico" Rodriguez.
The 11,000 square-foot location will feature three spaces, a Mi Cocina dining area, an upscale bar, dubbed The Bar on the Park, and a kiosk facing Pearl Street, called La Parada. In all three, Guevara hopes to balance Mi Cocina touches with "an essence of Mexico" while embracing renowned architect Thomas Pfifer's structural work, which sets the restaurant over Woodall Rogers Freeway.
"The way Lance and I have talked about this building, it's really a lantern at night," Guevara said.
The dining area will be designed by Dallas architecture firm Droese Raney, who redesigned the Monkey Bar in Mi Cocina in Highland Park Village, downtown retailer Forty Five Ten, and Matt Alexander's Neighborhood Goods.
"Lance [Raney] understands our brand," Guevara said.
The walls inside the Mi Cocina space that are visible from the street, what Guevara describes as the lantern's core, will feature lava stone cut and shipped from Puebla, Mexico.
"We're spending a lot of money on lighting to make sure that that that wall becomes a prominent feature," Guevara says.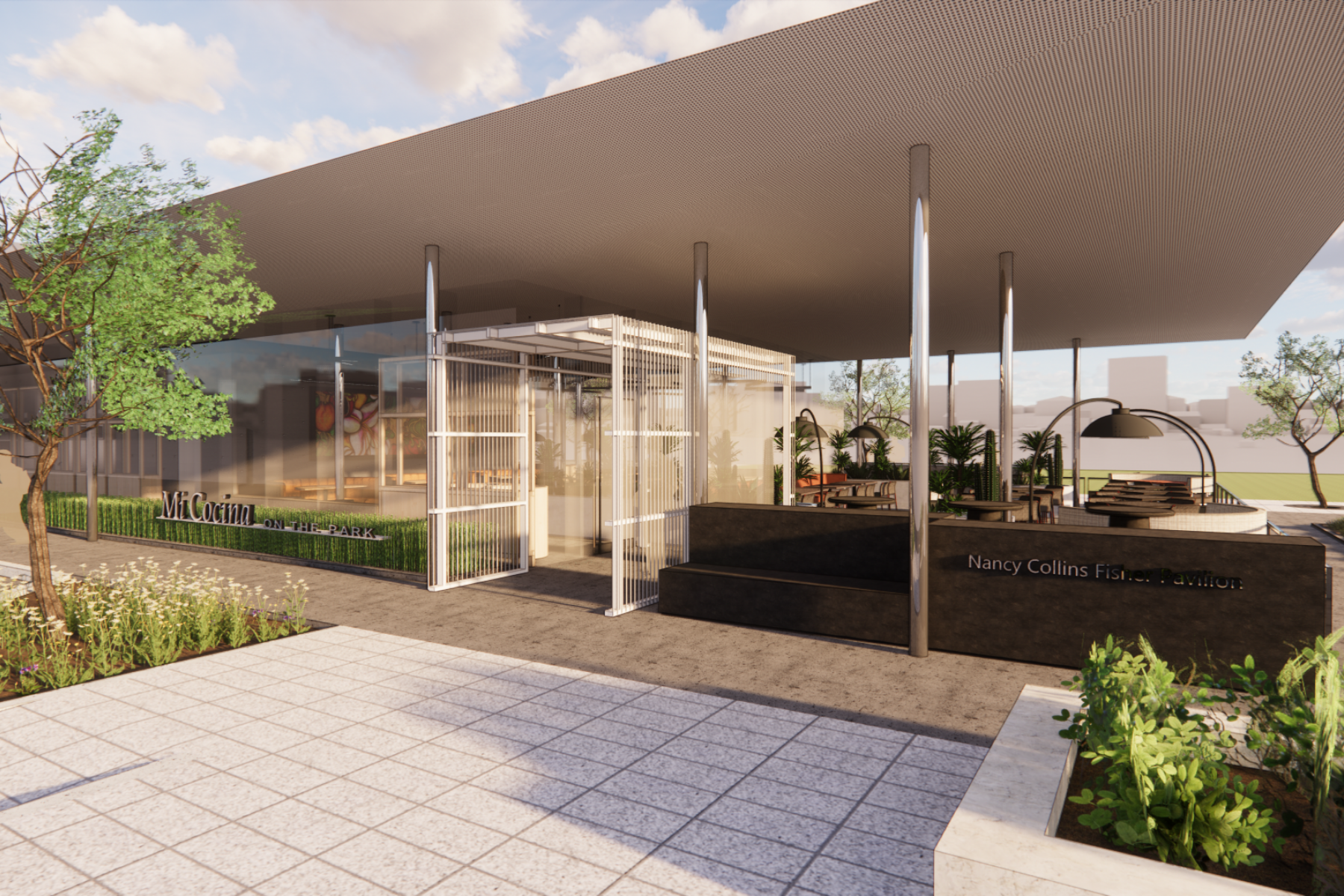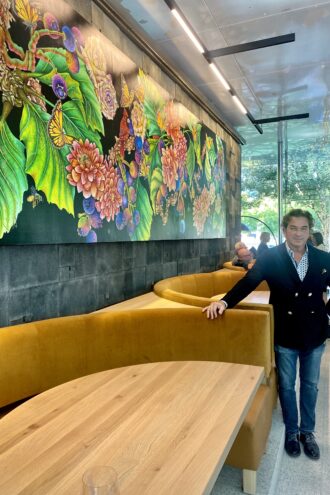 The primary Mi Cocina space will also showcase custom furniture and pottery—designed by local artisans—over terrazzo tile flooring. It will also highlight an art installation by Luis Sottil, who has completed art for Mi Cocina's Lakewood and Highland Park locations in the past.
At the same time, the outdoor dining areas will feature custom tiled tables and European heaters chosen for their aesthetic, large domes that serve as heating and lighting, as well as hand-packed concrete planters. The Mi Cocina dining menu will remain unchanged, though Guevara has a brunch selection planned.
The Bar in the Park, which will feature a separate menu of cocktails and smaller bites, was designed to offer event-goers at the nearby Klyde Warren stage an option to socialize and spectate a bit further from the stage. Guevara says it will allow event-goers to watch events from a more traditional dining setting, a bit further removed from the stage if they so desire.
Neighboring La Parada will feature grab-and-go pickup windows and a menu starring the MiCo margarita—a new recipe made specially for the kiosk.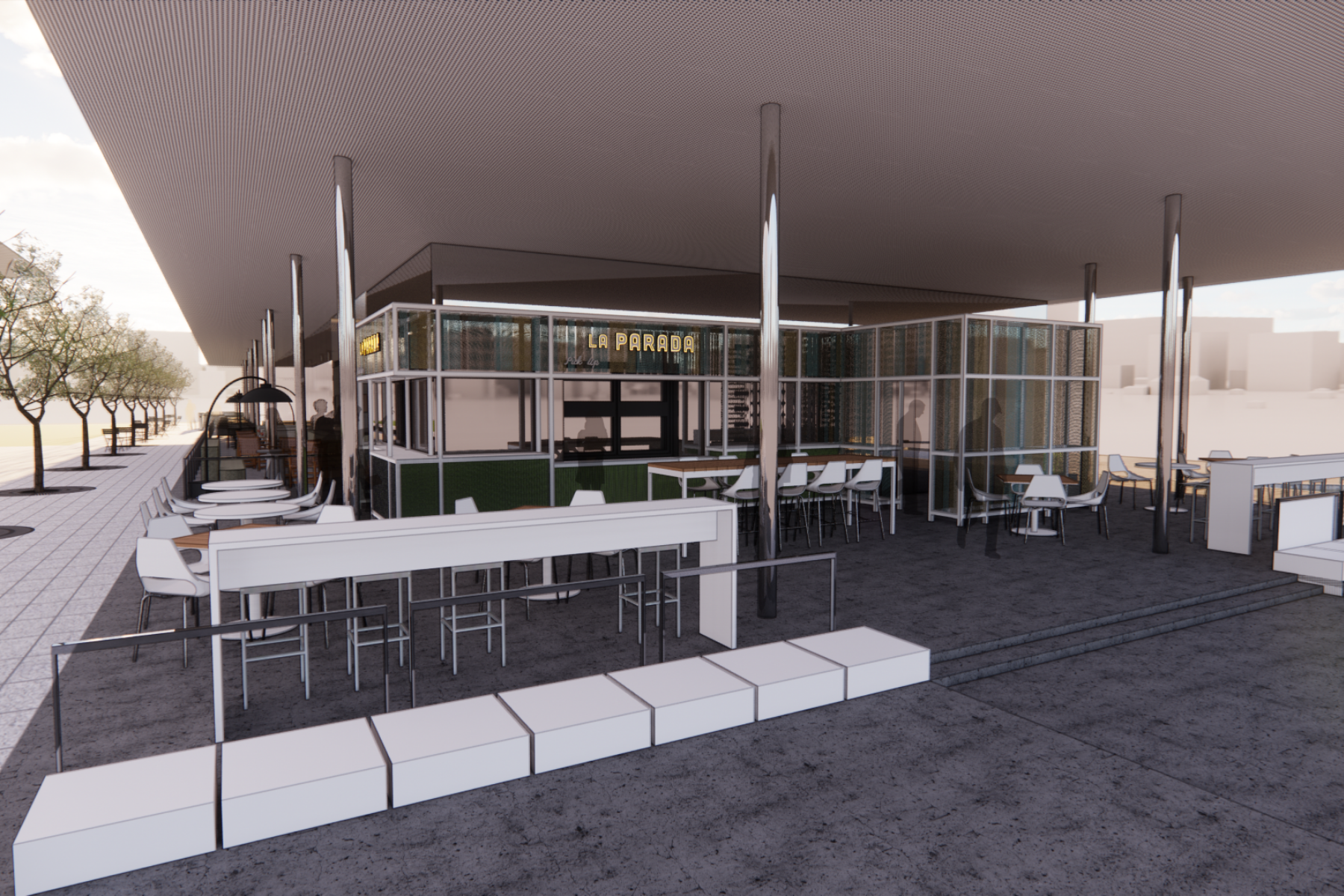 "[La Parada] will serve our cheeseburger, brisket grilled cheese, and a great margarita that we've created just for the park," Guevara says.
Eight percent of sales from all three spaces will go back into the Park, and M Crowd recently donated $50,000 to Klyde Warren during a Friends of the Park preview event.
"Successful restaurants are an economic engine for many parks around the world, including Central Park in New York and Millennium Park in Chicago," said Kit Sawers, Klyde Warren Park president. "We're thrilled to bring together two iconic Dallas brands in Mi Cocina and Klyde Warren Park and to offer our patrons exceptional Tex-Mex cuisine while they enjoy the Park's stunning views."
Guevara hopes to continue growing Mi Cocina as a "collection of neighborhood restaurants" within Dallas in the coming years.
"I think we have the opportunity to build three or four more for sure," he says, adding that he will wait for the right real estate opportunities before advancing. "I think a lot of people want to grow for the sake of growing, and it does nothing but hurt you long-term."
Beyond DFW is a possibility, he says. "I'm bullish on our company," Guevara adds, saying that any opportunities in markets outside DFW would require careful evaluation, and his approach would be to build a single market out rather than opening sporadic locations in several different cities or states. "If you're going to go somewhere, go."
For now, Guevara is focusing on remodeling some of the brand's older restaurants and getting Klyde Warren Park off the ground.
"This is what I would say is Main and Main in Dallas," he said. "This gives us a good chance of winning, and so when we find another space that way, we'll go build another one."
Dianté Marigny contributed to this report.
Get the D CEO Newsletter
Stay up to speed on DFW's fast-moving business community with weekly news reports, interviews, and insights.