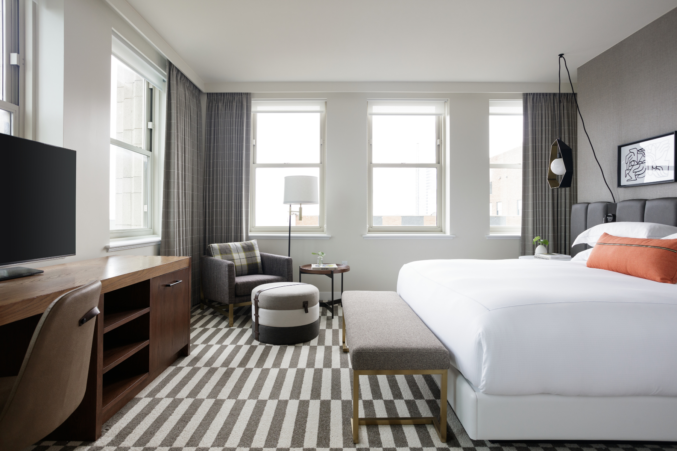 A DFW Staycation: Sleep Well in This Reimagined Historic Building Near Sundance Square
The Kimpton Harper Hotel is both an homage to Fort Worth's past and a crown to the area's recent hotel revival.
I have always loved Fort Worth. Its rich art scene and historical background have long made the city one of my favorite local haunts to spend the day—or weekend in. Whether it's soaking up the Kimbell Art Museum or catching a Broadway show at the Bass Performance Hall(Come From Away will kick off the theater's Broadway season this October), I consider it my home away from home.
My affinity for Fort Worth has grown over the past year as my boyfriend lives in the area and has introduced me to his favorite spots, such as our new regular breakfast hangout, Esperanzas. The eatery was opened in the South Side by a family member of local favorite Joe T's and is everything Joe T's isn't—authentic. While we could easily spend an entire weekend exploring different parts of the city (for example, I really want to go to Hotel Drover, which my colleague wrote about previously), Owen and I recently decided to spend a weekend exploring Sundance Square while visiting one of the newest hotels to open in Fort Worth, Kimpton Harper Hotel. This is Kimpton's second DFW hotel and its third in Texas. (Click here to read about its Deep Ellum location).
Located at 714 Main St., steps away from the 55,000-square-foot entertainment hub Sundance Square, the Kimpton Harper opened this summer after Memphis-based Development Services Group acquired the landmark building from XTO Energy. A sucker for reimagined old spaces, the visit was a must. 
Initially built in 1921 by famed local architecture firm Sanguinet & Staats as the headquarters for Farmer's and Mechanics Bank, the redevelopment is both an homage to its past and a crown to the area's recent hotel revival.
Walking in, the hotel entry has somewhat of a Grand Central Station feel that reflects Fort Worth's strong railroad culture—elements such as walls clad in white subway tiles and drum lamp shades add to the ambiance. An elevator ride up to the 24th floor takes you to the hotel's lobby with sweeping views of Fort Worth (one of the tallest building's in the area) and the Sanguinet Boardroom, which was named in honor of the building's original designer. Along with the boardroom, the second floor Centurion Ballroom creates 10,000 square feet of event space at the hotel. 
Designer Cynthia Forchielli of Forchielli Glynn Interior Design brought the interiors to life. Inside the hotel's 226 guest rooms, you'll find a strong focus on local art (such as a black panther figurine in each closet) and handcrafted furniture with subtle nods to Fort Worth's roots. These include handcrafted furniture, brass pendant lights, woven baskets, and local works of art. Expect a fresh, modern feel with a nod to mod and mid-century styling.
Frette bedding, Atelier Bloem bath products, Bluetooth speakers, and plush bathrobes gave me major boutique vibes (which is a hotel trend I am all for). Should you stay in one of the Kimpton Harper's 31 one-bedroom suites, a major wow factor is its sizeable glass-enclosed shower complete with a stand-alone soaking tub. 
The hotel also has a fantastic pet policy with no fees, which made my Dauschund baby Figaro happy to be able to tag along. 
Other hotel perks include complimentary coffee and tea service, a nightly social hour in the lobby from 5 to 6 p.m. and a high-end fitness center with Peloton bikes. The hotel also has complimentary bikes you can check out to ride around downtown or explore Sundance Square. My boyfriend and I made sure to head over to the Fort Worth Water Gardens for a little outdoor meditation.
During the day, the popular destination is a great place to shop or grab a bite to eat—and only a short distance to the Fort Worth Water Gardens. Spend the evening enjoying some of my favorite haunts, such as Scats Jazz Lounge, Hyena's Comedy Club, or the Jubilee Theater. 
While Fort Worth has carved a special place in my foodie heart, I made sure to stop in the hotel's signature restaurant, Il' Modo, led by executive chef Greg Pawlowski. While there, make sure to check out the site's original copper doors, which were retained as a decorative piece near the bar. 
The restaurant is somewhat understated in its design, but I think that plays into its whole vibe. Described as a rustic take on modern Italian cuisine, the menu is short, and all food is prepared with locally sourced ingredients. What should you order? Made with dry-aged beef, spicy Pomodoro, basil, parmesan, the meatballs from the antipasti menu are a must. I particularly enjoyed the roasted Ora King salmon, served with heirloom tomatoes, cucumbers, and garlic fry bread, as the main dish. A bowl of sorbet was a perfect way to finish the meal before retiring for the night.