When her doctor suggested she cut certain foods from her diet while nursing her daughter, Lauren Schwalb recognized how hard it was to find truly clean foods.
"She was allergic to something I was eating," Schwalb says. "I really started looking at labels … and I was like wow, why are there all these added ingredients in here?"
Schwalb found, for example, that dairy is in bread, and soy is in almost everything—which didn't make intuitive sense and makes it challenging for people to avoid these ingredients. In particular, Schwalb found that clean grab-and-go items to be tough to find.
A few months later, her husband's switch to Whole 30 solidified the idea for Ohla! Foods—Schwalb's brand of clean tortillas and ChipOhla (a cross between a chip and a cracker). After cutting out various foods, the couple noticed a significant improvement in the way they felt. Schwalb identified the need for healthy food that didn't compromise flavor and was children-friendly, too.
"I really want to make [Ohla!] approachable, and as a mom of two kids, I want my kids to like what we eat too," she says.
For her first product, Schwalb wanted to tap into her love of Tex-Mex to produce a clean tortilla that, like Central Market tortillas, had a soft texture but wouldn't fall apart. Once the kitchen tinkering began, functionality and flavor were at the top of her list.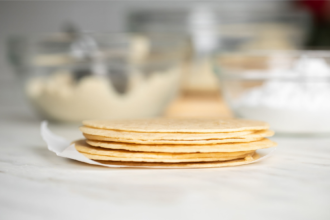 "As I developed my tortilla, I spent a lot of time making sure ours were thicker and softer… and that they wouldn't break," she says. She even sent the Central Market tortillas to her food scientist for reference. After countless taste tests with friends and family and gaining her two daughters' stamp of approval, Schwalb was ready to find a co-packer—in the middle of a pandemic.
Co-packers weren't looking to sign startups during the pandemic, she says. And the added element of having a tree nut ingredient—a common allergen that created liability—didn't help, but she was determined to find a co-packer in Texas.
"Time after time, I was either turned down because they don't accept tree nuts … or I didn't hit the minimum quantity order," Schwalb says. "That was defeating, but I kept going." Finally, after about a year of looking, she found her perfect fit—a Texas-based, gluten-free co-packer in New Braunfels called Good & Free Foods.
Now, only a year and a half after starting her company, Schwalb landed a deal with Central Market last month. "Being able to go grocery shopping and see our products, it's really the coolest feeling in the world," she says.
Because she started Ohla! as a consumer who noticed a gap, Schwalb puts herself in the consumers' shoes to continue learning, evolving, and growing her brand.
"If you're passionate about something and you can't let it go, you go for it, but don't do it without knowing that it's going to be a lot of hard work," she says.
Schwalb has three new chip flavors under development—garlic and herb, cinnamon sugar, and cracked black pepper—with more ideas in the works. Products for children, different convenient sizes, and more alternatives to traditional staples, to name a few. Schwalb also grew up Italian, so she would love to get into the pasta and/or pizza realms.
"I want to get my products into the hands of as many consumers as possible," she says.
Get the D CEO Newsletter
Stay up to speed on DFW's fast-moving business community with weekly news reports, interviews, and insights.