Products like hand sanitizer, grills, leather bags, and jewelry have been around for ages, but these Dallas-based entrepreneurs are taking them to the next level in unconventional and innovative ways.
Below, read our latest Locally Sourced stories to learn more about: a luxury take on an everyday product, a portable grill with an innovative design, artisan leather travel bags, and a hobby-turned-million-dollar jewelry business with a unique approach.
Making a Bold Statement

Former medical professionals Allie Wardlaw and Bess Callarman turned their hobby into a million-dollar jewelry line.
Elevating vulcanized Heishi beads, made by Ghanaian artisans, is the million-dollar idea behind a local jewelry line launched by Allie Wardlaw (former occupational therapist) and Bess Callarman (former speech pathologist). Its success, though, is grounded in the duo's unconventional choice to not focus on influencers but turn the lens on themselves. "An influencer will take a product and morph their story to promote that product. What we're doing is a little different—we have a product, and we are taking our story to create that narrative of what our product is," Callarman says.
The approach has paid off. During the height of the pandemic, Allie+Bess went from a $100 investment to more than $1 million in sales. The brand has expanded its product line beyond its signature colorful, stackable bracelets to include earrings and a Coke tab-inspired necklace.
"It symbolizes celebration, happiness, and good times," Callarman says. She and Wardlaw aim to expand their direct-to-consumer brand to the Midwest and West Coast markets this year.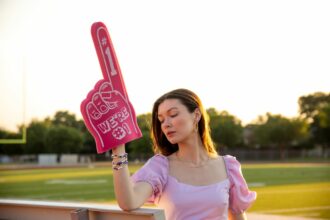 Recently, the brand launched its inaugural Game Day collection designed with tailgaters and both new and returning college students alike in mind. The collection will initially feature 22 different curated stacks of various sizes. The brand will be adding additional stacks to the Collection each week, and shoppers can always create their own stack featuring any school colors — a marquee element of the brand's covetable, personalizable stacks.
Sanitize in Style
With avoiding germs as a top priority since the pandemic, Maria Sideris and Vaness Thanos' Meli Hands fills a market gap.
[img-credit align="alignright" id=" 841678″ width="330″]
[/img-credit]
Dissatisfied with hand sanitizers that were harsh on their skin—and noses—Dallas executives Maria Sideris and Vanessa Thanos took it upon themselves to create a product they would want to use. Drawing from their corporate expertise (Sideris is head of North America sales development for Qualtrics and Thanos is a VP at Pegasus Foods), the duo co-founded Meli Hands earlier this year. Their luxury hand sanitizer is packaged in glass cobalt blue bottles to honor their Greek heritage and cleverly sports an evil eye charm.
The fragrant product pairs aloe vera, vitamin E, and essential oils with alcohol to deliver a nourishing and effective solution. It secured a co-packaging relationship, is on shelf space at Swoozie's, and is on track to generate $100,000 in revenue this year. The business partners, who have five young children between them, say they're incredibly driven.
"We don't take no for an answer," Thanos says.
BBQ to Go
Founders of Nomad Grills, Cam Leggett and John Veatch, are disrupting the portable grill market.
If you asked the average person 20 years ago if they would be paying hundreds of dollars for an ice chest, they might have laughed at you. But Yeti made the cooler a lifestyle choice, and customers are willing to pay top dollar for a statement product that's as much about form as its function. Dallas-based Nomad may be doing the same thing for the portable grill and smoker. The aptly named company was launched by founders Cam Leggett and John Veatch, who came up with the idea in 2016 and spent several years researching and developing the design. "It takes a minute to build anything that's worthwhile," Leggett says.
The grills, which sell for $599, are crafted with durable aircraft-grade aluminum that keeps the shell temperature low during use, meaning you can grill on the tailgate of a truck or other unconventional surfaces. It has venting that controls the heat for low and slow smoking, all while folding up like a suitcase, weighing under 30 pounds, and providing up to 425 square inches of grill space. The product gives barbecue enthusiasts a grill that maintains portability, size, and quality while letting them grill or smoke with high-quality charcoal and wood.
Leggett and Veatch focused on details that most wouldn't even consider when thinking about a grill: honeycomb-shaped grill grates to maintain strength, a charcoal line that is sourced in Thailand and burns hotter for longer, and, for future iterations, removable rubber pieces to change the trim color. "This is not a pet project," Leggett says. "We've gone deep."
Leggett and Veatch left careers in homebuilding and marketing, respectively, to launch Nomad. Their grill's design and functionality immediately gained traction and is attracting customers all over the world. Since the product was introduced a year ago, the entrepreneurs have had trouble keeping enough inventory to meet the demand. Nomad grills have been purchased in nearly every state and shipped to Australia and 46 countries throughout Europe and the Middle East.
"It has all these rad touchpoints and rad materials," Veatch says. "But at the end of the day, the versatility and performance of the cast cook box hold the heat in extremely well."
You can find the grills online or at Nomad's showroom in Bishop Arts District.
Primed for Takeoff
With her leather totes and other goods, designer Gia Rodriguez is travel-ready.
Gia Rodriguez learned the craft of leathermaking in 2014, when she moved to Florence, Italy, to work alongside master artisans. Once she perfected innovative leather techniques, she formed Gia Rodriguez Designs, a Dallas-based company specializing in travel bags (called The Weekender), totes, and accessories for women and men.
Her products became especially popular with corporate clients and boutique hotels that branded her goods as gifts. When the event market fell through in 2020 due to the pandemic, Rodriguez segued into making masks—a move that allowed her to break even financially and keep her business afloat.  Things are looking brighter this year.
"We're looking to ramp back up and revive the relationships that were put on hold in 2020," Rodriguez says. "As travel begins to pick back up, we definitely think there's going to be a positive effect on our travel collection and some new colors that will be exciting for the spring."
Caftan Couture
One-size looks from Highland Park designers Lindsey McClain and Jamie Coulter have turned celebrity heads.
La Vie Style House was born from a 1960s caftan that Jamie Coulter purchased at a Long Beach swapmeet and a market gap for day-to-night dresses.
Coulter moved to Dallas in 2012 after selling her Los Angeles-based accessories business, Ban.do. She met fellow stylist Lindsey McClain at a pilates class a year later, and they started making caftans for friends. They went into production as La Vie Style House in 2016. Their one-size pieces, designed to look good on all body types, caught the attention of Barney's and have been worn by celebrities such as Chrissy Teigen and January Jones.
After successful pop-ups, Coulter and McClain opened a storefront in Highland Park Village last October. They hope to add more looks to their line and test future markets through pop-ups in Palm Springs, Palm Beach, Aspen, The Hamptons, and Houston.
"We had a duster this winter, and now we have a button-down, A-line '60s jacket," McClain says. "We have a bunch of stuff coming out, but we'll always stay true to our one-size [approach]." 
Get the D CEO Newsletter
Stay up to speed on DFW's fast-moving business community with weekly news reports, interviews, and insights.