Dallas business executives and philanthropists alike raised their bidding paddles high last weekend during the 30th annual Côtes du Coeur event at the Omni Dallas. The black-tie affair brought in a record-breaking $5.4 million—and counting—for the American Heart Association.
Fittingly, the Chef Dinner for Every Season live auction item drew the largest bid at $85,000. Donated by chefs Richard Chamberlain, Kent Rathbun, John Tesar, Eric Dreyer, and My Private Dinner, the bidder walked away with a party for 10 each season to dine with each chef at their restaurants. Yes, wine pairings will be included!
Adorned in jeweled dresses and handsome tuxedos—as well as face masks and vaccination records—guests at the sold-out fundraiser included the likes of AT&T Business CEO Anne Chow, Mark Sanders, Caliber Collision Centers president and CEO; and Kelly Pfeil, former PepsiCo exec and founder of ArrowInno. The fundraiser was sponsored by Toyota, Paragon Healthcare, Caliber, and Unisys.
"This year's Côtes du Coeur was amazing in so many ways," said Chris LaTurno, senior vice president of development of the Dallas Division. "During a time of many uncertainties, our sponsors, donors and volunteers continue to be relentless in their commitment to the health and well-being of communities across North Texas and nationwide."
Instead of food stations, this year allowed guests to enjoy a seated 6-course dinner and wine pairings from 27 of the most renowned wineries in the country. Two of our favorite wines served include a 2018 Walt Sonoma Coast Chardonnay and Zeitgeist Cabernet Sauvignon.
Côtes du Coeur has honored a featured winery each year as the Tête du Cuvée honoree, which went to Dr. Donald Olson of Torii Mor Winery. Olson founded the Oregon winery in 1993 as a tribute to his late son Leif. Over the years, Torii Mor has matured into an ultra-premium producer of Pinot Noir with an annual production of 15,000 cases.
The dinner portion of the evening was spearheaded by lead Chef Richard Chamberlain from Chamberlain's Steak & Fish. Chamberlain delivered a flavorful Korean marinated local Wagyu served with Asian noodles.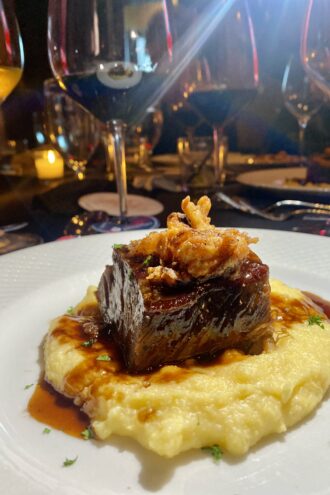 Other chefs at the event included Chef Kent Rathbun (imoto); John Tesar (Knife); Dean Fearing (Fearing's Restaurant); Dan Landsberg (Ellie's Restaurant at HALL Arts Hotel); Gerard Thompson (Rough Creek Lodge & Resort); Janice Provost (Parigi); and Eric Dreyer (Monarch Restaurants Dallas). Dreyer finished the dinner with a meltingly tender Barolo braised short rob served with mascarpone, polenta, and Espelette onions.
During the evening, guests also had the opportunity to hear the inspiring story of Open Your Heart survivor Heather L. VacLav and put a face to cardiovascular disease. The Open Your Heart Campaign raised more than $1.45 million. Côtes du Coeur is the largest AHA fundraiser in the country, and, since its inception, has attracted more than 25,000 attendees and has raised more than $50 million.
AT&T hosted an after-party where the Emerald City Allstars helped attendees dance away calories from the lavish feast while enjoying flavorful popcorn and cotton candy by Girls Who Twirl Cotton Candy.
Up Next
An all-star lineup of Dallas business leaders will speak next month at the fifth annual Pathway to Inclusion Luncheon supporting Bryan's House. The Dallas nonprofit provides underserved children in eight counties in North Texas with specialized medical, educational, and therapeutic care and holistic support services.
Taking place Sept. 22 at the Arts District Mansion (formerly the Belo Mansion), speakers will include American Mensa Brand Partnerships Director John McGill; Datascan CIO Gerry Mecca; RoboKind Co-Founder Richard Margolin; Invitation Homes Diversity and Inclusion Head Laura Ramirez; Ernst & Young's Hiren Shukla; former AT&T executive Kelly Burton; and Tracy Picon, Senior Director of Business Development and Strategy-Health and Life Sciences at Microsoft.
Bryan's House will also honor both the 2020 and 2021 recipients of the Wisdom's Hope Awards, which are given to community leaders for their service to Bryan's House and the City of Dallas. Recipients include Temple Emanu-El Dallas; Lynn Fisher of The Rosewood Foundation; Rust E. Reid of Thompson & Knight; philanthropists Peggy Dear and Sarah Losinger; Ursuline Academy, the University of Texas at Dallas; Valiant Residential; and Studio Movie Grill.
---
Dallas Children's Advocacy Center is raising awareness for child abuse through various artwork at a new exhibit at NorthPark Center. Located on the first floor between Neiman Marcus and Dilliard's, the exhibition previews 20 of the nearly 75 regional and national artists who have donated their talents to DCAC's annual (and sold-out) Art For Advocacy event next month, which raises money and awareness to end child abuse in Dallas.
Featured artists included in the exhibit at NorthPark Center include William Atkinson, Brandon Boyd, Sedrick Huckaby, Carmen Menza, Mary Vernon, Cassandra Black, Linda Blackburn, Dennis Blagg, Megan Brooks, Natalie Christensen, Camilla Cowan, Maxine Helfman, Leslie Lanzotti, Treg Miller, Favio Moreno, Pamela Nelson, Abi Salami, Allison V. Smith, Keer Tanchak and Reinhard Ziegler.
"Dallas Children's Advocacy Center is immensely grateful to all of the artists who have donated their time, talents, and art to this year's Art For Advocacy event and who are passionate about joining us in the fight to end child abuse," said Murphey Sears, Dallas Children's Advocacy Center Chief Development Officer. "We are thrilled to give the public a sneak peek at a handful of the unique works that will be available during the auction. We are so grateful to NorthPark Center for hosting the preview exhibit, and we hope that these pieces of art inspire visitors to take action and join with DCAC to end child abuse."
---
Next month, Philanthropists Barbara Bigham and Ramona Jones will be honored at KidneyTexas' The Runway Report luncheon and fashion show. Bigham will receive the Sue Goodnight Service Award, and Jones will receive the Community Award at the event.
Celebrating its 22nd year, The Runway Report is presented by the late Helga Feldman with Thompson Coe Partner David Taylor and his wife Natalie as honorary chairs. Both Natalie and David have been longtime supporters of KidneyTexas. The event will take place Sept. 21 and begin at 11 a.m. with a mimosa reception followed by a program and a formal floor-level fashion presentation featuring fashions from sponsor TOOTSIES (produced by Jan Strimple).
Beneficiaries include the Children's Medical Center Foundation, Camp Reynal, Texas Health Resources Foundation, Southwest Transplant Alliance, and the Parkland Health and Hospital Foundation.
A longtime strength of Dallas-Fort Worth has been the deep involvement of area businesses in the community and nonprofit initiatives. Companies and organizations have come together to support our region's growth and improve residents' quality of life. Click here to read D CEO's A New Era of Corporate Citizenship feature from the August issue. 
D CEO Newsletter
Stay up to speed on DFW's fast-moving business community with weekly news reports, interviews, and insights.