Dallas is officially home to the first Broadway show to hit the road since the beginning of the COVID-19 pandemic. Broadway sensation Wicked has opened the 2021-2022 Broadway Summer Musicals—delivering exactly what this comeback needs: one hell of a show.
"It's huge for DSM, it's huge for Dallas and for all of North Texas, and it's huge for the entire Broadway industry," Dallas Summer Musicals President Ken Novice told D CEO  about being able to reopen with such a popular production. The entire series leans heavily on musicals that promise box-office gold, such as Hamilton, Jesus Christ Superstar, and Rent.
The popular Broadway of Broadway series has long been a major economic driver in North Texas. Novice says on average, Dallas Summer Musicals generates $25 million in sales each season and estimates $75 million goes into the larger economy. Shows such as The Lion King were estimated to have brought in $28 million to the economy and $7.7 million at the box office in 2018, according to a Touring Broadway League report.
"Patrons attending DSM shows eat out at local restaurants, stay in area hotels, take taxis and Ubers," Novice says. "For our engagement of Wicked this year, we have people coming from as far away at Portland to see the show – so there is airline and Taxi/Uber revenue."
Having to shut down its last season, Dallas Summer Musicals lost more than $20 million in revenue, "Our earned revenue from ticket sales went to zero," Novice says. The nonprofit was able to use a federal Payroll Protection Plan to continue paying some workers partial salaries to backfill what unemployment insurance didn't cover.
"We had to make some difficult choices in making some layoffs and furloughs, but we did our best to have everyone share the pain of lost wages," Novice says. "One hundred percent of our team who were not furloughed received some sort of salary reduction. We were also very grateful to receive some much-needed federal government assistance via Payroll Protection grants."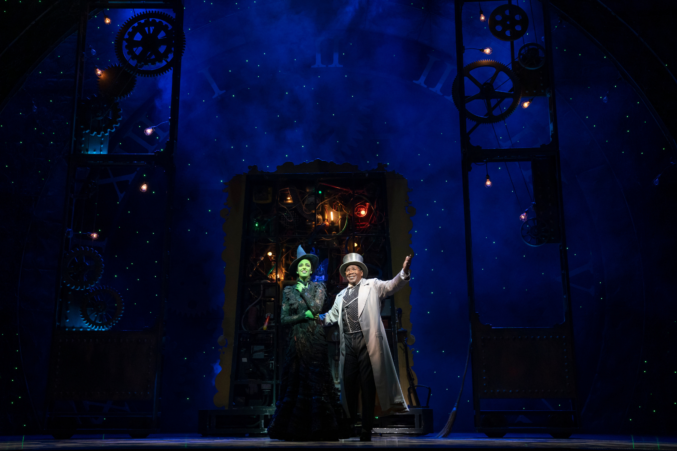 Now in its sixth visit to the Music Hall at Fair Park, Wicked provides an interesting look at what happened in the Land of Oz, as described in the show's site: "Long before Dorothy arrives, there is another young woman, born with emerald-green skin, who is smart, fiery, misunderstood, and possessing an extraordinary talent. When she meets a bubbly blonde who is exceptionally popular, their initial rivalry turns into the unlikeliest of friendships…until the world decides to call one 'good,' and the other one 'wicked.'"
The narrative is explained in the lyrics to "Wonderful," which is performed in the second act by The Wizard (Cleavant Derricks) and Elphaba "the Wicked Witch" (Talia Suskauer).
Elphaba, where I'm from
We believe all sorts of things that aren't true
We call it "history"

A man's called a traitor or liberator
A rich man's a thief or philanthropist
Is one a crusader or ruthless invader?
It's all in which label is able to persist
There are precious few at ease
With moral ambiguities
So we act as though they don't exist
The production will be on tour in Dallas through Sept. 5; tickets start at $29 and are on sale at DallasSummerMusicals.org.
D CEO talked more with Novice about Dallas Summer Musicals and its upcoming season.
D CEO: Do you anticipate this season to do as well as previous ones (why or why not)? What are you projecting? What are you seeing in terms of season ticket sales and attendance?
NOVICE: "Projecting the revamped and rescheduled season was a real challenge. Survey data indicated that there might be some reluctance for patrons to come back to the theatre. However, season ticket sales have exceeded our expectations and are now back to the pre-pandemic level, even slightly above. Our current Wicked engagement is selling on par with the 2016 engagement with little to no drop off in sales. We also put our second Hamilton engagement (Nov. 16 – Dec. 5) and it did phenomenally well. Clearly, our patrons have an appetite to get back to the magic that only live theatre can provide."
D CEO: How do you expect Wicked to do?
NOVICE: "If you can believe it, this is its sixth visit to the Music Hall, which is astounding. Each engagement has been more successful than the one that preceded it and we hope to keep that streak alive in 2021."
D CEO: Beyond not being able to host shows, how else did COVID impact Dallas Summer Musicals?
NOVICE: There were certainly challenges that we had to work through thoughtfully. During the downtime, we were able to put our focus on some very important issues such as racial equity in the arts. I'm very proud of the work we have done, and are continuing to do, in this area; particularly our ongoing YouTube series Black Art Matters, which puts a spotlight on local artists of color so they can share their art and their unique experiences, and being accepted into the Dallas Truth, Racial Healing and Transformation Cohort program which will be very positive and transformative experience for DSM.
D CEO: We recently wrote about the importance of corporate citizenship in the August issue of D CEO, how do season sponsors and corporate sponsors play into the success of Dallas Summer Musicals
NOVICE: "Our corporate relationships play a large and growing role in DSM's success.  They are key to empowering our community partnerships and education programs which are exploding in size and impact.  The support we receive from corporations and foundations is what allows us to share what we call "the spirit of Broadway" in community centers and classrooms with people who might not otherwise have access to this amazing artform we love so much.
"We were particularly thrilled to add, during the pandemic, Germania Insurance as our title Broadway Series sponsor. We were so moved that a great, Texas-based company like Germania would choose to support DSM during this unprecedented time.  It's a true testament to Germania's commitment to the arts."
Get the D CEO Newsletter
Stay up to speed on DFW's fast-moving business community with weekly news reports, interviews, and insights.