Send your company's latest business news to Bianca Montes at [email protected].
According to a document obtained by Bloomberg News, the electric vehicle startup company Rivian Automotive, which Amazon backs, is eyeing a $5 billion investment called "Project Tera" that would fund a new factory near Fort Worth. The factory would stretch 2,000 acres, 12 miles southwest of downtown Fort Worth.
The factory could create 7,500 jobs by 2027 and produce 200,000 EVs per year. The City of Fort Worth's Economic Development Department recently presented to the City Council several incentives, including grants and a city tax abatement near $440 million.
Rivian has yet to produce a single vehicle for sale, but the startup has hopes to catch Tesla, which is also constructing a plant in Texas.
Nexstar Media Acquires The Hill
Nexstar Media, a leading media group that reaches 39 percent of all U.S. televisions, has acquired The Hill, an independent political digital media platform, for $130 million. The move is part of Nexstar's content-first initiative to leverage and monetize its expansive digital reach.
Nexstar harbors 91 million monthly users and 7.8 billion pageviews. The Hill will only grow Nexstar's reach as the newly acquired company reached 48 million monthly users and 2.2 billion pageviews in 2020, according to Comscore, and attracted over 4 million followers and 914 million video views on Twitter in that time.
The move is anchored in Nexstar's mission to deliver unbiased, fact-based journalism as the Ad Fontes Media Bias Chart reported The Hill and NewsNation, also operated by Nexstar, as two of the most centrist political outlets in the U.S.
Luxury Coach Service Vonlane Resumes Dallas to OKC Route
As travel demand spikes, Vonlane will resume luxury coach services between Dallas and Oklahoma City beginning Sept. 2. Vonlane, a premium bus transportation company specializing in business and leisure travel, touts their service as a "private jet on wheels."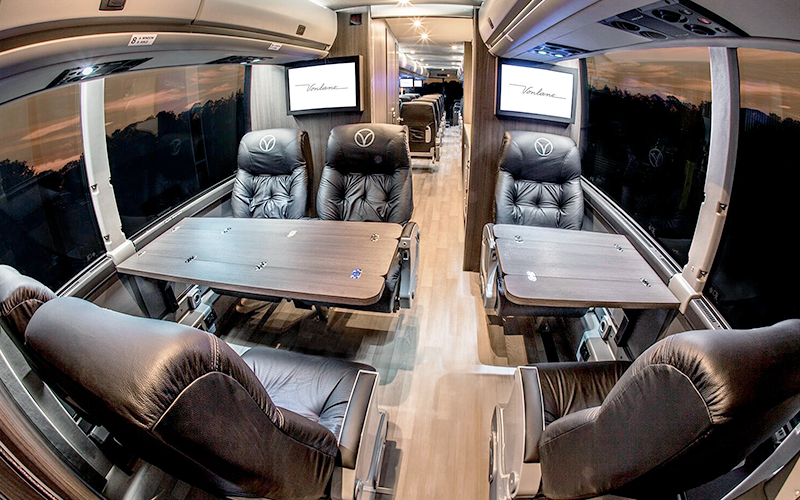 Departures are scheduled daily, totaling 26 per week. The trip between Dallas and Oklahoma City is 3 hours and 15 minutes for a fee of $105, which includes two checked bags, Wi-Fi access, and snack and beverage services. Meals are provided on select trips, while alcohol can be purchased within Texas. COVID-19 protocols remain in place with masked passengers, a masked crew, and heightened sanitary efforts.
Pushpay Acquires Resi Media
New Zealand-based Pushpay has agreed to acquire 100 percent of Plano-based Resi Media for $150 million. Pushpay, a donor management system for charities, is expected to utilize the end-to-end live streaming provider's services to elevate church and faith-based organization's digital engagement in the booming era of streaming and remote viewing options.
Ninety-five percent of pastors reported using streaming services in 2020, and Pushpay aims to utilize Resi Media's large market share of 3,900 customers, including 70 percent of the reported 100 largest churches, to become the number one software partner for churches.
Get the D CEO Newsletter
Stay up to speed on DFW's fast-moving business community with weekly news reports, interviews, and insights.