With travel not an option during most of the pandemic, many of us instead discovered or rediscovered all of the great things that our own cities have to offer. That was the case for downtown Dallas and me. One could spend an entire summer exploring the region, from the impressive Arts District and beautiful architecture to a diverse and ever-changing food scene.
And, if you've never experienced falling asleep—or waking up—in the midst of our impressive skyline, a high-rise hotel is the only way to go. Notably home to the tallest hotel rooms in the city of Dallas, The Guild was an obvious choice for me.
It's been about a year since I first heard about The Guild. Mintwood developer Katy Slade
wrote a blog
for
D CEO
's real estate vertical that gave a behind-the-scenes look at a project she worked on with the hotel group, Altschuler and Company, and Woods Capital. The team gutted two floors of what used to be office space for the Hunt family's oil and gas business and converted it into 64 luxury hotel rooms.
With older office towers struggling to find new ways to attract tenants, I was intrigued by the adaptive reuse of the space. I wanted to see for myself how something once described as dark and unwelcoming had transformed into the bright open space seen in the photos Slade had shared with me.
A short jaunt from D's office at North Saint Paul Street and Ross Avenue, The Guild is located on the top two floors of the 50-story Santander Plaza, which Woods Capital owns. The entrance into the hotel begins on the 48th floor, where a private set of elevators are located outside of the
Tower Club
.
Founded by Brian Carrico and Chris Herndon, The Guild downtown isn't the hotel brand's first foray into adaptive reuse—but it is their first jaunt turning an office into a hotel. The brand typically uses space in multifamily properties and has another Dallas outpost
in central Dallas high-rise residential buildings, the Katy Victory Park. The success of their downtown location, which is seeing 70 percent occupancy rates and 80 percent of booking coming through direct channels, already has the team looking at other possible Dallas projects in Turtle Creek and Bishop Arts District, Carrico told D CEO.
On the edge of downtown's Main Street District, The Guild is in an ideal spot for exploring the city's urban core—whether that's taking in dinner at AT&T's Discovery District, late-night drinks on a rooftop bar, exploring the area's historic buildings and enchanting Thanks-Giving Square, or shopping at Neiman Marcus' flagship store.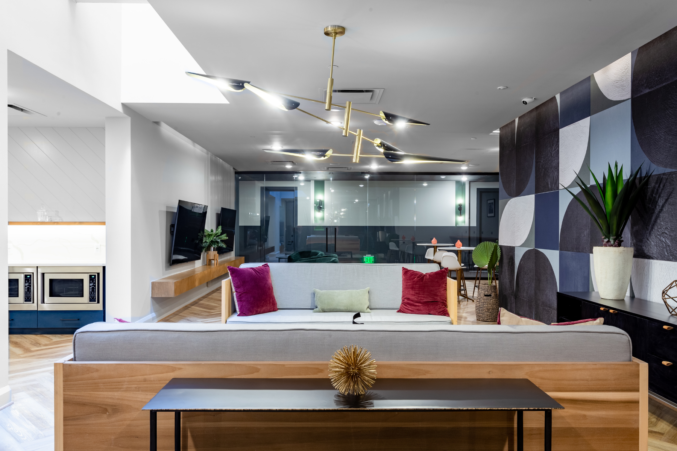 Designed for the business traveler—and people relocating to Dallas—
Carrico said fitting an extended hotel like The Guild in destination neighborhoods really helps curate a sense of place for his guests. 
The Guild isn't really like your typical hotel room. During a recent stay, I fell in love with the welcoming entrance and herringbone-patterned floors. The Southwestern-meets Mid-Century Modern aesthetic made me feel like I was walking into my very own apartment, complete with a washer and dryer and smart kitchen featuring everything you'd need to cook some pasta, toast a piece of bread, or enjoy a bowl of cereal. The highlight, though, was downtown Dallas framed by huge windows in every room. Well, that and the large black showers.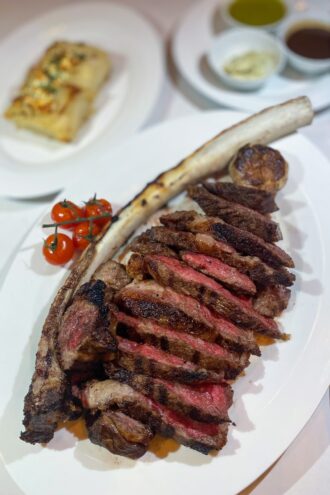 During our first night inside the hotel, my friends and I enjoyed a lavish meal at the Tower Club's
Monarch Room
. (Not to be confused with Monarch at the new Thompson Hotel.) One of the biggest perks of staying at The Guild is access to the member's-only club.
We relished the occasion to dress fancy as we sipped wine and shared plates such as the Giant Pran & King Crab Cocktail, Cacio e Pepe pasta, Eggplant Bagna Cauda, and a gorgeous 45-Day Dry-Aged Tomahawk. The meal was topped with a bottle of Veuve Clicquot and a couple of desserts, including the club's signature chocolate cake—an experience in itself when a chocolate dome is melted to unveil the cake, which is elevated with peanut butter, a banana mousse, and vanilla ice cream.
Feeling like kings and queens, we retired to our suite, played a few records on the record player, and pampered ourselves with face masks.
The next morning, we headed to AT&T's $100 million Discovery District for breakfast at
Rise+Thyme
. The restaurant was the first eatery to open in the district's Exchange Hall and is the brainchild of
Chopped
judge Amanda Freitag. While I don't often start my day with a bowl of soup, an off-menu Matzo Ball Chicken Soup was too hard to resist. We also could not resist the avocado toast and a couple of pastries.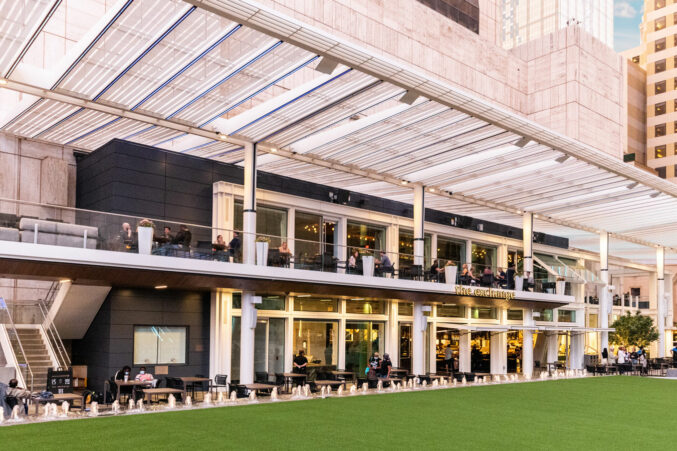 Home to 16 restaurants, The Exchange brings a new take on Legacy Hall to downtown, offering amazing options for tacos (I'd recommend the Pinchi Pollo from Deep Ellum classic Revolver Taco), burgers (The Spitfire from Bobbers is a must if you like a kick), ethnic foods (Attlaie rotates chefs and styles every 90 days, so options are endless), and more. The hall's second floor is home to a sit-down sushi restaurant that was sampling delicious tuna nachos when I went.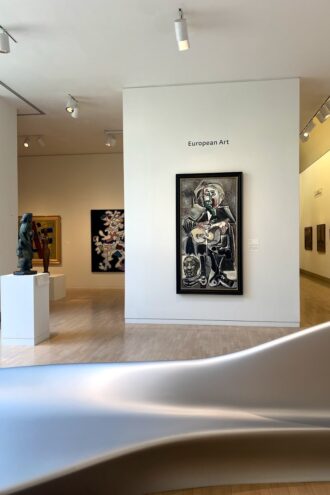 Being so close to the Arts District, spending the rest of the morning at the Dallas Museum of Arts was an easy choice. Currently, you can catch exhibits such as five works by acclaimed Mexican painter Frida Khalo on view, Cubism in Color: The Still Lifes of Juan Gris, and the fascinating Curbed Vanity exhibit, a contemporary foil by Chris Schanck. I, of course, made sure to stop by and enjoy my favorite piece of art at the DMA, Pablo Picasso's
The Guitarist
.
Lunch was fueled by 
D CEO
favorite Miriam Cocina Latina outside of Klyde Warren Park and followed by a stroll through downtown to take in its rich architecture as we walked back to the hotel for some much-needed naps.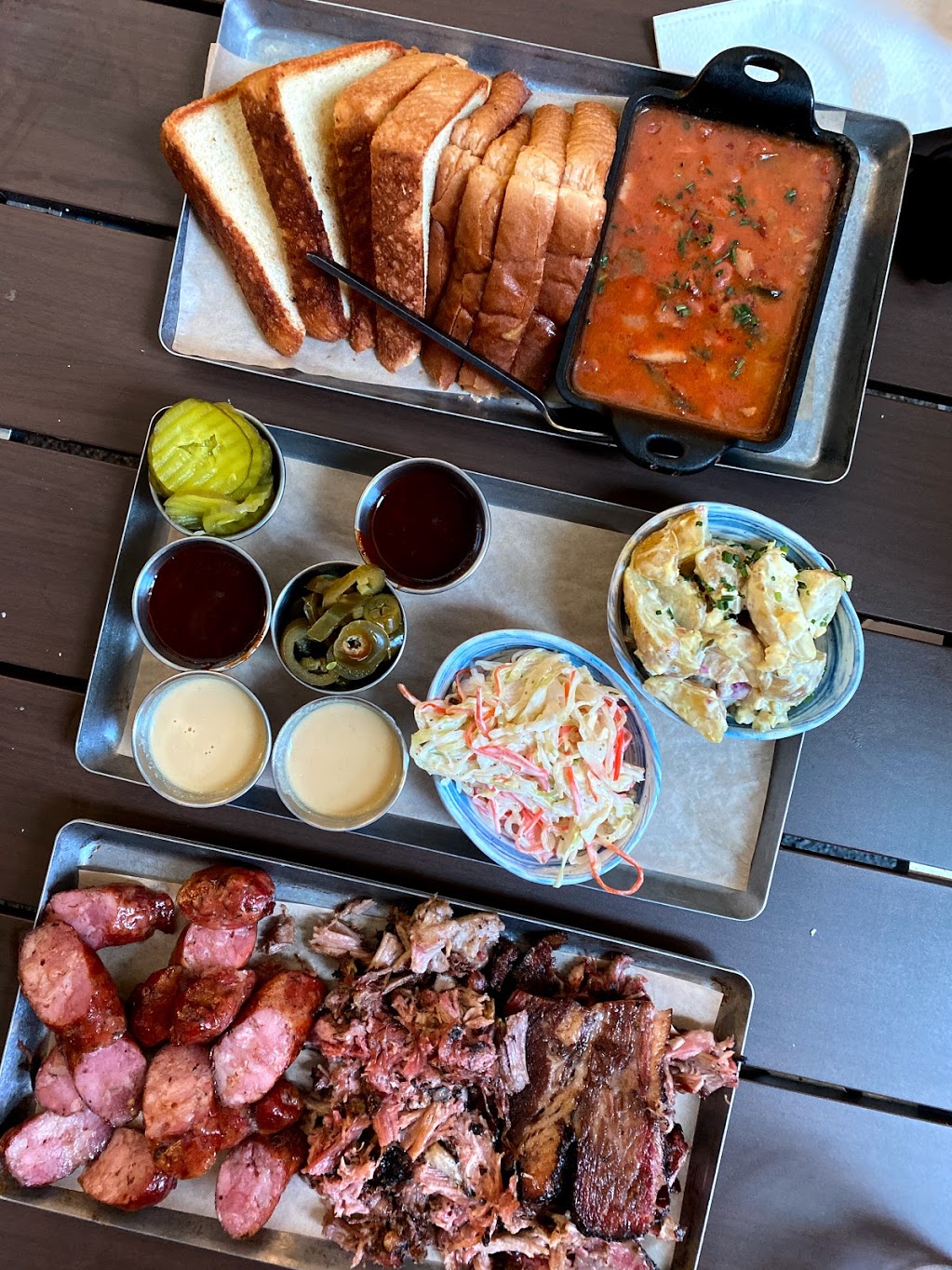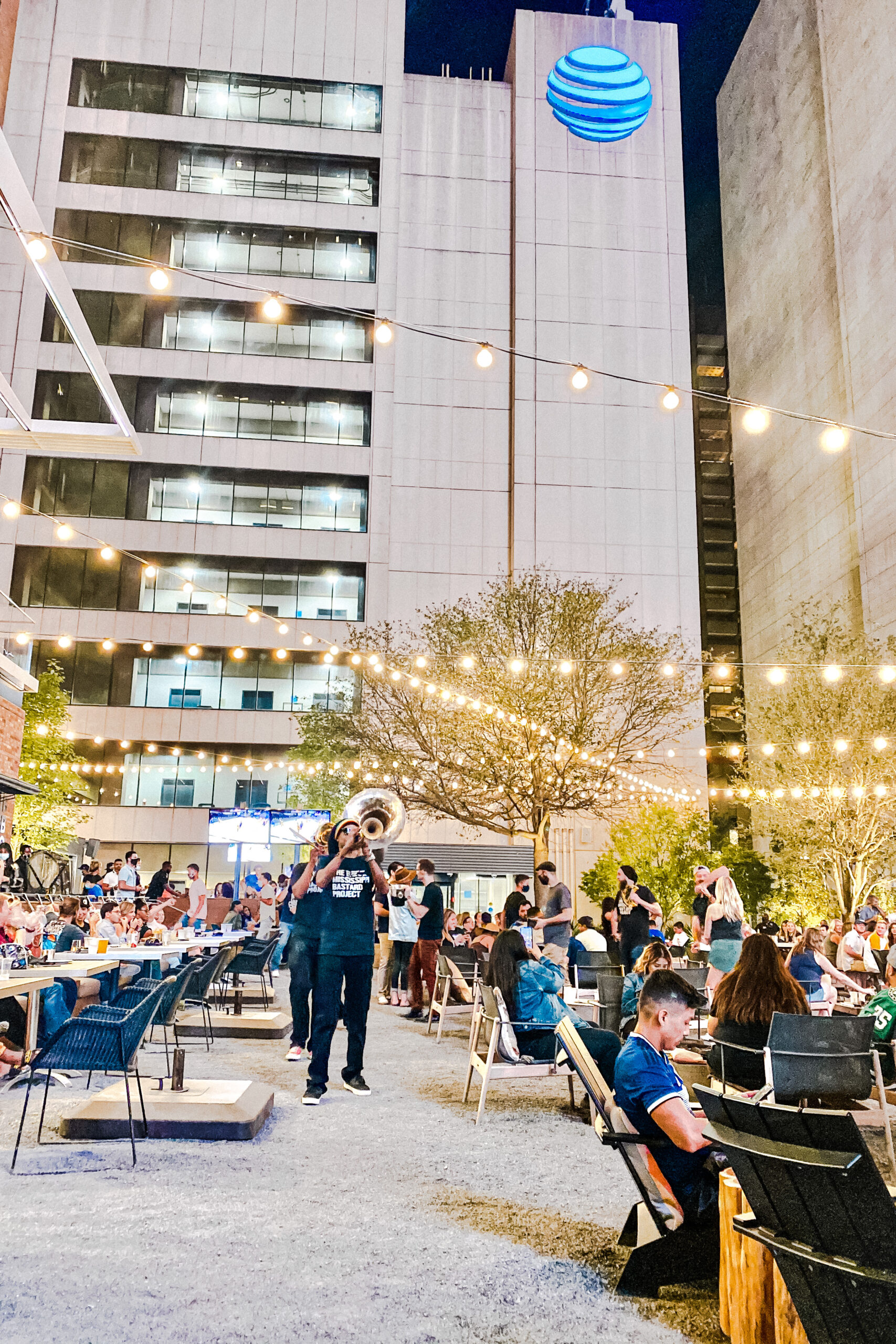 The ultimate downtown patio experience, Jaxon Beer Garden is a great place to catch some live music.
Before settling in for a late-night barbecue dinner at Jaxon at the AT&T Discovery District, we took some time to pop into the AT&T Experience Store, where I sat on the Friend's couch and played with a few interactive exhibits. Since the weather was pretty nice, we opted to eat outside and had a blast listening to a trumpet-fueled band perform for the crowd. Drinks on the rooftop at The Statler rounded out the night.
Checking out of The Guild was a sad return to reality, but brunch at Ellen's in the West End was the perfect way to ease back into the week. (I highly recommend the Pancake Pot Pie—layers of pancakes, sweet maple cream sausage gravy, hickory bacon, crumbled sausage, hash browns, scrambled eggs, cheddar cheese.)
La Tarte Tropézienne
is a terrific spot for authentic Italian pastry and coffee if you are looking for something a little closer to the hotel.
Looking for more travel content? Check out our executive travel page (click here) where we highlight some of the top locations DFW executives like to travel and other staycation experiences. 
Get the D CEO Newsletter
Stay up to speed on DFW's fast-moving business community with weekly news reports, interviews, and insights.