Send your company's latest business news to Bianca Montes at [email protected].
Dallas Regional Chamber unveils its Taking Care of Business initiative to encourage vaccinations
The Dallas Regional Chamber has launched the Taking Care of Business multimedia public awareness campaign to encourage more than 600,000 North Texans 16 or older to get vaccinated. The campaign aims to raise the percentage of those vaccinated from 60 to 70 percent.
Taking Care of Business includes targeted social media, outdoor billboards, a microsite that serves as the information hub for vaccination, and a sweepstakes.
Later this summer, the DRC will offer prizes donated by DRC members and community partners, including American Airlines, Southwest Airlines, Dallas Cowboys, Dallas Mavericks, Dallas Wings, and Dallas Stars, as incentives for residents to get vaccinated. The prizes will include items such as tickets for professional sporting events and round-trip airline tickets.
"Getting the vaccine is about protecting you, but that's not all it's about. It's also about protecting the employees of every North Texas business so they can fully reopen and get back to the life they deserve. And that's everyone's business," said Dale Petroskey, President and CEO of the Dallas Regional Chamber.
On June 23, the DRC will launch the public service announcement phase of the campaign, which will be featured on local television and radio, through audio announcements in grocery stores, and on video screens in physicians' waiting rooms across North Texas.
Neiman Marcus Group to Acquire Tech Company Stylyze 
Neiman Marcus Group intends to accelerate its digital capabilities by acquiring Stylyze, a Seattle-based, women-founded and led, technology company.
Stylyze is a machine learning software-as-a-service platform that helps home, and fashion retailers customize their consumer experiences and reach business objectives through tech solutions. It's intended to be part of a planned gross investment of more than half a billion dollars over the next three years.
"By acquiring Stylyze, we will be able to advance our strategy of integrated luxury, building long-term relationships with our luxury customers that create emotional value and high lifetime value potential. This allows us to deepen our relationship with our customers through the use of technology," said NMG Chief Executive Officer Geoffroy van Raemdonck.
At the end of April, NMG had a total outstanding debt of $1.1 billion vs. $5.1 billion last year. Additionally, MNG currently has available liquidity of over $850 million compared to only $132 million last year. This newfound financial flexibility enables the company to make investments such as the acquisition of Stylyze.
New Exhibit Featuring Local Women in STEM Careers Opens In Frisco's Sci-Tech Discovery Center 
Five North Texas women are featured in a new exhibit and educational program at the Sci-Tech Discovery Center in Frisco. The exhibit and program are designed to inspire girls to see themselves in science, technology, engineering, and mathematics careers.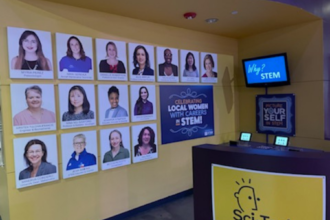 Kalika Dennis, Cybersecurity Risk Analyst at Thomson Reuters; Dr. Lily Jiang, Chief Clinical Scientist at SGS Stephens; Sylvia Gonzalez, Civil Engineer at BGE; Dr. Mary Roby, Electrical Engineer and Fabrication Lab Manager at Texas Instruments; and Dr. Lara Ashmore, Technology Project Manager, participated in the project for Sci-Tech entitled "Picture Yourself in STEM."
In the exhibit, these women share their career inspiration and explain their fields of work. The exhibit also provides opportunities to try career-related hands-on activities at the adjacent Maker Studio.
Sci-Tech was one of 27 Association of Science and Technology Centers members awarded grants earlier this year in the second round of IF/THEN® Gender Equity Grants through the support of Lyda Hill Philanthropies.
The Ann Richards Legacy Project, the City of Dallas, and Downtown Dallas, Inc. Raise Ann Richards Banners 
The Ann Richards Legacy Project partnered with the City of Dallas and Downtown Dallas, Inc., to install 60 red, white, and blue banners celebrating the state's 45th governor. The public art display celebrates Ann Richard's many years of public service and marks the 30th anniversary of her gubernatorial inauguration.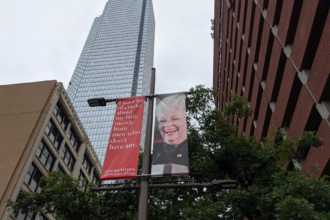 Banners feature 12 different designs with images and notable quotes from the former governor. The exhibit can be seen downtown on Main Street, from Harwood Street to Griffin Street; Young Street, from Griffin Street to Akard Street; and Akard Street, from Young Street to Canton Street.
"I admire Governor Richards—she was a fearless leader who loved Texas and was committed to making our state government more inclusive. She remains a bright light and inspiration to those of us in public service," said Dallas Mayor Eric Johnson.
Dallas and Austin currently host these exhibits, and the Ann Richards Legacy Project plans to extend its reach to other cities in Texas.
Get the D CEO Newsletter
Stay up to speed on DFW's fast-moving business community with weekly news reports, interviews, and insights.