It had been at least two years since I last saw Hari Mari co-founder Lila Stewart. At the time, she and her husband, Jeremy, were
working on expanding
their Dallas-bred flip flop brand to include men's runners and boots, and they had invited me to tour their Haskell Avenue warehouse that, through sheer demand and maybe curiosity, had also turned into somewhat of a storefront.
The brand, which was founded in 2012 and has seen great success through e-commerce sales and wholesale partnerships with stores such as Neiman Marcus, will open its first brick-and-mortar location Wednesday in the heart of the up-and-coming Knox Henderson neighborhood.
Dressed in a loose floral dress and the cutest pair of slides from the brand's now-expanded women's shoe line, Stewart met me earlier this week at their new flagship to talk about what the opening means for Hari Mari's future.
"Opening stores was never in the business plan," she starts as we settle into some Mid Century modern chairs in the new showroom. "It was never something that we thought about, not something we dreamed about—it just wasn't."
But, when customers started showing up at their Old East Dallas warehouse for various reasons, they put a little lipstick on the interiors, and the results saw more customers coming through the door. By 2019, a brand that made its bread and butter being sold in luxury stores and online saw about 3 percent of business from its shop.
"If our customers were willing to drive to not so great of a shopping destination to come to check out the brand, that's kind of when our light went off," she said. "My goodness, what can we do with intent?"
The evolution began about three years ago.
"If you asked me at that point in time, I would have said we are a flip flop brand," Stewart said. "Now, I would definitely say Hari Mari has become more of a lifestyle and footwear brand. What we were hearing from our customers was two things, and it's kind of funny. The first thing was, 'I hate flip flops, but I love your brand. Make a shoe, and I'll buy it.' That was inspiring for us to hear."
They started by hiring a team led by a former Reef executive Trisha Hegg to flesh out a footwear line. It began with men's shoes and went on to create their Sydney slide sandals for women. And later this year, they will launch a holiday collection of slippers and booties for men and women, followed by much-anticipated women's runners in Spring 2022.
"But what we are now also hearing coinciding with all of that is, 'do you have any hats? Do you have any tees? Do you have any shorts?' and the list has gone on," Stewart said.
Coinciding with their first brick and mortar opening, Hari Mari has also rolled out an apparel line that, much like their flip flops, will focus on premium and comfort. For now, the line will only be available at the storefront.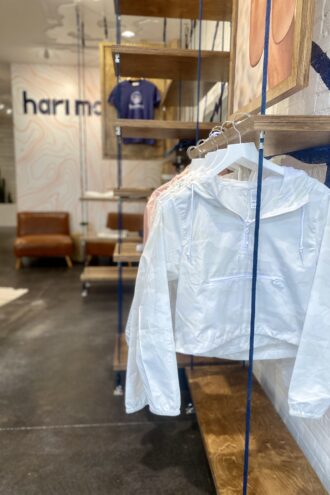 Already at the Knox Henderson location, women's windbreakers, t-shirts, and accessories, such as handwoven straw hats and candles, are displayed. The apparel launch will also include a men's shorts line and a stepped-up t-shirt collection. Women's joggers, shorts, more t-shirts, accessories, and a leather bag collection are also in the works. The idea, Stewart says, is to offer the type of pieces one might take with them on a trip. Prices retail beginning at around $45.
The announcement follows
news earlier this year
that Hari Mari tapped former Billy Reid founder and CEO Jake Szczepanski to lead as its president. His immediate goal was to start looking at stores to scale the business. Having sat on Hari Mari's board for several years and his background with Billy Reid made leading the apparel launch a natural fit.
With all of the action going on in the Knox Henderson neighborhood, Szczepanski said of all places in Dallas, it was the best to open a new storefront. Hari Mari's newest 3,500 square foot location comes in parallel with the opening of RH-Dallas,  luxury resale shop The Real Real, and the redevelopment of Weir's Plaza. To be completed in 2021, Weir's Plaza—which is adjacent to the new Hari Mari store—will be a two-story, mixed-use development with a collection of restaurants and retailers on the ground floor and office space above.
"I think you would come to find that [Knox] is a great mixture of young and old, and our customer at Hari Mari really appeals to so many ages," said Szczepanski. "So, Knox really fit the bill for us and really fits the Hari Mari customer profile to a T."
The proximity to Katy Trail was also a major selling point—you can actually see the building from the popular trail.
The new Hari Mari store also hopes to play on a recent industry shift toward providing an overall experience to the consumer rather than solely a product. Prior to COVID, Stewart said the brand saw a pretty even split when it came to business through e-commerce and wholesale (with e-commerce being slightly higher). However, in March 2020, the brand saw a major shift when 80 percent of retailers who sold their shoes canceled inventory orders. By May 2020, they began to see record sales online, which now makes up about 70 percent of the business.
COVID-19 has arguably accelerated shifts toward e-commerce in the retail sector, emphasizing ongoing trends away from malls and anchor stores and highlighting the convenience of online shopping. As a result, some stores have begun reformatting to provide consumers with what e-commerce arguably cannot—personality, education, and interaction.
Market at Macy's
, the retail giant's smaller concept in Southlake, is also among this group—modeling their store's structure after the editorial layout of a magazine. Szczepanski says the new Hari Mari location will make a similar move.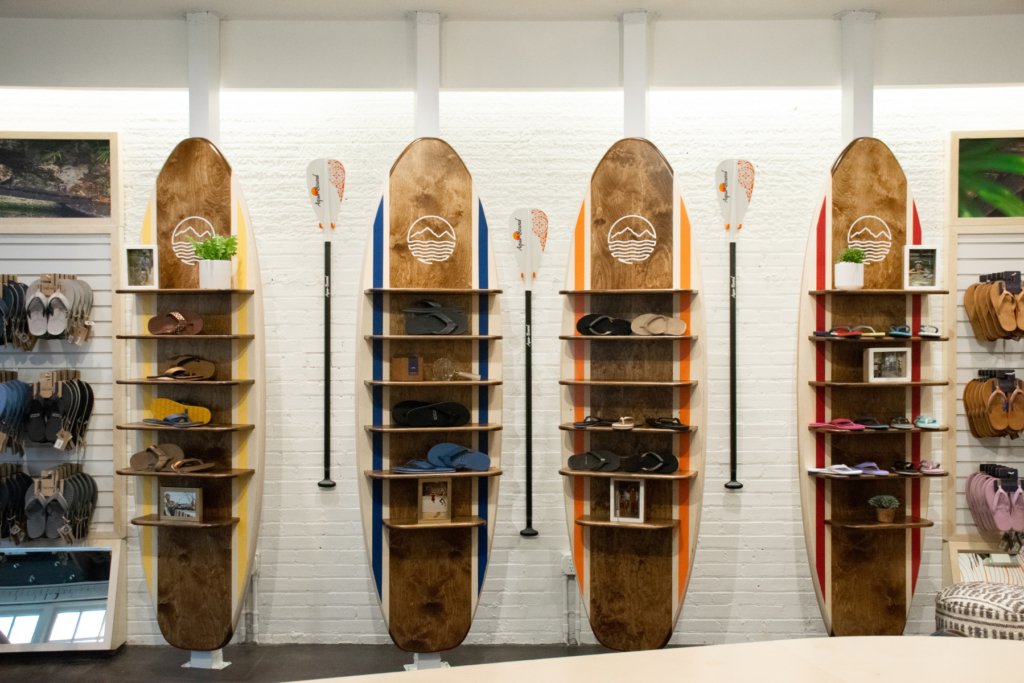 With white brick and wood-lined walls and an almost southwestern vibe to the motif, the flagship store purposefully shies away from overselling product and creates more of an experience, including a selfie station with swinging basket seats and a hospitality area stocked with Topo Chico and Lalo tequila, Deep Ellum's Neato Bandito on tap, and Bloody Mary's for their weekend shoppers.
"We've made a conscious effort to design our very first store, our flagship store, by including stories about the brand: where the brand started, where the brand came from, the product materials that are used to create our elevated luxury product," Szczepanski said. "We intend on having different vignettes, if you will, throughout the store that speak to the brand and what makes Hari Mari different."
Dallas visual consulting firm and creative agency MoWax Visual worked closely with Hari Mari to execute its desired layout for both levels—the second floor of the former hair studio Osgood O'Neil Salon has been turned into an event space.
Looking ahead, Szczepanski says the brand is "definitely and aggressively" seeking additional locations throughout the country, including Austin, Houston, cities in the Florida panhandle, Nashville, Charleston, Charlotte, and Atlanta—where most of the brand's current customer concentration comes from. He hopes to open six to ten new locations over the next few years.
While they do not have a site selected yet, Szczepanski anticipates two to three stores to open next Spring.
"There are a lot of great opportunities out there, especially for brands like ours that can be on the offensive, because we're really poised for this growth that we've seen over the last year, and going into retail into the next couple of years and opening multiple stores over the next couple of years," Szczepanski said.
Marie Hieber contributed to this story.