It was pouring rain when I wandered into the Hotel Drover inside Fort Worth's historic Stockyards, an Autograph Collection hotel. The space is the latest addition to the $175 million redevelopment of Mule Alley, a partnership project by the City of Fort Worth, Tarrant County, Majestic Realty Co, and the Hickman Companies, to renovate the Stockyards' historic mule barns into retail shops, restaurants, and offices.
A quick glance into the lobby announced the space's luxe ranch feel, an elevated nod to its locale, but a second look revealed impressive intricacy that begged me to spend the next half hour dissecting the room, including perusing a two-story library filled with books on everything Texas. I sat in one of the lobby's several cowhide chairs with leather fringe backs, admiring a chandelier made of antlers—one of the hotel's roughly 200 custom lighting fixtures.
Majestic Realty's Craig Cavileer and Kayla Wilkie carefully curated the Drover's interior design with the help of local vendors, including Stockyards neighbor Rios Interior, which provided much of the hotel's rustic furniture.
Cavileer and Wilkie both have a passion for Western art, and the hotel provided the perfect space to house pieces from their collections. An employee tells me that Cavileer and Wilkie spent ample time in recent weeks placing art pieces on the floor below their potential homes, contemplating them for the day, then shifting or hanging each. An entryway sculpture of a drover by John Lopez Studios stands out. Made from spurs and other small metal items, it illuminates the meaning of the building's name, meant to allude to a cattle or sheep driver.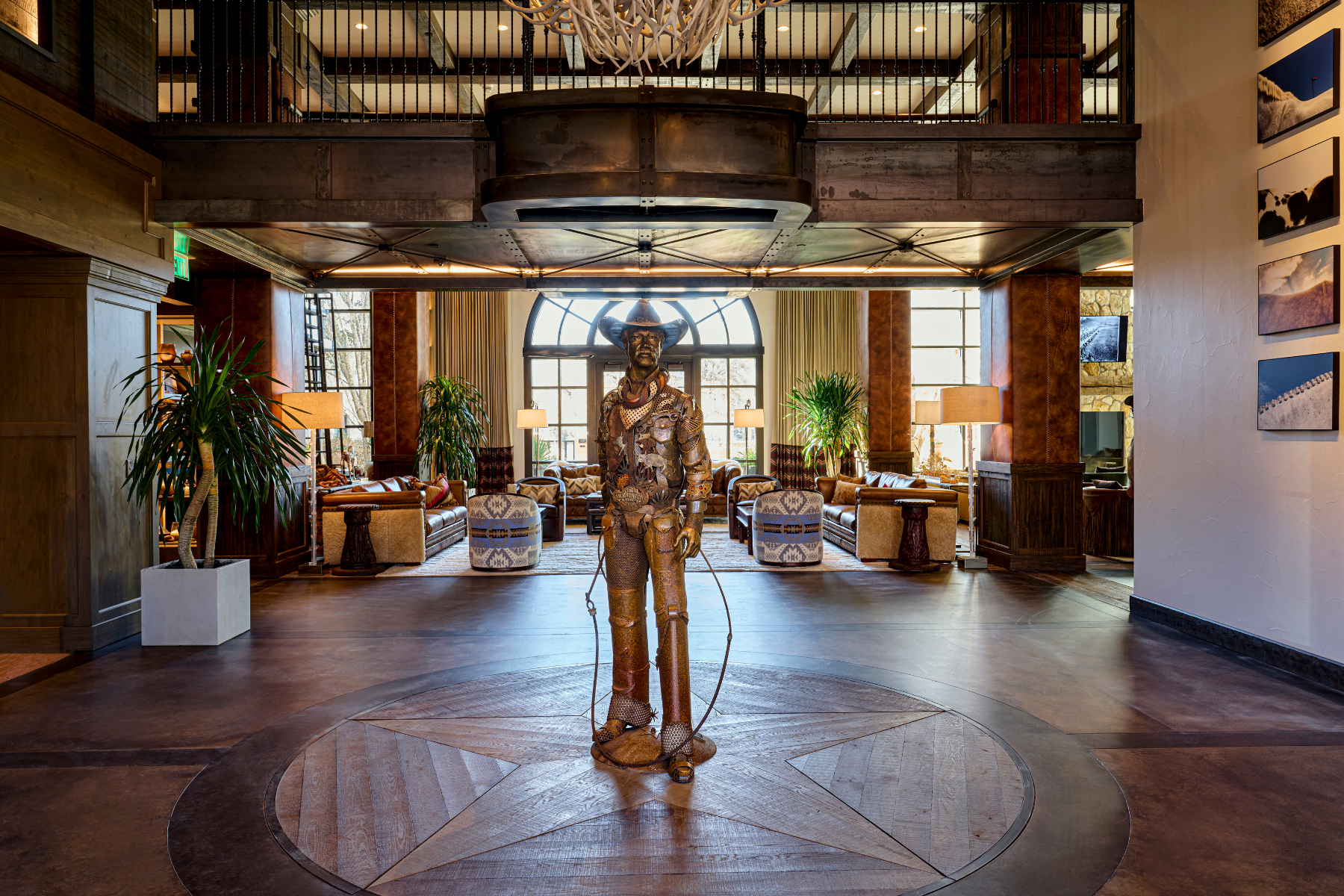 I passed by the fitness center on the way to my fourth-floor guest room, one of 200 rooms and spa suites inside the hotel. Guest rooms are decorated in six themes, though no two rooms are identical. Mine fell into the Texana theme, showcasing leather-like wallpaper, a print of colorful cowboy boots, King Ranch leather furnishings, and a custom turquoise boot jack. The hotel also includes a presidential suite with an indoor-outdoor fireplace and bunkhouse rooms made for families, which feature two lofted bunk beds connected above a King-size master bed. Twenty-six suites include soaking tubs and terraces.
Once settled, I ventured into the Hotel Drover's restaurant, 97 West Kitchen & Bar, for dinner. Named for its position on the 97th west meridian, the restaurant boasts three private dining rooms, indoor and outdoor chef's tables, and an accompanying courtyard that provides outdoor seating. It specializes in reimagined Southern fare and is led by Executive Chef Grant Morgan. Morgan was previously a corporate chef with Velvet Taco.
I'd recommend the Sweet Tea Marinated Fried Green Tomatoes to start, a good representation of Southern comfort with a twist. Pecan Smoked Salmon was tender and delicious, accompanied by a purple sweet potato puree and seasonal roasted veggies. The Broken Arrow Antelope provides an even more savory avenue for the adventurous eater.
I headed outside to the Hotel Drover's outdoor space, The Backyard, noticing the abundance of mature cypress, crepe myrtle, oak, and magnolia trees surrounding me. Content next to my space heater in the continued rain, I enjoyed live music on the outdoor covered patio, imagining warmer days when I might have done so from the pool or hot tub beyond me. My eyes follow a walking trail that leads into neighboring Marine Creek—a Trinity River feeder known to many to be an excellent spot for a summer float. Lengthy outdoor bar seating overlooks the creek.
The next morning, I enjoyed a coffee from the lobby bar and explored the hotel's event spaces. I wandered into The Barn, a 4,000 square-foot event space with 30-foot vaulted ceilings, working barn doors, and expansive handmade wooden tables. Four custom crystal chandeliers crown the space: employees tell me the maker spent days hanging each crystal individually. The space and its accompanying 2,500 square foot lawn accommodate 400.
Legacy Hall, the hotel's other event space, boats a large outdoor veranda overlooking the creek and airwalls that can be shifted to seat up to 240. Three meeting rooms provide ample space for business functions.
Before checking out, I perused the hotel's two retail spaces, peeking into Lucchese's only custom collection boot shop, housed in the hotel lobby, and the space that will soon be home to Little White Lies, a rustic women's boutique.
I checked out and wandered down Mule Alley, passing another Lucchese boot shop and one of the Biscuit Bar's five locations before entering the John Wayne museum. I happened to hear someone referencing their aunt in one of the exhibit photos as I read about the Western movie legend and soon found myself listening to John Wayne's son, Ethan, telling family stories to a group he was leading. He was heavily involved in the museum's curation. I ended the trip with one of my favorite Stockyards traditions—watching a group of longhorns march down the street, driven by just the kind of drovers for which the hotel had been named.
Looking for more travel content? Check out our executive travel page (click here) where we highlight some of the top locations DFW executives like to travel and other staycation experiences. 
Get the D CEO Newsletter
Stay up to speed on DFW's fast-moving business community with weekly news reports, interviews, and insights.