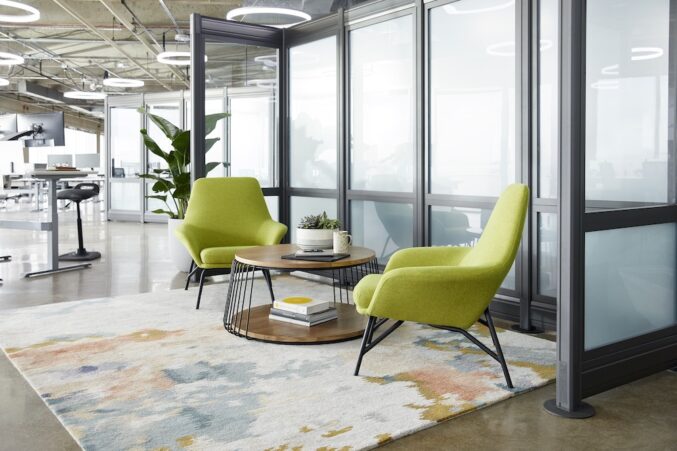 Personnel Moves: Workspace Innovator Vari Expands Executive Team
Plus, Liberty Capital Bank revamps its C-Suite, Comerica adds regional manager, Dallas Summer Musical appoints new board members, and more.
Send your company's personnel moves to online managing editor Bianca R. Montes at [email protected].
Local office furniture and real estate innovator Vari has hired Kevin Wierenga to join its executive team as senior vice president of sales.
Wierenga brings with him extensive experience, including a 15-year tenure at Office Depot, where he ultimately served as managing director of North America. Most recently he served as vice president of sales and strategy for furniture maker Poppin.
In his new role, Wierenga will oversee national sales initiatives for Vari, which aims to continue expanding to new U.S. markets. Last year, the company opened showrooms for its flexible office space furniture and real estate in Austin, Baltimore, Denver, Phoenix, and Washington D.C. Plans to expand into Atlanta, Charlotte, Nashville, Raleigh-Durham and Tampa are already underway.
"It's not often that you to get to be part of a company dedicated to transforming and simplifying an entire industry," Wierenga said. "I am looking forward to elevating my team, raising the bar in new cities, and making an impact as we create workspaces that elevate people."
Liberty Capital Bank has a refreshed C-Suite, naming Alan Morris CEO and Amy Pickard CFO. They step in to replace former CEO Ben Cunningham and former CFO David Sprinkle, both of whom have retired from the company.
Morris joined the bank in 2013 as a senior vice president and was promoted to executive vice president in 2017. He became CEO at the start of 2021.
Pickard joined Liberty Capital in June of 2020 as a consultant and has quickly risen to the C-suite. She previously held posts at Legacy Texas and RSM US and has experience in auditing financial institutions, commercial real estate lending, and business development.
Comerica has hired Janelle Walker as North Texas wealth management regional manager. Walker will direct all wealth management activities, while managing a team of private wealth experts.
Walker brings more than 30 years of industry experience to the post. Prior to arriving at Comerica, she was wealth regional director at BB&T. She has also held posts at Morgan Stanley and Bank of America.
Walker earned a bachelor's degree from Purdue University and an MBA from Harvard University. She is also securities and insurance licensed.
Nonprofit Dallas Summer Musicals has appointed six new members to its board of directors and four new members to its advisory committee.
New board members include: Randy Humphreys, head of central region mid corporate banking group at Citibank, Jhubin Moghaddamfar, vice president at Frost Bank, Carlos González Peña, founder and principal at Peña Search Consulting, John Quattrocchi, partner at Baker McKenzie, Elizabeth Reich, CFO for the City of Dallas, and Dr. Eduardo Sanchez, chief medical officer for prevention at the American Heart Association.
New advisory board members include: Amanda Gadison, and attorney at Thompson, Coe, Cousins, & Irons, Ginnie Johansen Johnson, CEO of retailer King's Daughters, Ranjana Vinod Gudi, head of HR for North America at India-based consulting firm Infosys, and Ben Leal, president of The Addy Foundation.
Current advisory board member Alan Rose, community marketing specialist for WFAA, has been elected the inaugural advisory board chair.
Legal firm Bradley Arant Boult Cummings has promoted Samuel T. Acker and Scott Schardt to partner and Andrew R. Stubblefield to counsel in its Dallas office. The three are amongst 13 attorneys and three elevated to counsel firm-wide.
Acker will be part of the Litigation Practice Group, and he will focus on commercial and securities
litigation and white-collar defense. He has also dedicated a large portion of his practice to representing broker-dealers and registered representatives in FINRA arbitrations and regulatory inquiries.
Acker joined the firm in 2019 as a senior attorney, having previously held an attorney role at Sayles|Werbner. He holds a bachelor's degree from The University of Texas at Austin and his JD from American University.
Schardt is a member of the Healthcare Practice Group, and his practice will focus on regulatory matters affecting hospitals and healthcare providers, including Stark Law and Anti-Kickback Statute compliance, Medicare provider enrollment and reimbursement, 501(a) Physician Employment Organizations, HIPAA compliance, and healthcare facility and provider licensing. He also represents healthcare providers as purchasers and sellers in deals including mergers, acquisitions and joint ventures.
Schardt joined the firm in 2019 as counsel. He had previously been partner at Rogaliner Law Firm for eight years. Schardt earned a bachelor's degree from Texas Christian University and his JD from the University of Tulsa.
Stubblefield is a member of the firm's Construction Practice Group. He represents construction clients including, owners, contractors, design professionals, subcontractors, suppliers and sureties. Stubblefield's cases reach from small residential issues to large-scale defect and contract cases.
Stubblefield joined the firm as an attorney in 2016. He previously held legal roles at Martin & Martin and Coats| Rose. Stubblefield earned his bachelor's degree from The University of Texas at Arlington and his JD from the University of Mississippi.
Local legal firm McGuire, Craddock & Strother has promoted Jack
Gannon to partner. Gannon joined the firm in 2012 as an associate specializing in corporate, real estate, and banking deals. During the 2020 Covid-19 pandemic shutdown, Gannon provided guidance for businesses navigating state and federal orders and related financial issues.
Gannon earned a bachelor's degree from The University of Texas at Austin and his JD from Boston University.