The holidays seem to have taken on new meaning this year after such a tumultuous 2020. D CEO editors decided to check in with some area executives to see how they're planning to celebrate, what traditions they're carrying on, and what they hope to accomplish in 2021. We received so many responses; we've broken them up into two segments. Read part two, featuring Cynt Marshall, Chad Houser, Chris Kelly, and more, here.
Charlotte Jones
EVP and Chief Brand Officer, Dallas Cowboys Football Club
Holiday traditions: "Every year, my parents host a beautiful Christmas celebration with my brothers and their children. One of my favorite traditions is gathering everyone around the table to decorate gingerbread houses and sing Christmas carols. Regardless of age, we all participate. It's a beautiful family moment."
Favorite gift: "Far more important than the gifts has been the spirit of Christmas that my mom and dad have instilled in our family. Their emphasis on being together as a family, creating traditions and shared memories that are being passed on to the next generation is what I value the most."
On this year's wish list: "Having all my children home for Christmas, including my youngest son, who is away at college. Despite the challenges we have all faced in 2020, it has reminded us of the value of spending time with family."
Down-time tips: "This is a perfect question for our family as Thanksgiving and Christmas are spent surrounded by Cowboys football! We play on Thanksgiving every year, and Christmas is typically sandwiched between Cowboys games. We have learned to appreciate every moment we get together and to not allow them to be overlooked in the chaos of the moment."
New Year's resolution: "I believe I am not alone in my desire to say goodbye to 2020 and welcome a fresh start in 2021. Ironically, my resolution for 2021 is actually the collateral beauty of 2020—to slow down. Don't waste an opportunity to dig deep, to look at the world differently, to be more grateful and more thankful, to continue to strive to be the best version of myself, and to appreciate the gifts that lie in the most obvious of places."
Ben Lamm
Founder and CEO, Hypergiant
Holiday traditions: "My wife decorates our home with six or seven themed Christmas trees, wreaths, and lights—the whole nine yards. And every year on Christmas Eve, we host our family, cook a huge meal, eat way too much, blast Christmas music, and sit by the firepit. It's always one of my favorite days."
Favorite gift: "One of my best friends gave me a one-of-a-kind Darth Vader piece of art. It's simple, thoughtful, and perfect. I've also gotten some pretty amazing hoodies over the years."
On this year's wish list: "Due to workweeks of 100+ hours, I'm a little late to the party, but I really want the Xbox series X. If anyone can tell me where I can get one, that would be great!"
Down-time tips: "Plan as much as possible. I find as long as I plan ahead and set expectations for when I need to be on calls, my family is understanding. In the end, time is the only commodity that matters. The time you spend with friends, family, and loved ones is sacred time. Protect your time because it's one thing you can never get back."
New Year's resolution: "Focus on my mental and physical health. When I feel better, I do better, and I have a lot to do in 2021. Another big goal of mine is to always remember the lessons I learned in 2020. As the world goes back to 'normal,' it's easy to forget and slip back into our old ways. We must not forget all we've learned in 2020 and do better in 2021 and beyond."
Another DFW business executive you'd like to see fill out this Q&A is:
Other leaders I'd like to see answer this Q&A: "Trey Bowles and Dave Copps"
Bob Pryor
CEO, NTT Data
Holiday traditions: "I always look forward to my wife setting up a snow village with houses, local shops, and a very old electric train set (from her mom's childhood) under our Christmas tree. That, coupled with watching our favorite holiday movies as a family and feasting on a shrimp and crab boil, is an annual tradition that spans decades and several generations."
Favorite gift: "It's a toss-up between a GI Joe moon landing set, a Hot Wheels racetrack, and my first bike without training wheels."
On this year's wish list: "Time! Time for family, friends, and myself, via a few days of blank calendar. More books, plus a new putter that would get my golf balls into the holes with fewer strokes would also be nice."
Down-time tips: "This advice comes from my wife: 'Remember that not saying no to extra time at the office means you are saying no to time with the family.' Remembering that creates the discipline and opportunity for spending time with family; the next step is even harder for me—truly being in the moment and fully engaged."
New Year's resolution: "I've not found great success with these, so I don't have one. That said, I would like to eat healthier, exercise more regularly, and lose another 15 pounds."
Other leaders I'd like to see answer this Q&A: "Plano Mayor Harry LaRosiliere and Tom Dowling, CEO of Goldman Sachs Realty Management."
Terrence Maiden
CEO, Russell Glen Co.
 Holiday traditions: "My top two would be gathering as a family on Christmas Eve for a time of prayer and holiday festivities, and our annual holiday community events. Our foundation has provided more than 5,000 toys to underprivileged families during the holiday season over the years."
Favorite gift: "The year I received nothing. I don't remember exactly how old I was, but it was a tough year financially for my parents. Although they could not buy me and my three brothers much for Christmas, we adopted another family from my father's work. It was truly a profound moment and a powerful lesson of 'It's better to give than to receive.'"
On this year's wish list: "2020 has been a very tough year for so many. The greatest gift is to be able to celebrate another year with my family."
Down-time tips: "I strive to start wrapping up business right after the Thanksgiving holiday, so I can devote much of December to charitable events with our nonprofit and spending time with family and friends. I also really enjoy putting up Christmas decorations at home to get everyone in the holiday spirit; it's relaxing for me."
New Year's resolution: "Launching Russell Glen, my real estate development and investment company, in 2020 was a daunting endeavor/ My focus is to lean in more for 2021 and become much more effective as a development company. I also see room for growth as a leader and influencer and plan to 'lean in' to improve those areas, too."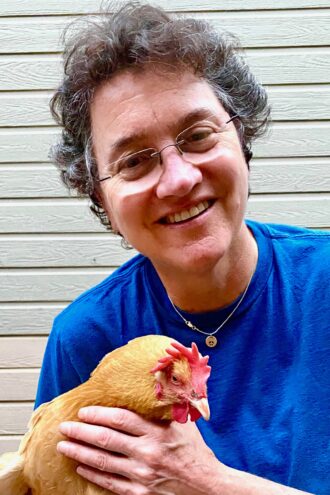 Pam Gerber
LGBT Task Force and Ethics Advisory Board commissioner, City of Dallas; founding board member, City Year Dallas
Holiday traditions: "That's easy! I do what many Jewish people do—eat Chinese food and watch movies. My favorite holiday memory was a time when I was about 7 years old, and my brothers and I had a snowball fight across traffic in New York."
Favorite gift: "It's hard to choose when I get eight of them each year. But I'll narrow it down to satellite radio, pet chickens, and a partridge in a pear—no, wait wrong holiday."
On this year's wish list: "A cooperative and productive bipartisan Congress. If that's not in the cards, I'll settle for a new couch."
Down-time tips: "Have someone hide your cell phone."
New Year's resolutions: "Here are three: first, say 'I know' less; second, have better posture; and third, be less apprehensive to break the rules."
Kourtny Garrett
President and CEO, Downtown Dallas Inc.
Holiday traditions: "Long Christmas Eve dinners, stockings on Christmas morning, stuffing and peppermint bark!"
Favorite gift: "The 1920s sheet music to Dallas I love You by Jack Gardner, introduced by "The Adolphus Hotel and Some of the Dallas Theatres." From what I've found, Mr. Gardner was the amusement manager at the hotel, and the piece was often performed by Jack and his orchestra in the lobby."
On this year's wish list: "A Theragun (massage therapy. Being strapped to a chair with days filled with zoom meetings is hard on the body."
Down-time tips: "I think we've all been challenged to find that balance this year, so I try to stay present in both. (See next question!)
New Year's resolution: "As a working parent, I wake up every day with a resolution to practice presence and gratitude in all I do. Some days are more successful than others, so I'll simply keep trying, even on Jan. 2."
Other leaders I'd like to see answer this Q&A: "Our board chair, Mattia Flabiano."
Rogers Healy
Owner and CEO, Rogers Healy Cos.
Holiday traditions: "Every Thanksgiving, we watch the greatest documentary in music history, The Last Waltz. This is the story of The Band's last concert, which was on Thanksgiving day. It's an incredible concert featuring some of music's greatest names, and it really kicks off our time to celebrate. Believe it or not, whenever I see Van Morrison take the stage in his purple, cashmere bodysuit, I know it's time to start enjoying the holidays!"
Favorite gift: "Absolutely zero question here—the Star Wars Ewok Village. You can take all the Tickle Me Elmos and roll them into one giant Christmas gift, and they will pale in comparison to the greatest toy ever made. I am still smiling 35 years later!"
On this year's wish list: "I love music, more than most people love oxygen. I love hard-to-find vinyls that you can't download on iTunes. Whether it's the Temptations Live at the Copacabana or a live performance by the Eagles, my family members are always on the lookout for something unique for me."
Down-time tips: "Be intentional. I have to do little things throughout my day and year to trick my mind. Work for me is about leverage and building success upon success, but the only way to enjoy it is to check out every once in a while. Be present with the ones you love and be intentional with them."
New Year's resolution: I know a lot of people that loathe New Years' and the idea of setting new goals and resolutions, but I love it! Each year, I have a word that I live by—2020 was 'vision,' and my word for 2021 is 'GO.' I plan to GO for it in 2021, whatever that may be. A lot of people have ideas and dreams, but the lucky ones GO for it. The worst-case scenario is you fail, but you learn something special.
Other leaders I'd like to see answer this Q&A: "Robbie Briggs, my first business hero (besides my dad)"
Lee Bird
CEO, At Home Group
Holiday traditions: "Reading and acting out as a family the Nativity story found in Luke 2 and Matthew 2, in costumes! Treats include peppermint ice cream and buckeyes."
Favorite gift: "The joy on the faces of our children when they get to open their presents is the best part of Christmas."
On this year's wish list: "Apple Watch."
Down-time tips: "Be fully present; work can wait, but family time can't be recovered."
New Year's resolution: "Enjoy the ride a little bit more. 2020 was a back-breaker."
Other leader I'd like to see answer this Q&A: Suzy Batiz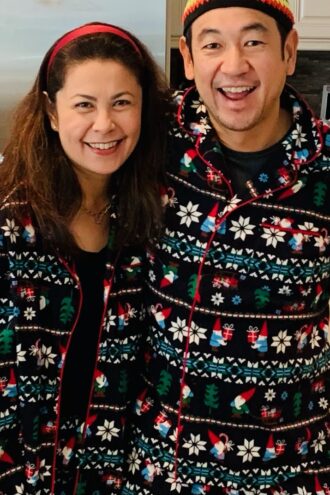 Charmaine Tang
Senior Client Strategist, BNY Mellon Wealth Management
Holiday traditions: "Every Christmas, we road trip to New York with our kids and our Goldendoodle to spend time with family and friends. I was born and raised in New York City, and there's no place like it for the holidays!"
On this year's wish list: "My husband and I gave ourselves our Christmas gift early—The Mirror home gym. We can't go to the gym during COVID times but really miss our workouts. We have a Peloton, but I don't like spin. I'm more of a barre aficionado."
Down-time tips: "Be present and drop the digital—that means everyone in the family! No cell phones, iPads, laptops, and video games during the holidays."
New Year's resolution: "To keep an open mind and heart, particularly with those who have differing views. We Americans are more alike than we are different!"
Other leaders I'd like to see fill out this Q&A: "Shonn Brown of Kimberly-Clark."
Melissa Collins
CMO, The Container Store
Holiday traditions: "My favorite traditions are tied to cooking with my mother, preparing some of her holiday favorites—a Christmas Trifle and, for as long as I can remember, we always had a big bowl of mixed nuts with a nutcracker at Christmas. I also enjoy spending time in the Canadian Rockies with my family during the holidays."
Favorite gift: "Five years ago, I received my first wooden Liberty Puzzle, and I have been hooked ever since."
On this year's wish list: "A standing desk for my home office."
Down-time tips: "Plan well in advance; it adds more pressure prior to time off but reduces stress when I am out."
New Year's resolution: "Sit less. (Hopefully, I'll get the standing desk under the tree.) Why? One downside of working from home is I have moved less than I did at the office."
Other leaders I'd like to see answer this Q&A: "My husband, William Collins, CMO at Teknion Data Solutions."
Alvaro Saenz
CEO, MD Medical Group
Holiday traditions: "I love to cook with the whole family. We are pretty good at cooking ravioli and making fresh pasta from scratch as a family. Everyone has a job, and the result is eaten with glee. I also love the cookies that the kids have learned to make."
Favorite gift: "A set of Pyrex. We needed it badly one year, and my wife forgot to get anything else for me. So, that became my gift."
On this year's wish list: "I have a pair of Ugg shoes that I wear every day—even in summer—to take the dog out. I am hoping for a replacement pair this year."
Down-time tips: "Work can wait. Time with the family cannot. The kids don't get a vacation whenever, so just relax. The company you run should be able to run well without you."
New Year's resolution: "Travel as little as I can for work."
Other leaders I'd like to see answer this Q&A: "Jared Pope, CEO, and founder of Work Shield."
Ben Brewer
Managing director, Hines
Holiday traditions: "We have two ceremonial dinners: tortellini soup and homemade muffulettas on Christmas Eve for my wife's Italian side, and prime rib on Christmas Day for the Texans. Also, carving out time to watch Christmas Vacation with some Cousin Eddie Egg Nog!
Favorite gift: "I doubt anyone has this one. More than 10 years ago, my wife and I were doing a substantial amount of landscaping on our house. My mom gifted me an ergonomically designed landscaping stool, and it is now one of my most used Christmas presents ever; however, its purpose has evolved many times over. It currently serves as a catcher stool when my boys are practicing pitching in the front yard. The best part is this model is no longer made; it is now priceless!"
On this year's wish list: "Rescheduling a trip with some couple friends to the Kentucky Bourbon Trail that was postponed due to the pandemic. Cheers!"
Down-time tips: "Make intentional plans, stick to them, and dial into what is front of you."
New Year's resolution: "Spend more time at home. Kidding. For 2021, I'd like to find time to reconnect with all the friends I have not seen in person during 2020. Also, we might finally cut the cord with cable TV."
Other leaders I'd like to see answer this Q&A: "Evan Beatie, GFF; Dary Stone, Hicks Holdings; and Dallas City Councilman Adam McGough."
Tyler Shin
Founder and managing partner, Revolving Kitchen
Holiday traditions: "My sister and I started a tradition a few years ago of traveling abroad together for Christmas. I like traveling and food, and she likes wine and bread, so we had been mostly visiting Europe and South America—until the pandemic."
Favorite gift: "My girlfriend gave me a Sous Vide last year, and it has been great. I can never overcook my protein."
On this year's wish list: "I'd like an air fryer. I'm told it makes guilt-free French fries!"
Down-time tips: "I remind myself what makes me happy and why I started the business and why I do what I do."
New Year's resolution: "Visiting family and friends who I have not seen during the pandemic."
Stephen Love
CEO, Dallas-Fort Worth Hospital Council
Holiday traditions: "Going to Christmas Eve service is a favorite tradition, and a favorite treat is homemade peanut butter fudge."
Favorite gift: "Christmas cards made by my grandchildren."
On this year's wish list: "That COVID-19 goes away soon."
Down-time tips: "This year, limit travel and relax with immediate family."
New Year's resolution: "To support food banks more due to the increased need as a result from COVID-19."