With the holiday season fast approaching and the COVID-19 pandemic still looming large, malls across the country have been forced to eliminate or otherwise change their classic holiday plans.
Trademark Property, the real estate company that owns the Galleria Dallas, knows that some holiday traditions are too special to put on hold. They have spent the past six months coming up with pandemic-friendly ways to ensure that certain traditions, like seeing Santa Claus and the tree lighting ceremony, can still occur. Plus, the shopping center has opened its doors to luxury candy maker Yasmeen Tadia's dessert omakase Make Your Life Sweeter and local photographers—and MOTUS creators—Scot and Kristi Redman's second iteration of the immersive Snowday Dallas.
The Galleria, which traditionally hosts more than 7 million shoppers during the holiday season, equating to 30 percent of their annual traffic, has been at the forefront of research and innovation to help keep its patrons safe while still giving them the holiday experiences they expect. Chuck Steelman, vice president of experience for Trademark Property, has helped design and implement the safety processes for these old traditions while also coming up with new ones to help keep the holiday spirit alive.
"It's been a really stressful time for many families, so we thought, why not try to do something where we can make families feel safe and welcome, and allow them to have some normalcy during the holidays," says Steelman.
For three decades, thousands of North Texans have come to visit Galleria Dallas and the country's tallest indoor Christmas tree for its famed Grand Tree Lighting Celebrations, where dozens of Olympic and world champion figure skaters have joined Missile Toes, Galleria's back-flipping Santa, and nearly 100 youth skaters in free performances that run through the holiday season. This year, COVID-19 has forced a change in the event.
Instead of hosting five free public shows with unlimited attendance, Galleria Dallas has partnered with the Dallas Children's Advocacy Center to create one extraordinary, private, socially-distanced event featuring world-class skater Mirai Nagasu. Families attending will be assigned to a private pod, where they can enjoy the holiday magic while safely distanced.
Steelman says he recognized that many non-profits had lost the chance not only to engage with their audiences but to solicit new donors, and he resolved that Galleria Dallas could become a community asset rather than simply a retail center.
Some of his other changes include converting an unused retail barricade into a makeshift art gallery. Groups ranging from Make-a-Wish to Susan G. Komen, from Fashion Group International to Chamberlain ballet, utilize the space to create exhibitions, auctions, and engagement.
Next, the team reimagined how they'd execute the traditional Salvation Army Angel Tree. This year, the organization anticipates a record number of applicants and a tightening of donors. To make it simpler for donors to deliver their gifts safely, Galleria Dallas will serve as a drive-through drop off location so that families adopting an angel can either adopt from inside Galleria Dallas or online and then enjoy contact-free drop off select dates.
Steelman says he is most excited about the Galleria's response to photos and visits with Santa Claus, a classic holiday experience rendered nearly impossible in the age of social distancing. The 2020 version of the Santa experience will feature a three-story sleigh for photos, with minimal interaction.
"The families are the children stand on level one, and it looks like they're driving the sleigh," says Steelman. "They are in the front part of the sleigh, and then Santa is sitting in the back, so he's six feet away."
Meeting Santa, who arrives at Dallas Galleria this Friday, requires pre-registration to minimize lines and curb crowds, but it also helps create a bit of extra holiday magic. Upon making a reservation, families can add notes, including children's names and items from their Christmas lists, so that Santa can be well-prepared when he meets them.  
Dallas Galleria is also offering Rudolf designed facemasks for children to inspire them to keep the masks on, as per the mall's COVID-19 policy. They are also offering virtual Santa meetings on Zoom for families who are not yet ready to visit the mall in person.  
The Galleria will also be home to some new holiday traditions.
New this holiday season, Nordstrom and Galleria Dallas will hold a limited-attendance production of the abbreviated Nutcracker Sweets presented by Chamberlain Ballet at 9 a.m. Nov. 21. A limited number of tickets for the production will be available at ChamberlainBallet.org. Additionally, Chamberlain Ballet will bring The Nutcracker story to life via photography with an exhibit featuring decades of Chamberlain The Nutcracker performances captured in photographs. The exhibit will be onsite on Level I at Galleria Dallas near Apple from Dec. 1 through Dec. 31.
As mentioned above, Snowday Dallas and dessert pop-up Make Your Life Sweeter will add additional experiential offerings.
Last year, Bayer Brothers and the team at MOTUS introduced Snowday Dallas to Preston Center. This year, the multi-sensory holiday exhibit and photo booth experience will be twice the size at the Galleria. The exhibit, which features 11 different rooms across 6,600 square-feet, will be a "mind-blowing Christmas experience," says Redman. "We really want to be something more than one of these selfie exhibits. We want it to be something that really takes people away. Our partners at Bayer Brothers delivered an incredible vision."
Snowday in itself is somewhat of an escape from the real world, something Redman thinks will make it especially popular for patrons this year. He also hopes that it can become a new tradition for families, even in a post-Covid world. "We kind of hope that this is our opportunity to become something new for people, that it opens the door for us for people to say 'Oh, wow, we're going to do that every year.'"
The large space in the Galleria allows for more creativity and innovation within each of the Snowday rooms and ensures that guests can maintain at least six feet of distance. Entrance to Snowday will be by reservation only, and the entire experience will be touchless, as they have implemented a wristband-based technology to assist with the photo opportunities.
"It's been months of conceptualizing how to do it in a different, safer way," says Redman. "It is ridiculously important to us to be responsible with people's health."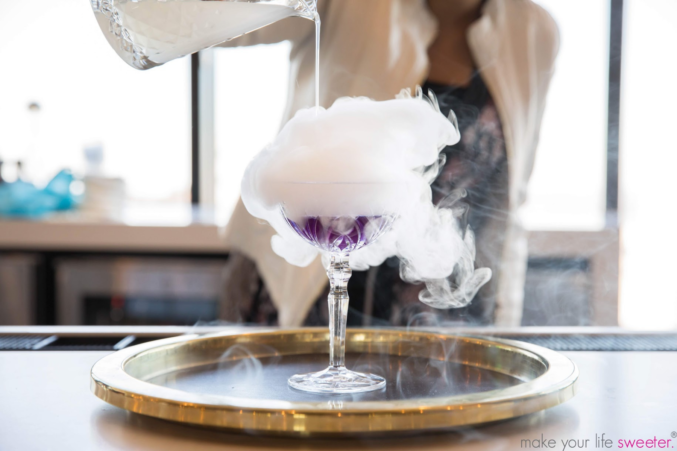 Yasmeen Tadia's dessert omakase takes sweet-toothed fans on a 21-course adventure (or 10 if you're not up for such a lavish affair) has taken over the old Godiva Chocolatier digs. Filled with Instagramable moments, the experience begins with champagne or soda poured over a fluff of cotton candy in a flute. D's online food editor Rosin Saez details the experience like this (click here to read more):
It's tempting to compare Tadia to a modern-day Willy Wonka—though less zany and with better fashion sensibilities. Both trade in sweets and both have a natural flair for turning a space into a dessert-filled world.

Everything is to elevate the experience, whether that means customizing a no-chocolate tasting menu, providing tea instead of cocoa, or substituting almond milk for cream. She's taken her philosophy of catering to clients' needs and expanded that for every person who walks into her confectionary. You don't get to work with people like Oprah or Justin Timberlake without understanding how to make people feel special. "When you come into our store, this is like our home," she says. "We want to take care of you."
For a complete list of holiday fun at the Galleria, visit galleriadallas.com/holiday.
D CEO Newsletter
Stay up to speed on DFW's fast-moving business community with weekly news reports, interviews, and insights.