Send your company's personnel moves to online managing editor Bianca R. Montes at [email protected].
The Dallas Regional Chamber has hired Latosha Herron-Bruff to be its first senior vice president for community engagement. Herron-Bruff has more than 20 years of experience working in the community, including 10 years with Habitat for Humanity. She was president of government affairs most recently for the nonprofit.
In her new role, Herron-Bruff will work alongside other members of DRC's team to analyze its strategic plan's approach to economic development, education and the workforce, public policy, and diversity, equity, and inclusion. After forming a board-level diversity, equity, and inclusion council in June, the DRC has created this position.
"She will be an important new pair of eyes and ears for us in various communities, keeping us informed of the needs of the communities, and letting the communities know of all the work the DRC is doing in the area of racial equity," said DRC president Dale Petroskey.
Herron-Bruff is a graduate of the University of North Texas.
The Retail Connection has promoted Sarah Lamb from analyst to associate in brokerage, focusing on tenant and landlord representation.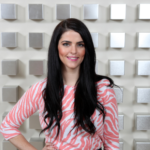 Since joining The Retail Connection, Lamb has specialized in leasing high-profile urban core real estate, along with tenant representation and project leasing. Lamb has also collaborated nationally with JCPenney assessing their excess real estate for development opportunities. Her work with JCP has earned her multiple high-profile listings with Dillard's across the State of Texas.
Before joining The Retail Connection, Lamb worked for a private family-owned investment property management and acquisition company, where she managed all aspects of rental property asset acquisition, management, and cash flow. She received her BBA from San Francisco State University.
Outside of TRC, Lamb ran for Dallas City Council, District- 9 in May of 2019. She was recently appointed as a Board Member to the Zoning Board of Adjustment for the City of Dallas by Councilmember Paula Blackmon.
Golden Chick has recently named Howard Terry, its chief marketing officer. Terry formerly served as the Texas-based franchise's senior vice president of marketing.
In addition to serving as the CMO of Golden Chick, Terry has been the president of the cheesesteak chain Texadelphia since 2018–both of which are part of Golden Tree Restaurants' portfolio.
Terry has more than 25 years of experience working with well-known hospitality brands as a long-term marketing consultant to Raising Cane's Chicken Fingers, vice president of marketing for Texas Land and Cattle and Lone Star Steakhouse, Mooyah Burgers and Fries, and Boston's Pizza Restaurants, and director of marketing for Denny's and Bonanza Restaurants.
"Over the past five years, my admiration has only grown for Golden Chick, and I look forward to the milestones our team will continue to achieve. I am confident that this franchise is on pace to be a major player, not only in the chicken category but in the quick-service industry," Terry said in a release.
Terry received a degree in advertising from The University of Texas at Austin.
Mariliz Peniza has joined KAI Engineering's Dallas-Fort Worth office as a mechanical engineer, where she will work on a multitude of design projects, including AutoCAD and Revit software.
Peniza has 13 years of industry experience, previously holding posts as an assistant designer for Adams Engineering & Development Consultants and as an assistant coordinator at DynaTen Corp. She received her bachelor's degree in construction management from the ITT Technical Institute.
Dauer Manufacturing has hired Curtis Butts to be regional sales director of its Central Division based in Fort Worth. In his new role, Butts will be responsible for distributor exclusive territories in Texas, New Mexico, Oklahoma, Kansas, Nebraska, Iowa, Missouri, Indiana, Arkansas, and Louisiana.
Before joining Dauer, the Texas Christian University alumni spent four years at Kichler serving as a factory representative in Texas and Oklahoma and has more than 15 years of industry experience.
Butts holds a bachelor's degree from TCU.
Steve Ortega has joined Agents National Insurance Co. as an agency representative in Fort Worth. Ortega will be responsible for developing new agency relationships and providing ongoing support to ANTIC's independent agent partners in Texas, Oklahoma, and Arkansas.
Ortega has 13 years of experience in banking and lending. Before joining ANTIC, he spent four years with a national underwriter, helping title agents grow their relationships with realtors and lenders.
In 2018, he attended the Alex H. Halff Leadership Academy for high-potential young professionals in the title industry.
The AT&T Performing Arts Center Board elected Daniel L. Tobey as the new chair of its board of directors. He succeeds business and civic leader Matrice Ellis-Kirk, who has served as chair since 2015. The position is a two-year term.
"This is a challenging time for the arts, and I'm eager to work with the staff and this Board to keep the Center and the arts in Dallas moving forward," Tobey said.
Tobey is a partner in DLA Piper's Dallas office as well as a medical doctor and software entrepreneur who represents healthcare, private equity, and finance clients on regulatory and litigation matters. He received a JD from Yale Law School and his medical degree from UT Southwestern Medical School, and a bachelor's from Harvard University.
The Board also elected four new members Annika Cail, Morgan W. Cox III, Dr. Jeffrey Whitman, and Noa Dowl.
Stephanie Gustafson was recently hired to serve as vice president at Paladin Partners Commercial Real Estate Services. In her new role, Gustafson will be responsible for business development and client services while developing relationships in the Dallas Design District, Trinity Groves, the Medical District, Love Field, and the Brookhollow areas of Dallas.
Before joining Paladin, Gustafson was with a local commercial real estate firm, J. Small Investments. She has spent the past five years focusing on project leasing and tenant representation of industrial and creative office tenants throughout the Stemmons corridor, where Paladin hopes to extend.
Gustafson received her BBA from Southwestern University.
Sidley Austin has hired Eric Winwood as a partner in its Dallas office, where he will be a member of the firm's Employee Benefits and Executive Compensation practice and the leader of the Dallas Tax, Employee Benefits and Executive Compensation group.
Winwood will advise clients on compensation and benefits issues, including those associated with mergers and acquisitions, private equity transactions, spinoffs, and joint ventures. Winwood has significant experience in the energy industry.
"His experience in the oil an gas sector will be of particular value to our clients in that industry," said Yvette Ostolaza, managing partner of Sidley's office in Dallas and a member of the firmwide management committee.
Winwood received his LL.M in taxation from New York University School of Law, his JD from Tulane University Law School, and a bachelor's from SMU.
Get the D CEO Newsletter
Stay up to speed on DFW's fast-moving business community with weekly news reports, interviews, and insights.