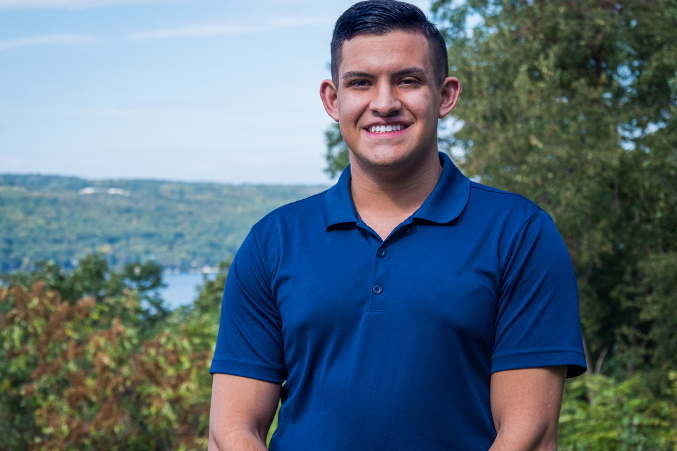 Young Leaders for Change Co-Founder Launches Podcast to Connect Students With Top Dallas Executives
CEOs like Cynt Marshal, Bill Cawley, and Ossa Fisher talk about goal setting, personal branding, networking, and other important business and life lessons.
The name Alex Quian might sound familiar if you came across a few articles last summer about a Dallas local who launched a service project to impact 30 area nonprofits in 30 days. Or maybe you heard about him earlier this year when he founded Young Leaders For Change, a nationwide program that would help others complete similar service projects. Quian and his longtime mentor—and SMU community engagement director—Greg Weatherford are now looking to answer the call of several students who were missing out on internships or entry-level career opportunities spurred by a global pandemic.
"I knew that there was this gap in learning, and I wanted just to find a way that young people could still get critical lessons and advice from the sort of executives and leaders that they may have gotten mentorship from under normal circumstances," Quian tells D CEO. 
Mentor Moments with Alex Quian
 launched earlier this month with four episodes.
The
podcast
 features a ne
w "mentor"
in 
each episode
, who offers listeners professional advice and insights into their
careers
.
The guest mentors are leaders and executives 
from various industries
, ranging from Frisco Mayor Jeff Cheney to 
Bill Cawley, CEO of 
commercial real estate company 
Cawley Partners. 
Discussions cover goal setting, personal branding, 
networking, and other important business and life lessons.
"My hope is that young people can listen to this podcast and always walk away with tangible lessons that they can then go apply in their own lives," says Quian. "I definitely want people to be able to take something away from every episode, something eye-opening or a tip that they can immediately go do themselves." 
When looking for business executives to interview, Quian said it was important for him to pick leaders who are at the top of their respective industries to ensure the podcast's first season covers a spectrum of different paths, "so everyone can find a guest that really relates to them," he adds.
"The podcast really is meant to be for all young people—regardless if you're currently in school, recently graduated, or not even been to college. I want this podcast to be helpful to everyone, and I want everyone to be able to listen to our podcast and walk away with tangible lessons they can apply in their own careers."
Cawley, who is well known as one of the most prolific developers in Dallas, shared on his episode about how he's persevered in the industry by being an intentional goal setter and very driven—especially during hard times when he was broke and taking cold showers. "I always felt like I could do better with what I was doing," he said. "I was always committed to doing it and never wavered. I will tell you; my success was directly driven by my efforts."
Ossa Fisher, the president and COO of ed-tech company Istation, touched on various noteworthy topics in her episode, such as strategic goal and how young people can contribute to a company, the benefit of continual learning, and building a brand. Fisher was welcomed to D CEO's Dallas 500 last year on the heels of her "Red Cape Nation" brand initiative, which helped raise Istation's awareness by 400 percent. (The initiative is led by the belief that every child deserves to be a hero.)
When asked what young people can do to elevate and build their brand, Fisher recommended the book "Contagious" by Jonah Berger. In the book, Berger walks through all the essential needed to create a lasting brand. "The two biggest takeaways for me are that you need something about yourself that applies to the head—something that you can contribute that has worth and purpose, that is useful. Then on top of that, something from the heart—something that gets people to remember you emotionally to care about you. Marrying this head and heart concept in a way that is unique to you—it is your heart and your brain—when you bring those two together, that I think is the best way to start thinking about your brand."
When choosing what sort of questions to ask, Quian says he was intentional about coming up with topics that any young person would want to ask.
"I want every episode to feel like you're sitting down for coffee with an executive or leader, so the conversation always starts by getting to know the guest a little bit more—asking about their background, how they ended up on the path to being a leader, and their organization," he says. "From there, I ask questions that can provide insightful or novel professional or personal advice to young people, and I try to pick questions that relate to that guest's area of expertise or experiences they've had on their own journeys."
In future episodes, Quian plans to interview CEOs Dolf Berle of Top Golf and Cynt Marshall of the Dallas Mavericks.
Quian says he, too, has learned valuable lessons from producing the podcast. 
"I think sometimes young people can feel daunted by the idea of seeking help or asking for advice, especially from leaders or people they look up to."
"The biggest lesson is one that I've learned from both the guests and the process of doing this podcast: just reach out," he shares. "I think sometimes young people can feel daunted by the idea of seeking help or asking for advice, especially from leaders or people they look up to. But something that nearly every guest has emphasized to me is that more often than not, people are very willing to help the next generation of professionals and leaders be successful.
"If you just reach out and express your desire to learn, you will be surprised by the results," Quian continues. "And that is certainly what I've experienced just doing this podcast—I've been so fortunate to get positive responses from the guests, and everyone has been more than happy to take the time to share insights and invest in people my age. I am very grateful for that.
Quian credits his mentor, Weatherford, for inspiring him and pushing him towards success. In fact, it was Weatherford that challenged him last summer to look for ways to serve his community. "That was just such a transformative experience for me. I learned so much about what it means actually to serve your community and to be a leader," said Quian. 
"He has literally changed the trajectory of my life," Quian continued. "He's the one who kind of showed me what it's like to be an entrepreneur, and what young people can accomplish if they just work hard enough and are driven by purpose."  
Quian's relationship with Weatherford proved to him just how fundamental mentors could be in one's life, and was the inspiration for starting the podcast. "I realized that if I didn't have that mentorship that summer, I would have missed out on so much, so that kind of goes back to the reason why I started Mentor Moments," he says.  
While Mentor Moments was born out of the impacts of COVID-19, Quian sees the podcast continuing even as businesses and hiring practices return to normal.  
"We are interviewing executives and leaders that people may otherwise never have an opportunity to meet and learn from. And that's especially true for those from low-income backgrounds or marginalized communities that don't necessarily always have access to these opportunities," he says. "That's always going to be a need, even after COVID." 
Mentor Moments can be found on Spotify, Apple Podcasts, Google Podcasts, Stitcher, and Pandora. New episodes come out every Tuesday.