The United Way of Metropolitan Dallas kicked off its annual fundraiser today with a laundry list of North Texas business leaders stepping up in a significant way to help the nonprofit with its ambitious goal of making Dallas a more equitable place by 2030. Since announcing that AT&T Business CEO Anne Chow would lead the fundraising efforts about eight weeks ago, the nonprofit has reported that $12 million has been raised.
"This is the strongest statement ever made at the beginning of our annual fundraising campaign," said United Way of Metropolitan Dallas President Jennifer Sampson.
In concordance with its annual fundraising campaign, UWMD has kicked off what can be seen as its loftiest goal: a 10-year initiative to address education, health, and income attainments by 2030. Sampson, Chow, and Dallas Mayor Eric Johnson announced the Aspire United 2030 goals at a news conference Friday at the recently renovated AT&T Discovery District campus in downtown Dallas.
"United Way has an unwavering vision that all North Texans, regardless of race or ZIP code—should have the opportunity and access to achieve their full potential," said Sampson, McDermott-Templeton President and CEO of United Way of Metropolitan Dallas. "At the beginning of the new decade, we worked with civic and community partners to develop specific, measurable goals for the next 10 years that will guide our programs and partnerships to deliver on this vision."
Over the weekend, UWMD announced it was partnering with the Dallas Citizens Council, the Dallas Regional Chamber, and BCG to advance racial equity within Dallas. This collaboration will bring together civic, business, and philanthropic leaders in a multi-year effort to catalyze broad and lasting social change in our community. The initiative reflects 18 months of research, discussion, and planning.
"This is not just United Way's goals but our community's goals," Johnson said. "This type of work is what United Way was built for."
Chow, who Sampson described as a visionary leader, kind, caring, empathetic, and "our Wonder Woman," is joining a long list of incredibly revered business leaders as the 2020-2021 chair of the fundraising campaign. She also is both the first woman and first minority global CEO to fill the role. Previous chairs include Mary and Rich Templeton—Texas Instrument CEO—Dallas Cowboys Quarterback Troy Aikman, former Kimberly-Clark leader Tom Falk, retired AT&T CEO Randall Stephenson, and Fluor Corporation CEO David Seaton.
"Twenty-twenty will forever be emblazed in our memory. Before we know it, 2030 will be here," Chow said, giving a quick reference of what 10 years looks like. In 2010, the iPad was launched, Instagram was not on iOS until October of that year, and the World Health Organization announced in August 2010 that H1N1 was over. "Let's reflect on how much progress can be made in a few short years."
The daughter of immigrant parents, Chow says she will heed the advice of her mother and father while leading the campaign: You can't just be good—all hat no cattle—you must also do good.
To achieve its community goals, United Way of Metropolitan Dallas will focus on three key levers – and critical drivers for systemic change – to drive progress over the next 10 years. Those goals include a 50 percent increase in students reading at grade level by third grade, a 20 percent increase in young adults earning a living wage, and rising to 96 percent the number of residents with access to affordable health care insurance.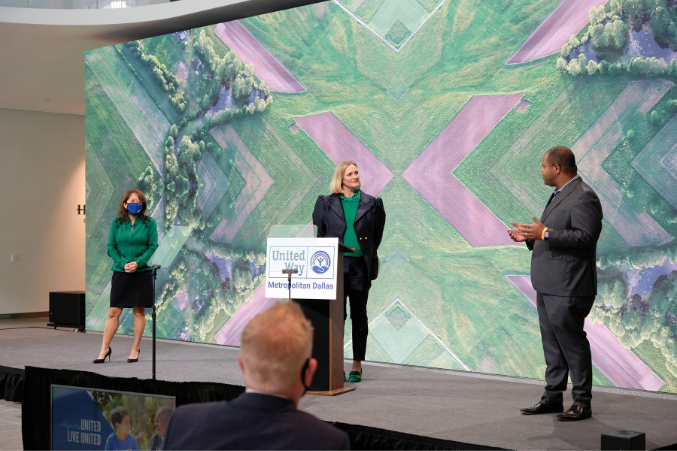 "When we tackle the root cause, not just the systems, we improve," Sampson said. "The vision for action starts now. The urgency for action starts now."
A healthy list of Dallas business leaders has aligned themselves with UWMD's vision, including AT&T, Atmos Energy, Vistra, Kimberly-Clark, JPMorgan Chase, PepsiCo Frito-Lay, Carol and Kevin March, The Mike & Mary Terry Family Foundation, The Rees-Jones Foundation, the City of Dallas, and Baylor Scott and White Health.
"We need for the corporate community to do what they have been doing to build such successful businesses and apply that to the challenges here in Dallas," said James Hinton, CEO, Baylor Scott and White Health. "So, we invite them to be on the field with the rest of us to make a huge difference."
The PepsiCo Foundation's made a $5 million pledge to match investments in Southern Dallas Thrives over the next five years.
"The journey for racial equity has long been part of Pepsico Frito-Lay's DNA, so I was proud to accept the role of "executive sponsor in this exciting new partnership," said Steven Williams, CEO, PepsiCo Foods North America. "I am eager to get to work on this community-wide effort.  We have much work to do going forward, and being better by doing better—to echo Dr. Martin Luther King, Jr., 'The time is always right to do what is right.'"
Vistra Corporation is the first taker of the PepsiCo Foundation's match investment, with a $1 million donation to UWMD.
"I said to myself, 'Curt, we can't outsource this.'  We've got to live this, and it's got to come from the heart.

Curt Morgan, CEO and. President, Vistra Corp.
"I heard stories of black men and women who had to drive through white neighborhoods to get to work but would take roads outside of town so that they wouldn't get pulled over if a police officer saw them in a white neighborhood," said Curt Morgan, CEO and. President, Vistra Corp. "I said to myself, 'Curt, we can't outsource this.'  We've got to live this, and it's got to come from the heart. Investing in the community is good business, but it's also the right thing to do.'"
Boston Consulting Group (BCG) also committed to an investment of $1 million for the next three years to support United Way towards this effort. This is part of its national commitment of $100 million for this work.
The collaboration will bring together civic, business, and philanthropic leaders in a multi-year effort to catalyze broad and lasting social change in our community. The 18-month-in-the-making initiative is backed by an extensive study of the systemic racism and racial disparities that exist across the United States.
Plans include developing groundbreaking and creative interventions towards a commitment to racial equity and emphasizing long-term and city-scale efforts. This work will also shape UWMD's investments, actions, and advocacy—moving from theory to action—as it works together to ensure that every North Texan, regardless of race or ZIP code, has the access and opportunity needed to achieve their full potential.
Atmos Energy is making an announcement and a $1 million investment in an early literacy program in partnership with UWMD and Vooks to equip parents and teachers to build the foundation for this essential milestone in the earliest years.
Sampson says UWMD is proud to partner with Atmos to bring this life-changing resource to "our youngest learners and their families because we all know that reading on grade level is one of the most critical ways to ensure success in school and life. Systemic obstacles and racial disparities cause too many Black and Latino children to start school behind, and many never catch up."
Get the D CEO Newsletter
Stay up to speed on DFW's fast-moving business community with weekly news reports, interviews, and insights.