Since launching in 2017 under the Match Affinity portfolio, BLK has grown into the largest dating app for Black singles.
Now, with more than 3 million downloads, the company is using its large platform to encourage ongoing education and dialogue around the topics of racism and discrimination, inspired by the Black Lives Matter movement.
Recently, BLK launched an in-app engagement called #BLKVoices to create a space for users to express their views on timely social and cultural topics. At the helm of the effort is newly appointed head of marketing and brand, Jonathan Kirkland. A Dallas transplant by way of Los Angeles, Kirkland isn't new to working with brands that cater to diverse audiences. He got his start in the dating industry working at LGBT+ specific apps Grindr and later at Chappy, which recently was folded into the Bumble umbrella.
Kirkland said that the idea came to him while watching the news with a friend following the George Floyd murder. "We were sounding off, and I wanted to create a space where our users could do the same thing through BLK," he told D CEO.
While initial conversations surrounded issues of systemic racism and gaining equity, Kirkland also said questions about how to respond when non-Black friends ask, "What can I do to help?" emerged. In the coming weeks, BLK plans to pull from its user's feedback to launch an integrated marketing campaign with the general public—acting as a resource or tool to drive future conversations.
D CEO caught up with Kirkland to learn more about the initiative.
D CEO: How did your audience respond to #BLKVoices?
KIRKLAND: "It was the first time that we ever put a call out to our users to input statements and long-form information, so we didn't know how our audience would respond. The response was overwhelmingly positive. We got thousands of responses within the first 48 hours. A lot were grouped into a few buckets about learning and educating yourself on systemic racism and why we are where we are today in America; listening and supporting the Black community—not just emotionally but also economically; taking accountability and realizing your privilege—and using it for good—and ultimately just taking action. Like, don't just talk about it, don't just donate, but actually apply elbow grease and make the change."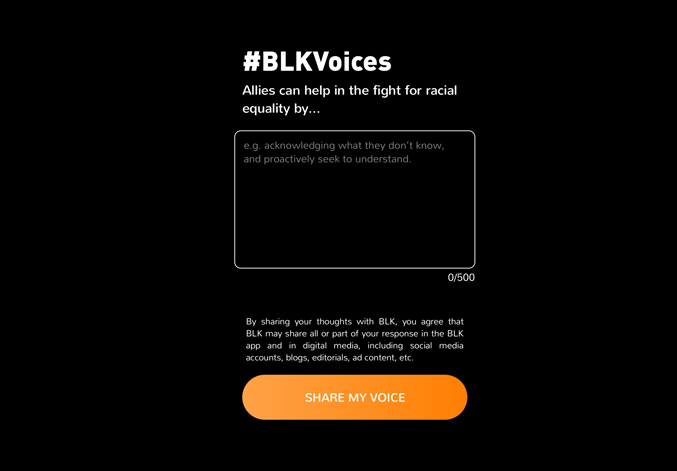 D CEO: How is this moving such conversations forward at Match?
KIRKLAND: "We are in conversations with other Match brands to help guide the conversation from an internal standpoint. We are looking at how we work with our sister brands to have these conversations about discrimination and race—and how they apply to us in our industry of online dating so we can take the bandaid off and look internally. We recently proactively hired a Black man to join the Match Board. HR, instead of looking at just people of color, are going a little deeper to make sure that we are a company that is diverse and values inclusion and equality. That has been helpful, and I think a lot of that was inspired or sparked or put at the forefront because of the Black Lives Matter movement and because of the things that we were doing here at BLK to lead the charge in those conversations."
D CEO: Why was it important for BLK and Match to take on this conversation?
KIRKLAND: "Because if you look at Match as a whole, even Match Affinity which is the group people under, we have apps that represent multiple demographics, so looking at that, with us being a company that is inclusive of all these different verticals, all these different audience demographics, it's a no brainer that we would step up to the plate and do something a little bit different and do something unexpected. To show our support and alignment and that as a brand and as a company, we are authentic, and we mean what we say and do what we say that we're going to do."
D CEO: As news spreads about your initiative, how are local businesses reacting?
KIRKLAND: "We've had some proactive outreach and some inbound calls and emails from other Dallas businesses and Dallas community organizations wanting BLK to help them in some of their social awareness campaigns and some of their initiatives around diversity and inclusion. This has elevated BLK on a local level in Dallas to be a partner to organizations outside of Match. That wouldn't have happened if we didn't step up to the plate. I'm glad that we took some action."
D CEO: What have you personally learned from this?
KIRKLAND: "I've learned to be a little bit more unapologetic. The Black community as a whole, we tend to code-switch (change the way they express themselves when they are around people with different racial and ethnic backgrounds) in a lot of different environments because a lot of the situations we're in every day aren't necessarily environments made for us. And we're seeing that played out in mainstream media today, and as we're having conversations about systemic racism, it is becoming more and more apparent. We created spaces like BLK so we can feel safe, and we can feel comfortable, and meet people that relate to us. In this, I feel like I've been able to be a bit more vocal and be a bit more authentic and unapologetic because now is the time when it seems like people are listening to these conversations, as uncomfortable as they may be."
D CEO: What advice do you have for other businesses that would also like to push this conversation forward?
KIRKLAND: "Don't be afraid to be uncomfortable. Those uncomfortable conversations and uncomfortable moments will spark change. Be open to listening. Be open to knowing that you don't know everything, and it's a collaborative effort. The biggest thing is understanding that it's not us against you. It's a we thing. The goal is for us to be in this together and progress together."
Q&A responses have been edited for length and clarity.
Get the D CEO Newsletter
Stay up to speed on DFW's fast-moving business community with weekly news reports, interviews, and insights.