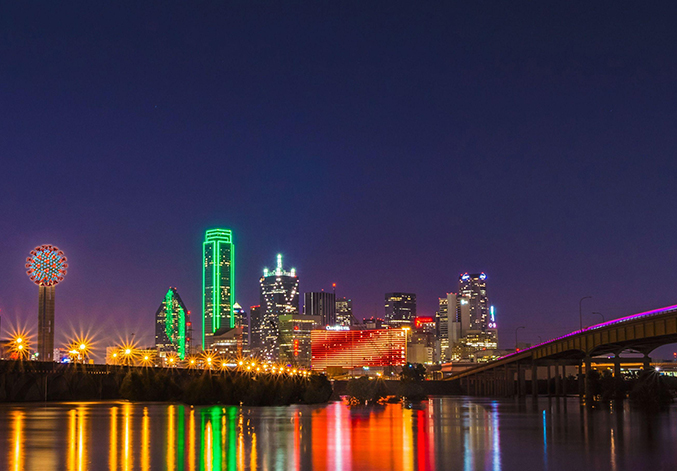 Personnel Moves: TIG, KPMG, Whitley Penn, and More
Real estate legend makes a switch, accounting firms announce new managing partners and COO, plus other DFW new hires and promotions.
Commercial real estate legend Wayne Swearingen has joined the team at TIG Real Estate Services. A 58-year industry veteran, Swearingen will advance TIG's mission by providing expert counsel to brokers and property managers alike. Swearingen formed two companies, The Swearingen Co. and Barclay Commercial Group, which over the years have completed some of the more significant sales in Dallas-Fort Worth.
Kim Kesler has been named the Dallas office managing partner for KPMG. She is the first female managing partner for the Dallas office in the company's 105-year history. Kesler assumes the role from Manny Fernandez, a 36-year veteran who is retiring. Kesler will be responsible for the strategic direction and growth of KPMG's Dallas practice and for supporting the career development of over 2,100 partners and professionals. Kesler joined KPMG in 2002 and was admitted to the partnership in 2010. Kesler also serves as a cohort lead at the KPMG Women's Leadership Summit and KPMG's Executive Leadership Institute for Women.
Christopher M. Gibbons has joined The Retail Connection as the firm's new Senior Vice President of Brokerage. Also, Miles Hoisington has transitioned from analyst to associate in brokerage. Before joining The Retail Connection, Gibson was a senior vice president at JLL, where he assisted his clients with leasing strategies. Prior to that, he served as director of dispositions at Venture Commercial, where he handled tenant representation accounts and the leasing and consultation for their retail disposition. Hoisington, who joined the firm in 2018, has worked closely on the Topgolf account as a part of the brokerage team providing deal tracking, assisting in negotiations, and refining the national strategy for Topgolf concepts.
Rob Sepanek has joined the North Texas office of Adolfson & Peterson Construction (AP), a top national construction management firm and general contractor, as the new director of scheduling operations. With 28 years of experience in construction management and coordination, he will be responsible for leading project scheduling across multiple regions for AP's Arizona, Minnesota, and Texas offices. He will also collaborate with project teams to establish scheduling standards, work products, project timelines, performance indicators, risk management, and recovery strategies resulting in accurate and achievable scheduling expectations across all projects for each region.
Federos, a Frisco-based provider of AI-optimized solutions, has announced the appointment of Keith Buckley as the company's chief executive officer. Under Buckley's leadership, Federos has restructured its operations to optimize product development and deployment to support worldwide expansion. Buckley previously served as president and/or CEO of multiple companies, including The Switch Enterprises, ASC Signal Corporation, Trusonic, Insight Telecommunications Corporation, and more. Under Federos' new structure and leadership, the company will invest significantly in Assure1, its flagship product, and the team that installs integrates and supports Federos customer's around the world.
Rebeca Harsila has been named the new director of development of The King's Academy, located in Southern Dallas. Harsila will be taking the primary leadership role in the creation, implementation, and management of the annual giving strategy. This will include the development and execution of capital campaigns, events, community relations, and donor cultivation to establish a sustainable foundation to launch TKA into the future. Harsila most recently served as Executive Director of Carry The Load, a fast-growing grassroots movement aimed at creating awareness and a public recommitment to honoring those who have made the ultimate sacrifice for our freedom.
Whitley Penn has announced that Mike Herman has joined the firm as chief operating officer. Herman will assume the position with 30 years of operational management and strategic and financial leadership experience with a diverse background in accounting, finance, treasury, compliance, and more. Herman previously held posts at TEP Barnett USA, Newark E&P, and JP Morgan.
Grant Palmer is joining Mohr Partners in Dallas to expand the firm's national capital markets division. In his new role, he will focus on representing both private-client and institutional investors in disposing and acquiring office, industrial, retail, healthcare, and multi-family properties. Palmer will work directly with managing principal and shareholder Eric Beichler. Palmer previously served as senior vice president at NAI NP Dodge.
Commercial real estate firm Hartman has announced the promotion of Mark T. Torok to chief operating officer, and he will retain his duties as general counsel and corporate secretary. Torok will lead the execution of strategies developed by the executive team and oversee the capital markets and capital raising efforts while managing the accounting department. He will also continue to monitor the in-house legal department and all legal matters affecting the company and affiliates. Torok joined Hartman five years ago, and before doing so, he started his law firm, The Torok Law Firm.
KAI Enterprises has announced the hiring of Aleksandar Milenkov as director of mechanical engineering of its Dallas-Fort Worth area operations. The firm also announced the hiring of William Allen as director of architecture. Milenkov will provide the necessary direction for planning the activities and work of the mechanical and plumbing department. He will also oversee and lead for all phases of work and coordinate efforts with other leaders in the firm, heading up safety, quality, drafting standards, and standardized project procedures. He has 16 years of industry experience, having held posts at BW Design Group, Axxis Building Systems, and Jacobs Engineering Group. As the Director of Architecture, Allen provides strategic leadership to the architectural staff in KAI's Dallas-Fort Worth office, which includes quality control, mentoring, design collaboration, and constructability. Before KAI, he worked as a Project Manager for two years at D2 Architecture in Dallas and as a Program Manager for nearly 15 years at RHA Architects, also in Dallas.
Metro Aerospace has named Tim Watkins as vice president, business development. Watkins is a former naval officer with broad international sales experience. With Metro Aerospace, Watkins will drive adoption of Metro's Microvane technology across the global defense and commercial aerospace sectors, while also helping bring new Metro drag-reducing technologies to the market. Before joining the company, Watkins served the country as a Commander in the U.S. Navy, followed by a transition into an enterprise sales executive role with Gartner.
Younger Partners welcomes Micah Ashford to lead a new retail acquisition platform. Ashford is joining Younger after a two-year hiatus from a 20-year career as a partner at Dunhill Partners. Her latest role will entail directing acquisitions, financing, and dispositions. She will originate new property opportunities, negotiate partnerships and loan documents while overseeing the physical and financial due diligence on those acquisitions.