Across the country, small businesses have been among the hardest hit during the coronavirus pandemic. Many are struggling to get by, some have completely changed course, and some have shuttered. But some are powering through to continue with their expansion plans. D CEO recently talked with five local entrepreneurs who are doing just that.
Zach Bergenholtz, Blu's Barbeque
From the start, the restaurateur behind Blu's Barbeque, Zach Bergenholtz, planned to have multiple venues. Last December, just six months after opening his first spot in North Dallas, he began searching for other potential locations. The plan was to open up two more in 2020 and five more within the next two years. This past March, when the shelter-in-place order took effect, he had already found one site.
"Since then, we've been working on [letters of intent] and the lease and other things to get the deal done, so that by the time all this stuff is through, then we can begin construction and move forward," Bergenholtz said.
He has since locked in a third location and is in talks for a fourth. Bergenholtz credits his team with enabling him to juggle current operations, shifting COVID-19 regulations and restrictions, and the real estate search.
With growing vacancies and lower prices, he has had plenty of expansion options. "There's definitely a lot more locations now available," he said. "Unfortunately, because of COVID, a lot of places had to close down. We're getting a lot more offers from other barbecue restaurants … or other restaurants where they want us to buy their equipment or their building."
When shelter-in-place hit, Blu's was well-positioned to adapt to takeout and delivery. Bergenholtz said he only needed about a week to make the shift before business boomed and exceeded expectations. A week later, sales were topping pre-COVID numbers by about 50 customers per day, he said. The success of his first venue has played a key role in spurring on expansion plans.
Chet and Becca Wilson, City Salon Suites
The owners of City Salon Suites were well underway with plans to open stores five and six when their businesses were temporarily closed due to the coronavirus. Chet and Becca Wilson operate venues that rent salon rooms to stylists who are independent contractors.  But the pause in operations hasn't put a damper on expansion plans.
One of the Wilsons' new locations, at the intersection of Inwood and Maple Road, had just undergone demolition, and the couple was hoping to apply for building permits when City of Dallas offices shut down. The other, a part of the roughly 800,000 square-foot retail and restaurant space planned for a shopping center in Prosper owned by Jerry Jones' Blue Star Land, was able to continue its scheduled buildout.
Each location will encompass roughly 10,000 square feet and house about 50 stylists. Their long-term goal is to open 10 locations and expand into other markets, perhaps Phoenix.
"We were not at a place where we had to be on-site working during COVID," Becca said. "So, it just worked out OK for us."
The couple's model is well-suited for pandemic times. Private rooms for each stylist offer built-in social distancing.
The Wilsons bring backgrounds in both hairstyling (Chet) and property management (Becca) to the table. They've also figured out one of the biggest challenges for small businesses: funding.
"We have private equity," Becca said. "So, we are not strained for capital, which we are very fortunate about that."
Their availability of funds also allowed the Wilsons to offer stylists abated rent throughout the COVID closures; this not only helped those around them, but it also helped retain tenants.
"It was something that cost us close to $300,000," Chet said. "But it was just the right thing to do."
Lucy Dang, Pink Pedi
Funding has not proven as accessible for Pink Pedi salon co-owner, Lucy Dang. It is the biggest stumbling block in moving forward with her plans for opening a second salon—a more luxurious model named Purpose and Intention, in Fort Worth.
Dang was set to break ground on the venue in March when COVID-19 shut down her current salon in West Dallas.
"The week that the city of Fort Wirth approved our architectural plans was the same week that Dallas said 'You have to close your Pink Pedi business,'" she said.
At the time, inventory and furnishings for the new store had been ordered, and plans were set. Dang was even in the process of franchising the business, with hopes to open 40 locations in the next five years.
"We had a lot of attention on us because Pink Pedi was so successful," Dang said. "But, all of that kind of vanished."
Dang was previously in talks with large fast-food and beauty chains. Those deals died. Although her main investors have stuck with her, the two that withdrew were enough to make Dang and her husband, Brandon, question both the concept and plausibility of moving forward.
Dang is now considering converting the Fort Worth location into a second Pink Pedi rather than the more luxurious offshoot.
"We are asking ourselves, 'Are people really going to spend $100 plus on a mani-pedi service?'" she said.
If the couple decides to move forward, finding funds will be their first step.
"I guess if we were to continue franchising Pink Pedi, we would reach out to angel investors," Dang said. "After things settle down a bit, maybe after this summer, we will try."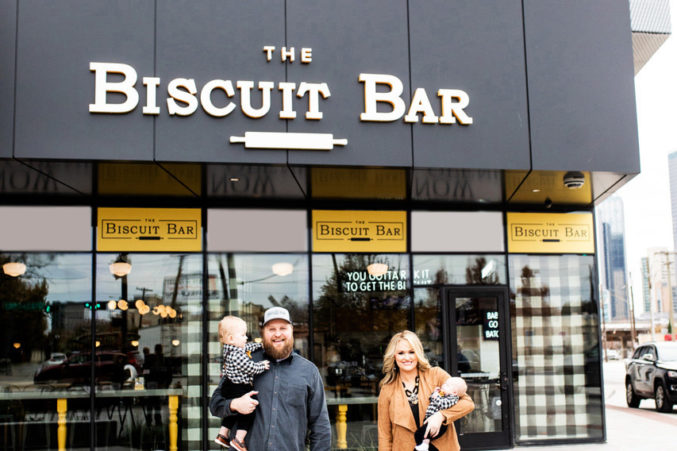 Jake and Janie Burkett, The Biscuit Bar
Landlord support is helping Janie Burkett, co-owner of local fast-casual concept The Biscuit Bar, move forward with her Arlington location—the fourth in her portfolio. She and her husband, Jake, opened their first location in 2018.
"We already had free rent, but [the landlord for the Arlington location] even supplemented on top of that to give us a good start," Burkett said.
The venue was initially scheduled for April. "About that time, we were going to start bringing people in [to the Arlington location], and we just decided not to because we weren't sure what was going to happen," Burkett said.
The couple was also in the midst of construction for a fifth location at the new Mule Alley development in Fort Worth's Stockyards, and they had applied for SBA loans for a planned seventh and eighth locations in Coppell and Abilene. All but the Mule Alley location have experienced complications in the opening as a result of COVID, but the Burketts still plan to go through with each. The Abilene location is set to open in early 2021.
"We're young and scrappy," Burkett said of her and her husband. "My husband and I have always been of the mindset that opportunity doesn't knock on your door; you have to kick the damn door down."
Get the D CEO Newsletter
Stay up to speed on DFW's fast-moving business community with weekly news reports, interviews, and insights.