Before March, Dallas' hotel industry was booming with nearly 70 percent occupancy rates in February—75 percent in the Central Business District. Then COVID-19 hit.
Almost overnight occupancy rates dipped to 25.6 percent across the city and a devastating 23 percent in downtown, according to data provided to
D CEO
by STR, a division of CoStar Group, which researches market data on the hotel industry worldwide.
Now, Dallas leaders are searching for a path to recovery.
"I would argue that tourism is probably amongst the top industries that got hit in a very devastating way," VisitDallas CEO Craig Davis said.
While it is forecast that occupancy rates will normalize by 2022, revenue recovery has a much longer trajectory. To help assess the damage, VisitDallas commissioned a study by Tourism Economics, "and they came back and said that COVID would be nine times worse than the 2008 [recession] and 9/11 put together," Davis said about the local impact.
"They came back and said that COVID would be nine times worse than the 2008 [recession] and 9/11 put together," says VisitDallas CEO Craig Davis.
Those dips in occupancy rates caused the average daily room rates in Dallas to drop from $117.54 a night in February to $61.54 in April. In the Central Business District and Market Center, the average daily rate went from about $182 a night to $82.28 in the same timeframe.
By year-end 2020, Dallas hotels are forecast to see a nearly 60 percent decrease in revenue generated per available room, which is worse than the national projection of a 51.9 percent decline, according to a recent report by CBRE. Known as RevPAR, the calculation helps hotels measure their revenue-generating performance to accurately price rooms—and measure themselves against other properties or brands.
"Although the forecast improves significantly in 2021 and 2022, since Dallas is coming off record occupancies in recent years, we don't expect to see a return to pre-crisis occupancy levels for the next five years," says Jeff Binford, managing director with CBRE's Hotels Advisory
Binford says occupancy is expected to range from 36.1 percent to 66.2 percent during the 5-year forecast period.
"Although the trough in 2020 lodging performance will be much deeper than anything we've seen in the past 80 years, much of this decline is not caused by underlying fundamental economic problems," says Bram Gallagher, senior economist with CBRE Hotels Research. "Once social gathering restrictions are lifted, an expected return to the strong underlying economic conditions, which existed before 2020, will restore economic production."
When asked why revenue recovery would lag, Davis says as business returns, it doesn't come in a large rush.
"It comes as a slow build-up, and hotels have to compete with each other," he said. "So, generally speaking, it's a tactic that they put their rate down to make their hotel more attractive."
BEHIND THE NUMBERS
The loss in revenue has the potential to be a huge upset for Dallas, primarily because closures took place during the city's busiest months for tourism and conventions.
Since 2008, hotel revenue in Dallas has grown by more than 50 percent, according to VisitDallas.  In 2018, 27.7 million people visited Dallas, generating more than $5.2 billion in revenue and nearly $9 billion in economic impact, according to data provided by VisitDallas.
In 2018, tourists paid local and state tax proceeds of $607.9 million, meaning visitors saved the average Dallas household more than $1,200 per year in taxes, according to the Tourism Economics study.
In May, Dallas City Council Members
were briefed
about the economic impact of COVID-19. D Magazine's Peter Simek reported that the Convention and Event Services Department, which oversees the hotel occupancy tax that funds the convention center, VisitDallas, and a portion of the Office of Arts and Culture budget, is looking at a $47.7 million revenue drop thanks to empty hotels.
How the Council will make up for those losses is to be determined. City staff recommended options like cutting services and facilities that are not being performed or used during the pandemic. This includes eliminating budgets for events and recreation activities and limiting the number of city facilities that reopen as the stay-in-place orders relax, Simek reported. City staff also proposed cutting general fund dollars for street and alley improvements, as well as bike lanes.
"We're still trying to access the damage that's already been done," Davis told 
D CEO
.
THE ROAD TO RECOVERY
What Davis does know is that health and safety measures, strong marketing efforts, and the reopening of the Kay Bailey Hutchison Convention Center are all included in the road to recovery.
Efforts pushed forward include working with the International Sanitary Supply Association for its cleanliness certification services. The Dallas Tourism Public Improvement District is funding the program for TPID hotels within city limits with at least 100 rooms, the Kay Bailey Hutchison Convention Center, and other select City of Dallas venues. The hotels still have to choose to go through the process, currently, 20 percent is working. Westin Galleria is the first.
"That's a message that we want to strengthen with our convention customers, and with our traveling public, if you come into a Dallas hotel, it will be clean," he continued. "And it's not because we say it's clean, it's because a credible third party says it's clean."
For the Omni Dallas, one of the four large convention center hotels in the city, 2020, was set to be the best year yet, with occupancy rates hitting nearly 80 percent. "Prior to COVID, we were set up to have a record year in 2020," says hotel managing director Carolyn Dent.
"With that being said, the main driver of revenue for our types of hotels come from groups, conventions, and meetings along with large luncheons and evening galas," Dent says. "As you might imagine, booking pace has been softer due to travel restrictions and state-to-state mandates on gatherings and social distancing requirements. All indications lead us to believe that groups still want to meet in person, they have just been pushed back and re-imagined to accommodate the new normal."
Adjusting the way Dallas markets itself for tourism is also part of the plan.
"We kind of know instinctively that people won't want to get on a plane in the same amount that they did prior to COVID, but they will get in a car," Davis says. "We also know that people are going to see their family, so we are going to be doing some staycation types of marketing and appealing to people getting back and connecting with their family and friends, and Dallas is perfectly positioned for that."
Jamie Lane, senior director of CBRE Hotel Research, says drive-to leisure destinations have been the first markets to show signs of recovery.
"When people can drive in their own car, and then go directly into their own room, they have a sense of control and safety," he says. "Hotels oriented toward group meetings will likely lag in recovery as meeting attendees get reacclimated to being close to large numbers of people."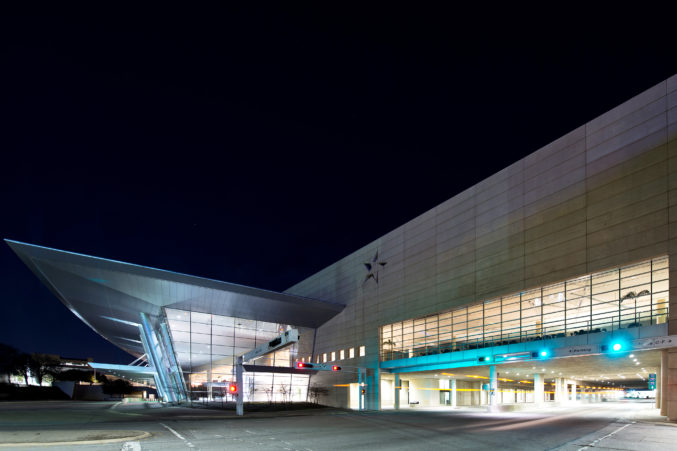 Reopening the Kay Bailey Hutchison Convention Center is an integral part of bringing people back to Dallas, though.
The convention center holds an average of 100 events per year, with most happening in between January and May, and September through November. However, more than 40 events, including two in 2021, have been canceled due to COVID-19. The center lost $15 million in revenue—nearly half of its annual revenue, said Rosa Fleming, city of Dallas convention and event services director.
"We are forecasting a three-year recovery period," said Fleming. "The road to recovery is going to be built on cooperation and partnership between the city of Dallas, Spectra, VisitDallas, our customers, and all the contractors who provide services for events within our facility."
Dallas developer and businessman Ray Washburne also has unveiled significant plans for the convention center district, which Davis calls a "game-changer."
Charter Holdings, owned by Washburne, purchased the former Dallas Morning News building with a plan to convert the eight-acre site into an entertainment district. With the site's underground connection to the Dallas Convention Center and proximity to Dealey Plaza, Davis said the timing of the project would perfectly fit with an economic comeback.
Fleming said
Washburne's plans
sit within the proposed Convention Center Master Plan target area and would play an intricate part in how they re-envision the convention center and Eddie Bernice Johnson Union Station.
"When it's finished, you'll be able to go to a convention, walk out down Record Street, and we'll have 12-15 bars and restaurants, an entertainment venue, and hotels," Washburne said.
Get the D CEO Newsletter
Stay up to speed on DFW's fast-moving business community with weekly news reports, interviews, and insights.