A Memphis soap company that got its start in a firefighter's garage is looking to turn its $20 million operation into a billion-dollar business. And it's doing it in North Texas.
With a surge of private funding behind the plant-based brand, Buff City Soap has moved its headquarters to Uptown and hired all-star executives to take things to the next level. At the helm is Justin Delaney, who sold his tuxedo rental startup to Men's Warehouse founder George Zimmer in 2017 for $25 million.
So, what fuses the C-Suite dream team—executives whose backgrounds range from smoothies to medical technology?
"We're bullish on retail," Delaney says.
LOFTY GOALS
Within the next five years, Buff City Soap aims to expand its retail presence from 35 stores in 11 states to 1,000.
Founded in 2013, Buff City Soap started when former firefighter-paramedic Brad Kellum realized that his everyday store-bought soap was packed with cow fat and other synthetic materials. He and his girlfriend, co-founder Jennifer Ziemianin, a registered nurse, began experimenting with plant-based alternatives in their garage. The soap bars led to plant-based body butters, shower oils, and bath bombs, along with a facial care line, men's care product line, plant-based laundry detergent, pet care products, and bath accessories. 
After selling direct to consumers online and at a farmer's market, the couple opened their first brick-and-mortar location in 2014. That first year, they raked in $75,000 in sales, according to an article in the Memphis Commercial Appeal.
With sales topping $20 million last year, Kellum brought in Delaney, freeing him up to focus on new product development.
"It seems realistic for us," Delaney says, of the leadership team's goal to grow Buff City Soap from a multimillion-dollar enterprise into a billion-dollar company. "When you have a really big goal, first you have to have the right team, then the right resources, and that is our vision. But it doesn't seem like some big impossible goal for us."
The relocation to DFW, where air travel and talent were major draws, is a big part of the company's growth plan. Other pieces include the backing of Dallas private equity firms Guideboat Capital and Crux Capital, franchising opportunities, and a rebranding effort that will punctuate storefronts' experiential aspects.
"I'm going to be opening a lot of stores and be creating a lot of incredible experiences for customers–it's a very basic way, but that's pretty much it," Delaney said of the business plan.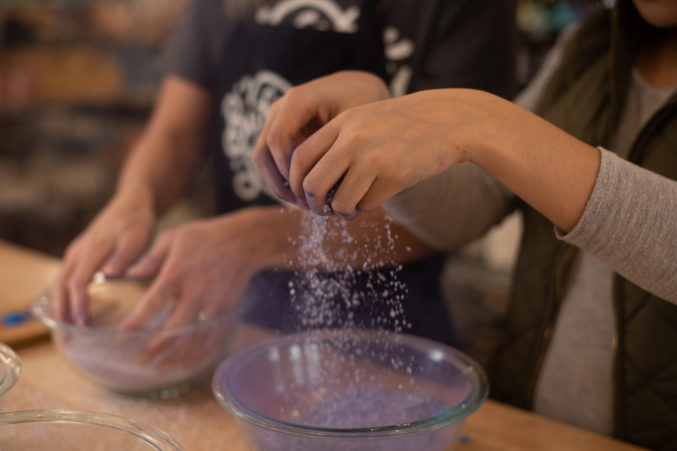 It's All About the Experience
While retail is in a state of flux—Neiman Marcus, Pier 1, and Tuesday Morning are just a few that have recently announced bankruptcies or store closures—Delaney says that the Buff City Soap experience is "different than the retail that's being beaten up right now."
"And that's why we're placing our bets," he continued. "We're going to put stores everywhere, and that's how we'll be a billion-dollar company—creating that experience again and again and making it consistent and making it more of a relationship than just the transaction."
Industry observers say retailers must look to create innovative ways to get, keep, and grow customers. Whether that is a pop-up market or interactive customer-centric strategies, it's what's driving retail now. According to a recent report from Forrester and Adobe, brands that identify as "experience-driven" are growing at a clip of 19 percent per year, compared to 13 percent for others.
North Texas has seen the trend show up in new offerings, from businesses targeting children and families, like Kidzania at Stonebriar in Frisco and the Crayola Experience at Willow Bend in Plano. 
For Buff City Soap, the experiential strategy lets customers watch products being made in-store—or create their own bar.
According to the Daily Memphian, Buff City Soap uses 4.2 tons of shea butter a year, and in 2019, the company made more than 250,000 gallons of its propriety blend. And it's all being made daily and 100 percent in stores.
"The key there is creating a dialogue where the customer is involved, from making bath bombs in the store to having them help name our products," says Delaney. "It's not uncommon to have hundreds of comments on our social media posts."
"It's very different from shopping at a big-box store, turning the package around, and seeing 50 ingredients you can't pronounce. It's very different to experience it that way, versus seeing the soap made right before your eyes," says new CMO Chad Brizendine, a former marketing executive for Procter & Gamble who worked on leading consumer brands like Febreze, Gillette, Luvs, and Pampers.
Brizendine said it was this "magic," that brought him to Buff City Soap.
"Consistency and persistence are key," he adds—and that's why the company is rebranding. The marketing team is simplifying the logos, the brand, and the language. That way, every person that goes into each store has the same experience.
"It's about having that total look throughout the whole United States, so that when my mom is in Louisville, Kentucky, visiting the store for the first time, she would have the same experience there that I have here now."
Get the D CEO Newsletter
Stay up to speed on DFW's fast-moving business community with weekly news reports, interviews, and insights.