Out of necessity comes new ideas. That's what Gensler's Cindy Simpson told me when I asked how the global design and architecture firm was adjusting to working remotely.
COVID-19 has reshaped the way companies across the world do business. One key challenge is keeping teams engaged. Gensler has responded by creating online groups for parents and specific departments on its video platforms.
"Like so many others across the country and around the world, we're using our video platforms to check in with each other and socialize via virtual happy hours," said Simpson, co-regional managing principal of the South Central Region and co-managing director of Gensler's Dallas office.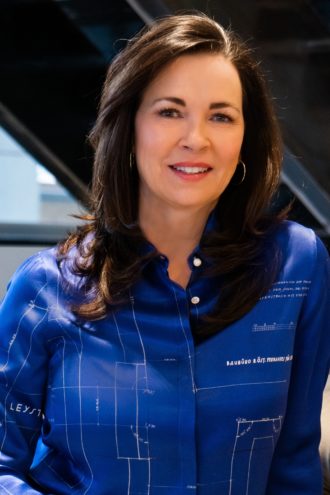 More than 4,000 designers and support staff at Gensler, including about 240 in Dallas, have transitioned to working remotely with no interruption to its operations.
"Our Greater China and Asia Pacific offices have been working remotely for almost two months and are now transitioning back to the workplace," Simpson said. "We have learned and continue to expand on the example they set by leveraging our existing technology and virtual collaboration capabilities. Now, our North America, Latin America, Europe, and Middle East offices are following the same strategy for the health and safety of everyone."
Here are some additional insights from Simpson:
What are some key remote working strategies Gensler is using?
Working from home is an opportunity to find new ways to work creatively and connect with our clients as well as each other. Over the past month, we have conducted special remote working trials to ensure laptops, software solutions, and equipment were ready. We have a variety of collaboration and video conferencing tools to meet the needs of the firm's global operations, and the ability to match the same technology our clients use. We are constantly reinforcing internal group connectivity with regular check-ins, sharing photos, and using video whenever possible to strengthen relationships across the organization with face-to-face interactions. All of these processes and technology were already in place; we are now using them on a greater scale.
How are you navigating issues such as travel, timelines, communication, and on-site needs?
About a month ago, we halted international and domestic business travel and will resume when it's safe to do so. However, we are open for business globally, under a work-from-home mandate. Our regular virtual global calls and meetings continue to move forward. As a global firm with clients in 80 countries, we are fully prepared with collaboration technologies that make virtual work seamless. For example, with our construction administration, we have both on-site and remote teams that are in constant communication on projects. They are using various virtual meeting platforms and can provide field reports of construction progress via videos from contractors.
What are some concerns and challenges you or employees have?
Our people are adapting incredibly well. We have amplified all internal and external communication channels since January. We fully support and provide e-learning resources for our parents, who are now educating their children while also successfully maintaining their remote work schedules. We will continue to find new ways to ensure our people, our clients, and our communities are informed and safe.
What about the long-term effects of having employees work from home?
We are constantly in discussions with our technology and leadership teams tracking our progress and needs as they arise and are fully prepared for an extended remote working situation. Our industry and work have always been highly collaborative, both internally and with our clients. Moving forward, we can expect to expand on our abilities to seamlessly work together, both in-person and in a virtual setting.
D CEO Newsletter
Stay up to speed on DFW's fast-moving business community with weekly news reports, interviews, and insights.