By now, because of shelter in place restrictions, we have all slipped into the routine of doing everything at home. Some have adapted better than most. In my many discussions with clients and friends, some cannot wait to be back in the office, and some think their work can be done effectively more remotely.
Some think the obstacles of interruptions and imperfect technology contribute to huge inefficiency, and others believe they are getting more done. Some are working much more than they did at the office. Many look forward to regaining the distinction of home and work and the physical separation of the two activities.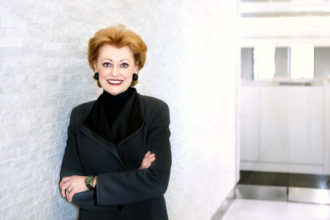 This pandemic crisis has changed us all in many ways. As we attempt to make sense of all this and see the future beyond COVID-19, we must understand that new habits and ways of doing things have been formed. Right or wrong, they will be with us going forward.
What does the coronavirus mean for the future of work?
Communication tops the list as the most important single element going forward. No matter where team members are, physically, they must be linked with a purpose, with a sense of belonging, and be aligned in their work. This communication will foster trust and teamwork, and accountability. Effective communication will channel the energy to the desired results.
The air quality and amount of fresh air introduced into a space will be reevaluated. New spaces will be built to open to the outside and allow activities to flow seamlessly from indoors to outdoors. Existing spaces will reevaluate their mechanical systems to reduce airborne particles, thereby reducing the exposure to disease. The amount of fresh air introduced into the area will be increased.
More touchless.  We will likely see more touchless options on entry doors, elevators, and features within a space. Technology, apps, and voice technology will help us achieve fewer ways to touch things.
We will re-evaluate the use of space more critically, and there will be two versions of post-COVID that we will need to plan for. Pre-Vaccine (what we are all thinking about now) and Post-Vaccine (what the office will look like when the social-distancing requirement is reduced). We need to differentiate what we are learning now, from what will be applicable long term. And while collaboration is important,  I believe it will be done differently, and more safely. More private offices could return, and the open office workstation size could potentially increase.
Anti-microbial materials will be in high demand throughout workspaces, as the focus to naturally reduce any kind of bacteria in the workplace will be beneficial. Materials with natural inherent anti-microbial tendencies will be used more frequently, and coatings to resist germs will be considered.  All materials will be evaluated based on routine disinfecting.
The focus on wellness in the office is paramount now, as it will be critical that employees want to come to the office, not only for interaction but because it is a place where they feel good, feel uplifted, and are connected to their colleagues. Their productivity will depend on feeling their health, safety and welfare is important to their employers.
We know things will change at work, and we can only predict the "new normal." But it is important to stay abreast of these potential changes now and plan for "re-entry, "knowing there will be different habits and new realities we will face together. Some of us can't wait to get at it!
Jo Staffelbach Heinz is a Dallas-based principal at DLR Group / Staffelbach.
Get the D CEO Newsletter
Stay up to speed on DFW's fast-moving business community with weekly news reports, interviews, and insights.