Design, architecture, and consulting firm PDR expanded its reach, opening a regional office in Dallas. The firm's portfolio features several Fortune 1000 clients, including Exxon Mobil and Texas Instruments, and the company pulled in $19 million in revenue in 2019.
"What makes PDR different is how we address business drivers facing all organizations including worker mobility within and outside of the office walls, well-being, employee engagement, collaboration, generations, employee attraction and retention, and company reputation," said Lauri Goodman Lampson, PDR president and CEO, in a release.
Marc Bellamy, who has 20 years of experience in interiors, base building design, and real estate development, will lead the new Dallas office located inside the Common Desk coworking offices on Ross Avenue. He will be among those to oversee several Dallas projects currently underway, including a 25,000 square-foot project near Legacy Town Center in Plano— a collaboration with USAA and JLL Delivery services—and a building design enhancement project at Billingsley Company's Cypress Waters development.
Whitely Penn Launches Strategic Consulting Services Practice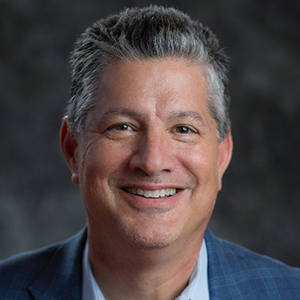 Plano-based tax firm Whitely Penn has begun a strategic consulting services practice aimed at helping companies, investors, boards, and management teams improve their operations and finances. Services will include performance improvement, strategic financial services, turnaround and restructuring, and coaching and mentoring.
"With the ever-changing business landscape, many of our clients have expressed the need for outsourced services of this type," said Larry G. Autrey, managing partner at Whitley Penn.
The firm hired Frank Ianelli to lead the effort. Ianelli has over three decades of experience of business experience and specializes in providing strategic, operational, and financial consulting to executive management teams and leading initiatives to achieve strategic business goals.
Dallas Kendra Scott Team Donates Meals to Ronald McDonald House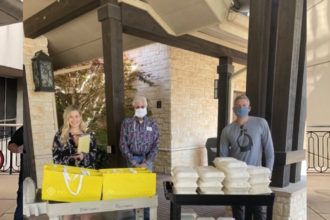 COVID-19 has made it impossible for the Ronald McDonald volunteers who normally supply meals to cook and deliver the food that families staying at the hospital depend on. Locally here in Dallas, Kendra Scott has been providing meals to Ronald McDonald House.
Kendra Scott is partnering with local restaurants to have meals catered to the eight Ronald McDonald Houses in Texas, including the one in Dallas. The jewelry company's staff have also delivered gifts to healthcare workers at Children's Health.
The Austin-based company also is repurposing existing materials by donating their yellow branded bandanas to local female volunteer groups to sew non-medical grade masks to be given to various hospitals in the Austin, New Orleans, New York, and California communities.
Rosewood Corporation and Caroline Rose Hunt Family Donate Medical Supplies to Emergency Responders
The Rosewood Corporation and the Caroline Rose Hunt family donated 6,000 face shields to Dallas Fire and Rescue and 50,000 packets of hand sanitizer to the Dallas Police Department.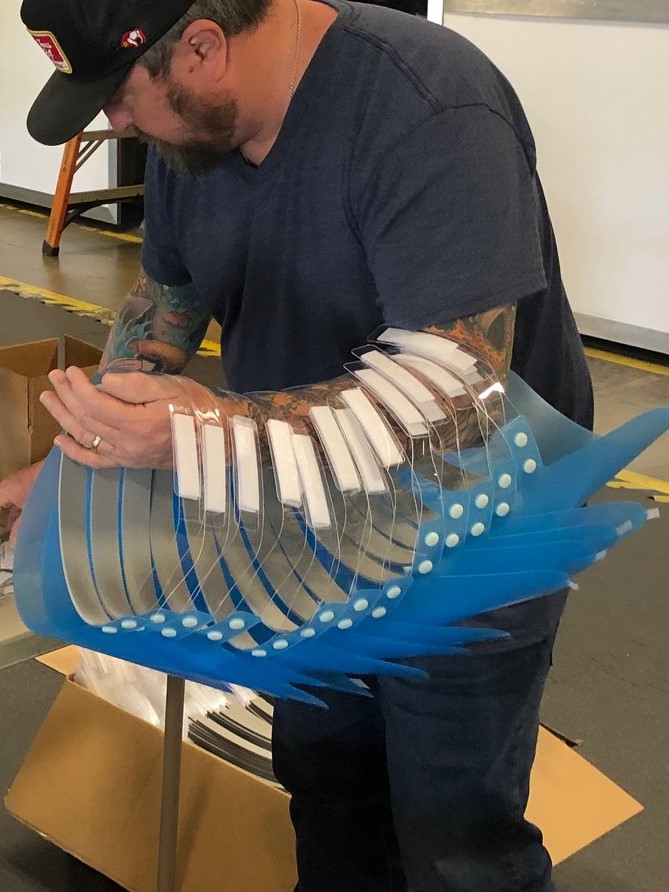 "These face shields are absolutely essential for our DFR team to serve the public," said Dallas Fire-Rescue Deputy Chief Tami Kayea in a release.
Multicam and INW Manufacturing, the Rosewood Corporation's two manufacturing companies, shifted their production strategy to produce the much-needed PPE for city employees.
"During this critical time, it's more important than ever that we innovate and work together to help protect our local first responders as they put their lives on the line to keep our community safe," said Lynn Fisher, Rosewood Director of Corporate Giving in a release.
TireHub Relocates to Arlington
Wholesale tire sales company, TireHub, the national tire distributor co-founded by Bridgestone Americas Inc. (Bridgestone) and The Goodyear Tire & Rubber Company (Goodyear), has moved its Dallas logistics center to Arlington. The company hopes that the new location on East Arkansas Lane, and its nearby Coppell counterpart, will provide easier access to the Fort Worth consumer base.
"We are navigating unprecedented times due to the current pandemic, and our customers need us more than ever," said Sylvia Wilks, vice president of operations, in a release.
Jewelers Mutual Opens First Dallas Office inside Mockingbird Station
107-year-old jewelry insurance company Jewelers Mutual opened its first office in Dallas in Mockingbird Station. The 6,200 square-foot space is the company's only office outside of its headquarters in Neenah, WI.
The new office will help Jewelers Mutual to grow further and diversify its services and technological platforms and tools, an ongoing company goal that made Dallas appealing as a city with a growing tech sector.
"Adding a Dallas location and leveraging its advanced tech talent allows Jewelers Mutual to take jewelry protection to the next level," Bryan Howard, director of product management and underwriting, said in a release.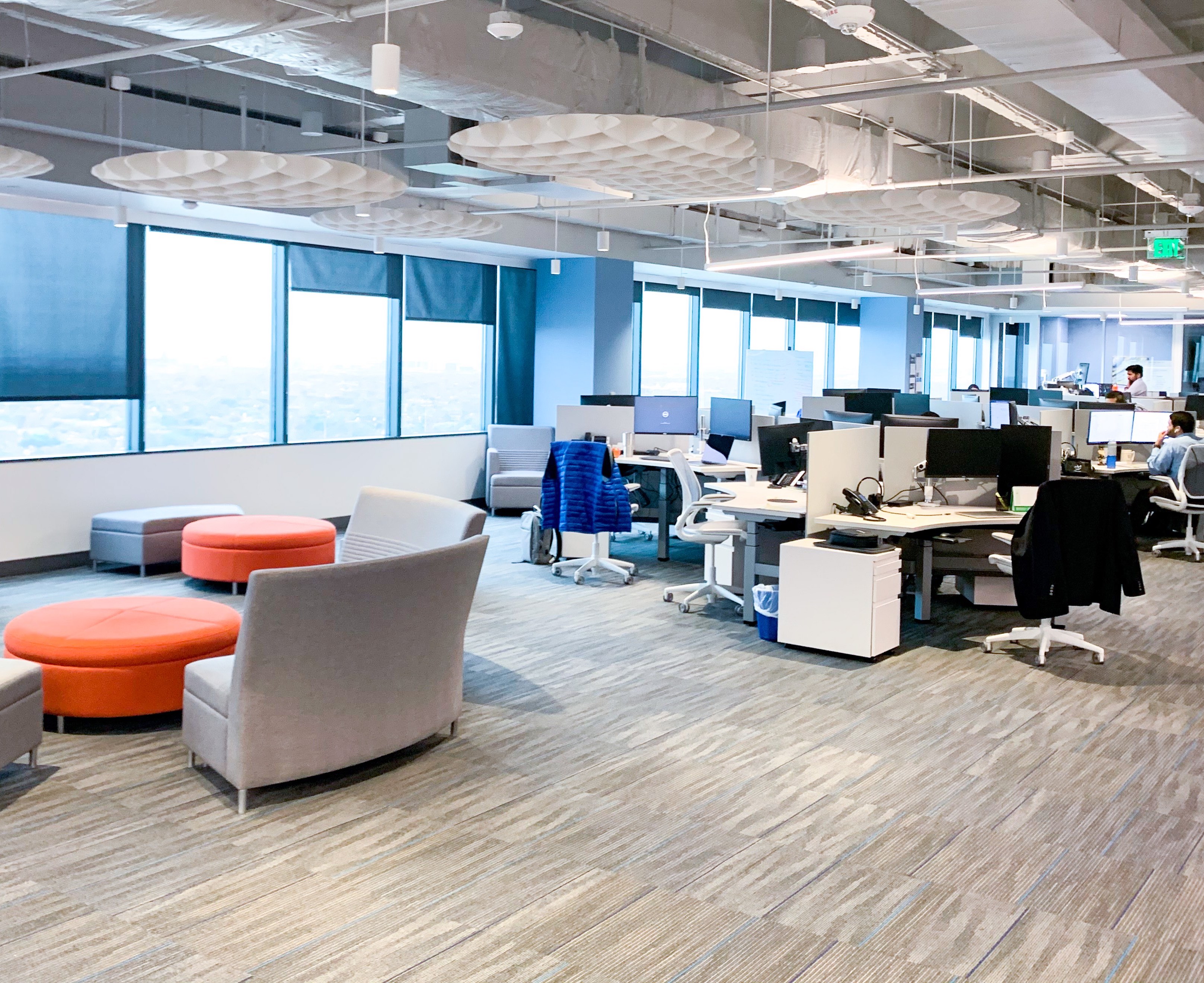 Mockingbird Station's accessibility, coupled with its proximity to restaurants and retail, drew Jewelers Mutual leadership toward that spot in particular as a hotspot for business and young professionals. "We like to call ourselves a 107-year-old company with a start-up mentality," Howard said in a release.
Quorum Architects in Fort Worth Assumes Cameron Alread Workload
Two Fort Worth architecture firms, Quorum Architects and Cameron Alread have worked together for more than 20 years. Now, Quorum will expand Alread's affordable housing business.
Alread has completed more than $600 million in construction, the majority of which were Dept. of Housing and Urban Development, Rental Assistance Demonstration, and housing projects. They will continue to complete current contracts for the next two years, while Quorum tackles any new business opportunities.
"Cameron was ready to wind down and think about retirement, and we were interested in developing an affordable housing practice," said David Lee, principal at Quorum, in a release.
Currently, Quorum is working for housing authorities in Temple and Georgetown and has been awarded multi-year contracts from 11 housing authorities in Texas since November. Their new affordable design studio in Fort Worth will become home to two of the firm's six principals.
Local Experts Say Property Taxes May Increase as a Result of COVID-19
Local property tax experts are concerned that COVID-19 may pose challenges for homeowners as the system transitions to online appeals and unique situational laws apply.
Property tax laws enable local governments to increase the cap of new revenue to up to eight percent without voter approval, according to Texas attorney Lauri Michel. This law, Senate Bill 2, only applies when a government has declared a state of emergency and accepted federal funding.
Additionally, because property appraisal occurred at the start of 2020, before COVID-19, Michel predicts property values will increase as well. "By law, appraisal districts must value a property as of Jan. 1, and at that time, we were experiencing a very healthy economy," she says.
Usually, the best protection against property tax liability is to file an appeal, but shelter-in-place may prevent physical filing processes. "While many appraisal districts will delay sending out notices this year, we encourage homeowners to act quickly once they receive notices," says Glenn Goodrich, a Dallas-area professional property tax consultant and developer of PropertyTax.io, an online tool designed to help Texas homeowners navigate the appeals process.
The deadline to file appeals is 30 days within the date that a district sends out notices or May 15, whichever is greater.
D CEO Newsletter
Stay up to speed on DFW's fast-moving business community with weekly news reports, interviews, and insights.