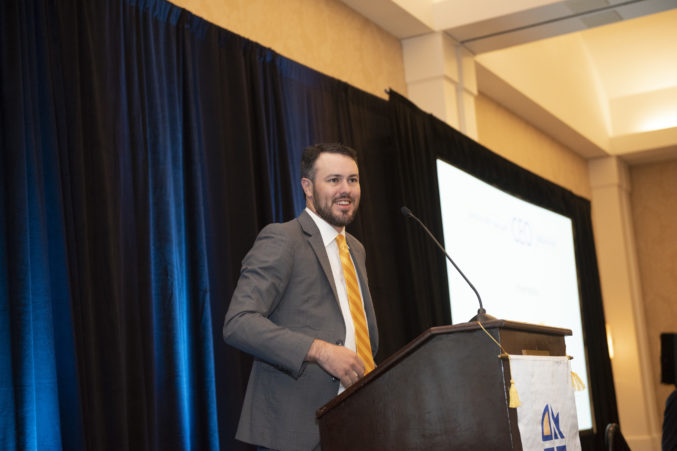 Gen Z and the Future of Dallas' Workforce
Cristo Rey Dallas' Ignite Award winner Gunnar Rawlings weighs in on how this new generation will change the local business scene.
Cristo Rey Dallas presented Gunnar Rawlings, son of former mayor Mike Rawlings, with its Ignite Award at the institution's recent CEO breakfast. Rawlings, government affairs and business development officer at Suffolk Construction, helped launch Cristo Rey Dallas—a faith-based college preparatory school that aims to provide college admissions access to socioeconomically disadvantaged high-schoolers in the Latino community—in 2015.
Students at Cristo Rey participate in a work-study programs to raise funds that cover the majority of their tuition. Rawlings has been a driving force in the program's ongoing success. In fact, he recruited nearly 150 businesses to partner with Cristo Rey.
"I think the challenge for companies, when they think about Cristo Rey Dallas, specifically in hiring our students, is how can a 14- to 18-year-old be a value add to my office?" Rawlings said of his recruiting days. He has become an expert on not only explaining what Gen Z has to offer, but on the influence they will have.
As the eldest members of Gen Z (those born in 1996 and 1997) begin entering their workforce, Rawlings said they and the Cristo Rey students who come after will continue to change the local business scene in ways that millennials have kickstarted: creating more casual work environments, placing an emphasis on the importance of soft skills, and valuing flexible workday hours. "Allowing employees the flexibility to be productive on their own terms is what the new generation of workers is demanding, I think," Rawlings says. Increased cultural sensitivity will also be key: "I think most of our DFW businesses are already doing this, but just being aware of people's background. The language that you use has to be intentional."
Effective and tactful communication will be of utmost importance, he adds, as Dallas' workforce shifts to include more people of color. "The demographics of our region are changing, and we have much, much, much more Hispanic—mainly Mexican American—population in Dallas-Fort Worth," he says. The Texas Tribune supports these sentiments,  estimating that Latinos will make up the largest population statewide by 2022.  "An employee who feels valued and appreciated is a much more productive employee," Rawlings said. "I think that's what any CEO wants is for all their employees to feel like they fit in the company and play a role."