Four of the top commercial property brokers shook the industry last night when it was announced they had left positions with CBRE and JLL for competitor Newmark Knight Frank Group.
Gary Carr, John Alvarado, and Robert Hill, of CBRE, and Chris Murphy, of JLL, were tapped by Newmark Knight Frank Group to help expand its U.S. Capital Markets platform, co-headed by Kevin Shannon and Rob Griffin.
"The addition of these investment experts in a state in which capital markets volume is approaching coastal levels continues to expand NKF's footprint to allow us to best serve our clients," said Chief Executive Officer of Newmark Group, Inc. Barry M. Gosin.

Carr, Alvarado, and Hill join NKF from CBRE, where Carr previously acted as vice chairman and Alvarado and Hill as senior vice presidents, specializing in office investment sales, along with providing market-leading services to single-tenant and sale-leaseback transactions for net-leased properties and portfolios. The group was behind memorable property sales, like the $350 million-plus purchase of J.C. Penney's Plano campus.
"Becoming a part of NKF's continuing success and its anticipated additional growth is very exciting," Alvarado said. "The firm's culture of excellence and collaboration, already evident among the highly respected producers who have recently joined NKF around the country, was a huge draw."
Murphy joins NKF from Jones Lang Lasalle and its predecessor firm, HFF, where he acted as managing director with experience in all major property types and a specific focus on office investment sales.
The four professionals will be based in the company's Uptown Dallas office, located at 2515 McKinney Avenue.
According to the RCA Year-End Trends Report for 2019, Texas markets accounted for just over 10 percent of both the number of transactions and dollar volume (roughly 2,927 transactions and $47.4 billion across all property types) of the nearly 29,000 U.S. capital markets transactions closed in 2019, trailing only New York and California.
"It is very exciting to have this group of experts join Newmark Knight Frank's capital markets platform. They will enhance the NKF platform in the Texas and central region markets as well as nationally," said NKF Vice Chairman Chad Lavender, who, along with Ryan Maconachy, heads the firm's Healthcare & Alternative Real Estate Assets practice.
OTHER PERSONNEL MOVES
AECOM promoted Wendy Lopez to spearhead strategy and growth in Texas. Lopez has been with AECOM for 16 years and was promoted to Texas Executive, where she will initiate the strategy, growth, and leadership of the company's business in Texas' major cities: Austin, Dallas, Houston, and San Antonio. Before this role, Lopez oversaw more than 1,300 employees across 22 states as AECOM's central region transportation regional business line leader with Dan Manojlovski. Manojlovski will now serve as the single central region transportation regional business line lead.
Kathy Christoffel joined Argent Trust Company as market president for Fort Worth, where she will oversee the local wealth management team, including facilitating business development and providing client solutions. A certified trust and financial advisor (CTFA), Christoffel brings to Argent Trust 27 years of experience as a senior vice president and fiduciary officer at Wells Fargo.
First Command Financial Services, one of the leading providers of financial planning and coaching services for military families in the U.S., announced that current President and COO Mark Steffe has been named the company's new CEO. His role began Jan. 1. Steffe succeeds Scott Spiker as CEO. As part of the planned succession process, Spiker will serve as executive chairman of First Command through the end of September 2020, at which point he will assume the role of non-executive chairman of the board.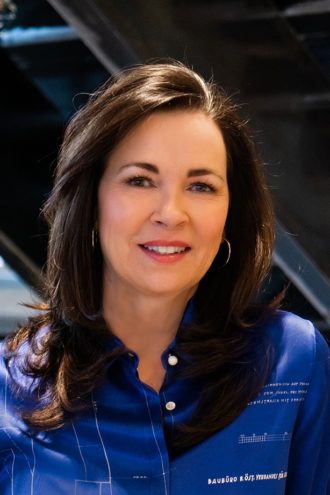 Gensler's Cindy Simpson has been promoted to Co-Regional Managing Principal of Gensler's South Central Region. Cindy will serve with fellow Co-Regional Managing Principal Judy Pesek overseeing offices in Dallas, Houston, Austin, and San Antonio, which include American Airlines, ExxonMobil, The University of Texas System, and Walmart, among others. Simpson will join Judy Pesek as Co-Regional Managing Principal of the South Central Region. She will also continue in her current capacity as Co-Managing Director of the Dallas office, along with her partner, Steven Upchurch, AIA.
Granite Properties promoted Sheryl Troiani to a newly created role of Chief Administrative Officer. She is now a member of Granite's Executive Committee. This change in Granite's organizational structure positions the firm for continued growth and evolution as a thriving, adapting real estate firm and grow existing markets, enter new markets, and increase the number of projects they're working on. Troiani will continue to oversee all aspects of accounting, treasury, and risk management and add new cross-group responsibilities for the service company to ensure processes, procedures, and inter- and intra-departmental coordination are in place. Troiani will report to Greg Fuller.
Lifestyle brand Canyon Ranch has hired former Ralph Lauren Group President Jeff Kuster as its new CEO. Kuster's 30-plus years of global experience ranges from the Peace Corps in West Africa and Doctors Without Borders in Romania, to leadership positions with McKinsey & Company and executive roles with fashion and lifestyle brands based in Europe.
Thought leader Tony Lenamon has joined JLL as a Managing Director. Based in Dallas, Lenamon is charged with leading JLL's national Valuation Advisory Multifamily practice, and will work closely with Managing Director Zach Bowyer, MAI. Lenamon brings more than 30 years of professional experience to JLL and joins from a leading global commercial real estate firm where he led the national multifamily practice. He holds a degree in finance and real estate from The University of Texas at Arlington.
WiNGS, a Dallas nonprofit that empowers women, fights poverty, and impacts generations by providing services to help them live their fullest potential, has a new CEO—Kate Rose Marquez. She was most recently director of development at St. Vincent de Paul Society of North Texas, leading fundraising, marketing, and communications.
Get the D CEO Newsletter
Stay up to speed on DFW's fast-moving business community with weekly news reports, interviews, and insights.