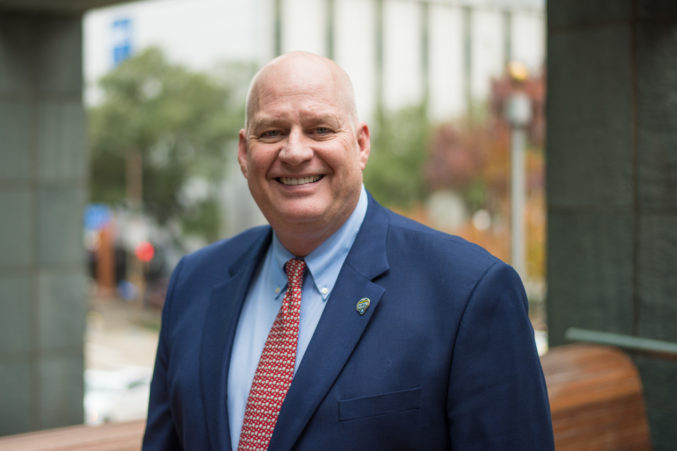 Getting Ready for This Weekend's Cotton Bowl
In his second year as chairman, Carl Ice shares details about the game's impact on the community.
Cotton Bowl Athletic Association Chairman (and BNSF Railway president and CEO) Carl Ice stopped by the D Magazine offices last week to talk about the 84th annual Cotton Bowl Classic. Kickoff is set for 11 a.m. on Saturday at AT&T Stadium.
This year's contest features American Athletic Conference champion No. 17 Memphis Tigers squaring off against Big Ten powerhouse No. 10 Penn State Nittany Lions. Memphis is making its Cotton Bowl debut; meanwhile, Penn State returns for the first time since 1975, undefeated in its previous three appearances.
Though this year's game is not a semifinal contest for the College Football Playoff, Ice says he is looking forward to a full house. "Memphis is within driving distance, and that's always good for a bowl's attendance," he says. "Penn State and Big Ten schools typically travel well.… so I think we should see a pretty good crowd this year."
The Cotton Bowl Classic, in its 11th year being played at AT&T Stadium, brings in both visitors and dollars to the North Texas economy—infusing an estimated $30 million in direct economic impact and $90 million in indirect spending. "In addition to being part of the fabric of college football, we think we are part of the North Texas holiday season, too; lots of peoples' holiday memories have elements of the Cotton Bowl wrapped up in them," Ice says.
Philanthropically, the Cotton Bowl has generated more than $1 billion for higher education with proceeds to conferences and schools since its 1937 inception. To enhance that, the Cotton Bowl Foundation was created in 2016, and Ice says it donates about $250,000 a year. (Recipients of this year's proceeds will be announced at tomorrow's Big Play Luncheon, one of the best Cotton Bowl traditions where the full squads of both participating teams come together to dine the day before the big game.)
Earlier this month, Ice says, the Cotton Bowl committee surprised teachers at the three Dallas ISD schools affected by last October's tornadoes. More than 600 teachers, administrators, and staff at Thomas Jefferson High, Cary Middle, and Walnut Hill Elementary schools received two tickets and a parking pass to this year's game. "With all that they've been through this year, we felt like they deserved some recognition," Ice says. Additionally, $100,000 was donated between the three schools for school supplies and to help with repairs, he says.
If you don't yet have your tickets to the game, dive into the fan experience at Six Flags Fan Day or Cotton Bowl Live! featuring a free concert by Jana Kramer on Friday.
And what about Ice's prediction for the big game? "You know I'm not supposed to do that," he says. "But I do have connections to both teams."