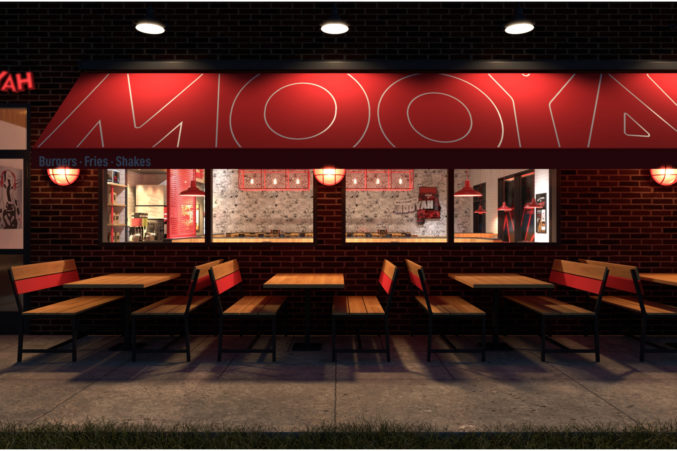 Mooyah Burgers Shakes Up Image With Refreshed Business Model
The Plano-based company will begin rolling out its new look in Q1 to help drive growth
Next year is going to be a big one for Plano-based Mooyah Burgers, Fries & Shake. Not only is the 100-plus chain restaurant working with uber-healthy Dr. Praeger's to roll out its first vegan burger this January, but it's also revamping its entire business model to stay relevant, said company president Tony Darden.
The changes, which include a redesign of store interiors and company logo, come at a critical point for the brand, as the company is actively ramping up franchising efforts in new and existing markets across the United States.
Darden says Mooyah plans to open 14 locations in 2020, all of which will feature the updated design. All existing locations will remodel to the new design by the end of 2024.
Restaurants currently under construction in Hoover, Alabama, and Orlando, Florida, will be the first to unveil the brand's new look and are scheduled to open in February 2020.
Dallas locations are anticipated to undergo renovation in the second quarter.
One of the most recognizable changes to the eatery will be closing off views to their open kitchens.
"Build your own burgers is a huge part of Mooyah," Darden said, "but we're not a conveyor system."
The change, he said, comes from gathering guest feedback and tapping into layout best practices. The restaurant franchise worked with Livit, a Madrid-based company specializing in guest experience design.
Livit worked closely with the Mooyah leadership team to complete brand analysis, concept rebranding, concept design, and the final prototype.
Other layout plans include segmented dining options, such as community-minded seating areas with high-top tables, small tables, and bigger booths for large groups and families.
Mooyah also will focus more on digital efforts.
All locations moving forward will feature digital menu boards as well as back-of-house systems to enhance throughput and accuracy. The restaurant will also provide a designated area for shelving that will hold pick-up and to-go orders and a bench for pick-up customers to have a place to wait.
Natalie Anderson Liu, Mooyah's vice president of brand, said the restaurant refresh would be a gamechanger for the brand.
"We have come a long way since our founding in 2007," said Anderson Liu. "Converting all locations to our new, modern design and service model is critical to realizing the additional sales and traffic it will bring."