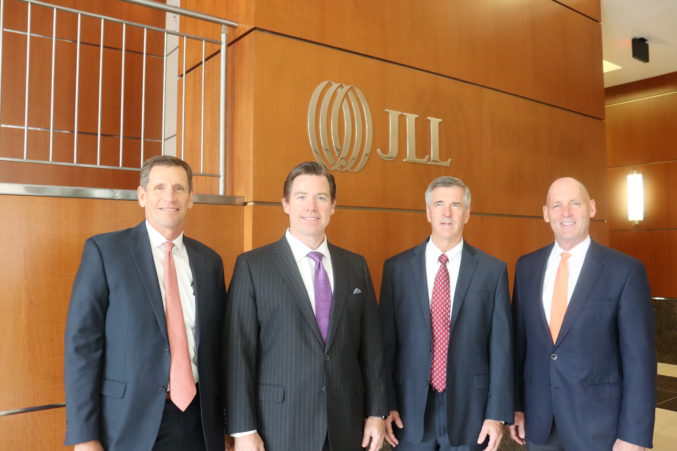 JLL To Acquire Dallas-Based Peloton Commercial Real Estate
JLL increases its Texas presence with the planned acquisition of Peloton Commercial Real Estate.
Chicago-based international real estate services firm JLL has announced plans to acquire North Texas-based Peloton Commercial Real Estate.
More than 130 professionals from Peloton's Dallas and Houston offices will join JLL's presence in the area. The news comes on the heels of JLL's recently completed purchase of Holliday Fenoglio Fowler, the Dallas-based investment sales and finance firm.
The Peloton acquisition is scheduled to close within the next few weeks, subject to customary closing conditions, according to a news release.
"This is a momentous step in our journey to become a market-leading player in Texas," says David Carroll, JLL's market director for the South-Central Region. "With the exceptional growth we have seen in those markets, Peloton's position as a leading provider of leasing and property management services will greatly enhance our business capabilities and breadth of services. Just as importantly, we look forward to working with a team of professionals that share JLL's strong commitment to collaboration and culture."
Founded by T.D. Briggs and Joel Pustmueller in 2002, Peloton manages or leases more than 25 million square feet on behalf of clients.
Pustmueller and Briggs will join JLL's Jeff Eckert in leading the integration of the teams and driving growth across the region, focusing on Dallas-Fort Worth and Houston.
Eckert will focus on Austin and San Antonio, in addition to the Dallas-Fort Worth area, per the release.
"Like JLL, Peloton has a history and culture of providing energetic, client-focused real estate solutions," says Pustmueller. "We have always respected our JLL counterparts and view this as a unique opportunity to combine our teams in order to serve our clients at an even higher level."
JLL's more than 400 agency leasing professionals in the U.S. provide leasing services for some of the world's largest companies across a portfolio of more than 3,200 buildings totaling 550 million square feet.
In 2018, JLL completed more than 4,300 transactions totaling $16.3 billion dollars in lease value. JLL's 3,000 property management experts in the U.S. provide comprehensive real estate services in more than 3,100 buildings totaling more than 620 million square feet.