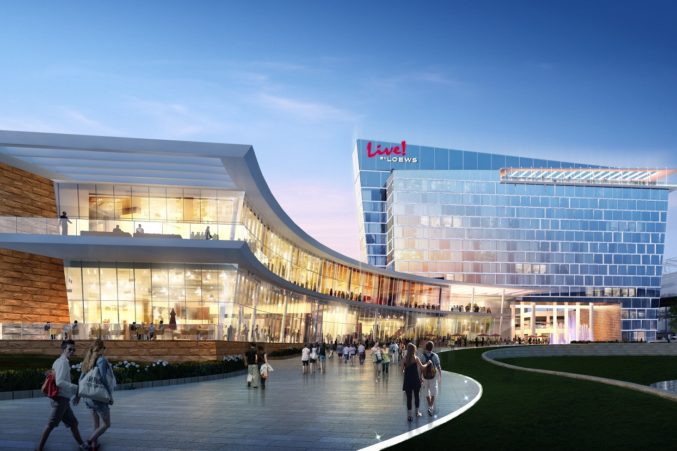 Arlington's Texas Live! Gets a Sports-Inspired Hotel This Month
Take a peek at Live! By Loews – Arlington, TX, the entertainment district's new anchor.
Burgeoning between the future Texas Rangers' Globe Life Park and the Dallas Cowboys' AT&T Stadium, Live! by Loews – Arlington, Texas will be the home base for sports fans, business travelers and families alike when it opens on August 22. If you're curious about what the $150 million facility has to offer, here's a preview.
The 14-story luxury behemoth flaunts a beautifully clean and sleek design. Washes of monochromatic grays with granite and silver accents envelop the space. Marble tiling and muted wood flooring illuminated by grand floor-to-ceiling windows' natural lighting speak to contemporary design and comparatively minimalist aesthetic. The style reigns far and wide, from the opening lobby to the 300 guest rooms, including 23 suites.
In addition to the slick interior, Live! By Loews strives to please with several drinking and dining amenities. Cut & Bourbon, the hotel's signature restaurant, is a staple feature, boasting culinary prowess on a variety of American classics. Located in the lobby, Bar Bourbon is a 360-degree watering hole that specializes in craft beer, cocktails, and liquor.
Craving a little fresh air? Head outside to Arlington Clover Club, a modern outdoor lounge where guests can enjoy a menu of light bites and booze. Moreover, brave the Texas heat with a dip in the infinity pool featuring SOAK, the swim-up bar. For on-the-go eats, swing by the River Market to the right of the hotel entrance for handcrafted coffee, juices and snacks.
Stellar views of Globe Life Park and AT&T Stadium are not the only ways in which Live! by Loews pays homage to its apparent ties to the Texas sports community. Baseball-themed artwork hangs throughout the hallways and inside each guest room. It is a nice, and surprisingly tasteful, touch. However, sports appreciation is not limited to solely games on the field. Being mindful of Esports Stadium Arlington just down the road, the hotel opted for three Wi-Fi plans.
"Groups can come here, and its one-stop-shop. Next door there's sporting events, Six Flags, and for those younger millennials that love games, you have Esports Stadium within walking distance," Live! By Loews Managing Director Scott Nassar says. "We have three different levels of Wi-Fi here. One is complimentary, the second one is a regular streaming price you can upgrade to for movies, and the third one is for those avid gamers. We want to accommodate everyone."
Speaking of accommodation, the hotel offers more than 35,000 square feet of meeting and event space. To the business moguls looking for a swanky space to meet with shareholders, or sport-enthusiast brides-to-be, Live! by Loews says, 'we got you covered.'
There will be a ribbon-cutting on the morning of August 22 to celebrate Live!'s grand opening and welcome the hotel's first guests.