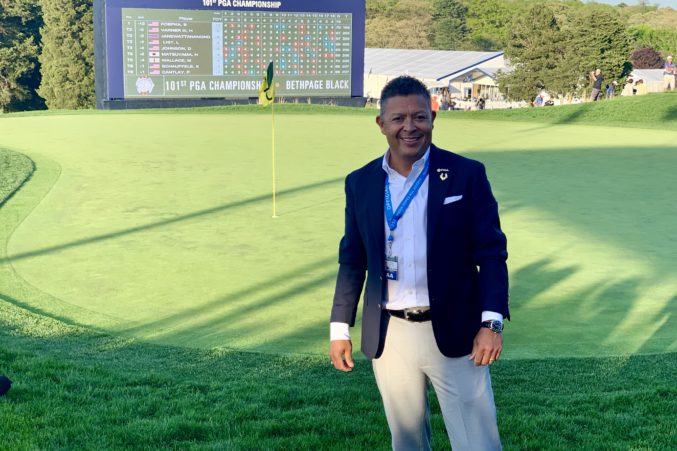 How Will a Frisco PGA Championship Compare to This Past Weekend's at Bethpage Black?
PGA of America's Tony Martinez, who played a key role in luring the association's new headquarters to Frisco, weighs in.
Longtime PGA of America pro Tony Martinez, a past president of the Northern Texas PGA who now represents Texas and New Mexico on the PGA's national board, was in on the group's new Frisco headquarters project from the beginning. He just didn't know it at the time. It all started as a search for a new home base for the Northern Texas PGA. "It was an urban golf park that turned into a regulation golf course that turned into a 36-hole facility that turned into a centerpiece mecca that would host major championships," he says.
The director of golf at Keeton Park in Dallas, Martinez also owns a couple of courses and is an instructor who has helped a number of Tour professionals. I caught up with him over the weekend at the PGA Championship at Bethpage Black on Long Island, where he had the honor of announcing the opening day tee times. Here are some excerpts from our conversation.
D CEO: How did you get into the golf business?
TONY MARTINEZ: I grew up in Tucson, Arizona, and took it up as a kid. We lived in a golf-course neighborhood, so I took it up as a junior golfer and just got the bug. A municipal course opened near my high school. I was hanging out there a lot and got to see the business side of things and worked there all through high school and college. I really got the spark from Humero Blancas; at that point in my junior golf career, he was the only pro I had seen who looked like me. I knew he played on the Tour and had success. I remember just being inspired by him; it seemed like he had the coolest job I had ever seen. … I played college golf at Grand Canyon University, knowing all along that I was going to try to get into the business. I graduated, got into the PGA program, and got my membership in 1994.
D CEO: How does one become a PGA member?
MARTINEZ: There's a player's ability test and, like most careers, you complete a professional golf management program. There are three curriculum levels; the first is a base of overall knowledge of the industry, and then you select a career path, if you want to become an instructor, work in golf operations, or go into executive management. As you get into the upper levels of the program, you focus on your field of expertise. It's a working internship, so to speak, or a work-study program. You're actively employed in the program while completing your hands-on education. You complete that process and then you get elected. It's a great career for anyone who has a passion for golf, for anyone who loves to play and compete and share the game with others. There are so many ways to dig in and make your mark on the game and the industry.
D CEO: When did you begin working in North Texas?
MARTINEZ: I moved to Dallas-Fort Worth in 1997 to work for a mentor who was building his own golf course. I knew that someday I wanted to build or own my own golf course; I've always wanted to be in public golf and I wanted to be self-employed. We opened Hidden Oaks Golf Course in Granbury. I spent a lot of time there and liked it. And I loved being in Texas. The Northern Texas PGA market and Texas in general—it has such a rich golf history. It's a really great place to be a PGA professional and work in the industry. I had a municipal background and was self-employed so I bid for a contract with the City of Dallas and got Keeton Park. I've been the director of golf at Keeton Park since 2008. Along the way I have taught a lot.
D CEO: Who are some of the players you've coached?
MARTINEZ: I've worked with Johnson Wagner, Rich Barcelo, and some other guys. My thing is the short game. I worked with Stewart Dean on his road to the 2014 PGA Championship at Valhalla. I've had an opportunity to work with other guys, be another look and maybe help them with their bunker game or pitching. I'm grateful that I'm an independent contractor who can go to an event or meet a player somewhere if needed. A lot of professionals in other sectors don't have the luxury of that. I've always taught; it's central to the environment we try to create at the PGA and to what my passion is—growing golfers and sharing the game. It's why I love being in public golf; you get to work with beginners and you also get to work with world class athletes.
D CEO: How did you become involved with the Northern Texas PGA?
MARTINEZ: I served on the junior golf committee and continued my involvement, holding a number of positions before becoming president (from 2016-2018). I served on national committees and last year I became a national director, representing district 12. There are 14 districts in the PGA; my district includes the Northern Texas, Southern Texas, and Sun Country sections, which is basically Texas and New Mexico. I'm very proud to have been involved in the PGA's headquarters move to Frisco. It has been a long process, and I've had a front row seat.
D CEO: What was that like, and how did the project evolve?
MARTINEZ: When it began, I was on the board of the Northern Texas PGA. I was in on the initial meeting with Frisco. It began very organically, as a move of the Northern Texas home site. We were looking for a property and we wanted to build an urban golf park. We met with a few cities in the region and pitched the idea. There was strong interest. People liked the concept and they liked the brand. But Frisco embraced it like no other community. It really caught us off guard—their vision and their forward-thinking and how they processed the idea. It was fate; we were supposed to meet. The project grew, which added a lot of time to the process. I was involved in interviewing architects and being part of the process from a conceptual standpoint. Then, as a national board member, I worked to help my colleagues understand what Frisco and North Texas have to offer, how we could help serve members of the association, and that it would be a great place for the PGA's next 100 years. The timing for me to be in this role in the construction and transition process—it's an honor, and very exciting. The scope and the scale was unfathomable just a few years ago.
D CEO: Frisco is expected to get the PGA Championship in 2027. How do you think it will compare to other PGA Championship events, including what we've seen this weekend?
MARTINEZ: I think it will be unique. The whole process and the build-up will help with fan engagement. We have educated golfers in Dallas-Fort Worth. We're blessed to have an LPGA tournament, we've had a Web.com event in our market, we have the AT&T Byron Nelson Championship and the Charles Schwab Challenge at Colonial—we are spoiled. The fan base here at Bethpage is also educated. They get a lot of majors here and are always excited and proud to see how people fare on "their" golf course. What is special about Bethpage is that it's a public golf course and many people have played it. It's exclusive in its world class design and history, but it's not exclusive in terms of who can play it. We have an opportunity to create that in Frisco, and it's very exciting. … Every PGA Championship event and every crowd is different. It's like going to a Texas Rangers game and going to a New York Yankees game. But the fans back home are amazing. The PGA Championship in Frisco is going to be a unique experience for both the players and the public—something we have never seen before.