Fully Leased Fort Worth Tower Trades to California Investor
Hertz Investment Group snapped up the Pier 1 Imports Building from Hines for an undisclosed sum.
One of the most iconic buildings in downtown Fort Worth, the Pier 1 Imports Building, has a new owner. In its third Texas purchase, California-based Hertz Investment Group has snapped up the landmark tower, following CBRE marketing the 20-story for sale this spring on behalf of owner Hines.
The 410,000-square-foot tower is fully leased predominantly to its namesake tenant, Pier 1. The $90 million building opened in 2004. In 2008, Chesapeake Energy bought the property for $104 million, and later sold it to Houston-based Hines in 2014. Pier 1's lease runs until 2027, according to the Star-Telegram. Terms of the sale to Hertz Investment Group were not disclosed.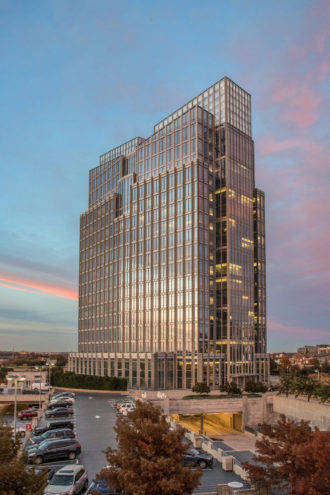 "Hertz Investment Group's investment strategy in every market is to acquire Class A office properties in markets poised for growth, and with the Pier 1 Imports  Building we definitely believe we accomplished our goals," Hertz Chairman Judah Hertz said in a statement. "The offering memorandum didn't refer to this property as Class A space, but rather 'Class AA, Trophy Office Space.' We agree with that assessment."
Earlier this year, Hertz snapped up two, million-square-foot offices in Houston. Developer Sam Ware had previously said he was interested in purchasing the Pier 1 building, which sits on a 11.9-acre site on Energy Way.
Hertz has more than doubled its portfolio in the last five years and now owns 72 properties totaling about 22 million square feet across 23 cities in 18 states.