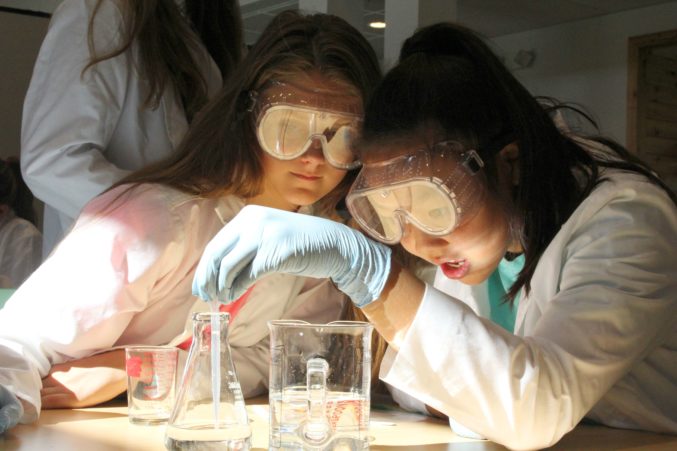 Girl Scouts' New STEM Center in South Dallas Aims to Aid Workforce Pipeline
The local council is helping lead the effort to increase the number of females in STEM fields.
The Girl Scouts of Northeast Texas is helping the national organization get closer to its goal of adding 2.5 million girls in the STEM workforce pipeline with the opening of its STEM Center of Excellence.
The center, which celebrated its grand opening at Camp Whispering Cedar in South Dallas last weekend, offers year-round science, technology, engineering, and math curriculum via day camps, summer camps, and after school and weekend programming. It also will provide space for the community and programming for boys and girls within Dallas ISD. The 92-acre living laboratory serves as a model for a national strategy to build more STEM centers at urban camps. Nearly 20 Girl Scout councils from across the country already have visited the center
"We're at the very beginning stages of a national strategy," said Jennifer Bartkowski, CEO of Girl Scouts of Northeast Texas who is leading the national $70 million Girl Scouts STEM initiative. "We have 112,000 acres of property across U.S. … So other councils that have urban camps are taking a look at that."
The overall goal is to expose girls to STEM opportunities before they start making their career choices. Girls start identifying with how active they will be in STEM as young as second grade, Bartkowski said. So with programming that will come out of the STEM Center of Excellence, the Girl Scouts of Northeast Texas believes it can increase the number of females in the pipeline.
"It was back in 2010 when Texas Instruments came to us and said … 'There's not enough engineers to hire and by 2020 we're going to have a crisis on our hands,'" Bartkowski said. "And they asked … 'You've got all the girls. What can you do to help them become engineers?'"
STEM initiatives aren't new for the Girl Scouts, though. The organization has been educating girls in STEM since it was founded in 1912, Bartkwoski said.  However, it had not been focusing on STEM as a concerted effort geared toward strengthening the pipline until TI challenged the group to do so. That's when the Girl Souts began started approaching STEM with progressive programming to help build girls on their skillset and eventually lead to a related career.
"Everyone's struggling, especially in computer science and engineering," Bartkowksi said. "Those are the careers where women are really underrepresented."
The Girl Scouts are not alone in their interest in strengthen STEM education. The Boy Scouts also have STEM-based programming, and last year, the organization announced that it would also be accepting girls into its Scouting program. While the news was disappointing, it didn't change the organizations advantage: offering girls STEM programming in a girl-centric environment, where studies show they learn best, Bartkowski said. This provides girls the opportunity to gain more confidence in their skillset and become better equipped to be confident in coed environment. That learning paired with partnerships with local corporations provides opportunities that helps Girl Scouts continue to chip away at the gender imbalance that currently exists in STEM fields.
"This is hard work, because the work we're really doing is cutting-edge. It's innovative, it's risky, and it's hard," Bartkowski said. "So when companies think how they can lead, we're always looking for board members and committee members who can help us think big and think outside of the box."