Texas Gov. Greg Abbott spun his wheelchair around and reached up to shake hands with State Sen. Don Huffines, whose district includes part of Dallas County.
"Welcome back to Dallas," Huffines said to the governor.
"Are we in your district now?" Abbott asked.
"Yes, sir—the heart of it," Huffines replied, smiling slightly. "This house is the heart of it!"
"This house" was the stately, red-brick, Preston Hollow mansion of Annette Simmons, who'd lived there for years with her late husband Harold Simmons, the Dallas entrepreneur and philanthropist who died in 2013 at age 83. Annette since has remarried, to retired banker Jerry Fronterhouse, and reminders of all three were scattered about the home's living room and library Friday, when two dozen people gathered for a private event in Harold's honor.
There were photos of Harold with Annette, and others of Annette with Jerry on their wedding day. A huge portrait of Harold dominated one room. A copy of "Golden Boy"—a biography of Simmons, born in Golden, Texas, in a house without electricity or indoor plumbing—sat on a coffee table. On another wall, inside a bookcase, there was a soulful painting of Duke, the Simmons family dog—a 13-year-old Springer Spaniel. Said Annette: "He was Harold's best friend." Fronterhouse added that Duke's portrait had been done by former president George W. Bush, who brought it by the house one night before the paint had even dried.
The purpose of the Friday gathering was to celebrate the designation of a stretch of Preston Road (aka State Highway 289), from Northwest Highway to Royal Lane, as the "Harold C. Simmons Memorial Highway." TxDOT would put up two, 30-inch-by-36-inch signs later that afternoon, Fronterhouse said—one in the median just north of Northwest Highway, the other in the median a little beyond Royal. The designation, which Annette had encouraged, was meant to honor Simmons' life as a successful businessman—he owned a portfolio of industrial companies, and Forbes pegged his worth at $10 billion when he died—and as a legendary philanthropist.
Harold and Annette donated hundreds of millions of dollars over the years to Dallas institutions ranging from Parkland Hospital and UT Southwestern Medical Center to Southern Methodist University. In 2012 alone, the businessman personally gave away millions, including $50,000 to the Rayfield Wright Foundation, $60,000 to Hunger Busters, and more than $1 million to Buckner Children and Family Services, to name just a few. He was also a major, multimillion-dollar donor to conservative and libertarian political causes and the Republican Party, bankrolling such politicians as Bush, Abbott, and Rick Perry, as well as the 2004 "Swift Boat" campaign against Sen. John Kerry.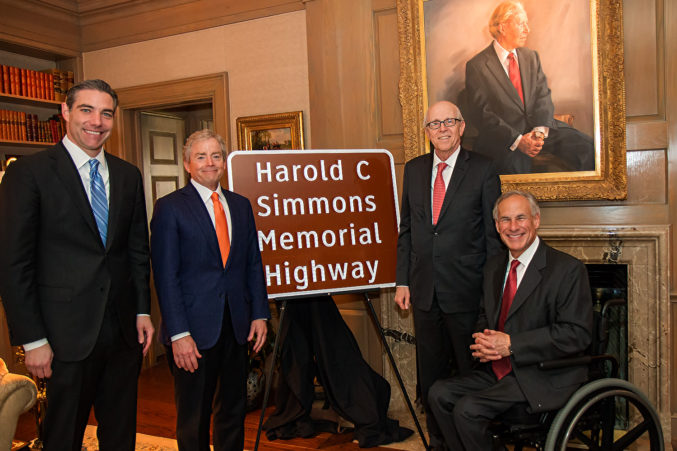 To mark the highway designation, Annette and Jerry had invited a number of family members—among them Simmons daughters Lisa Simmons and Amy Crafton and son Andy Fleck—as well as Harold's longtime lawyer, Don Glendenning, plus four politicos who'd made the designation possible. Huffines and state Rep. Morgan Meyer of Dallas County had pushed during the last legislative session for House Bill 3964—the act that authorized the designation—and Abbott signed the bill into law in late October. Also assisting in the effort was another attendee: Kent Hance, chancellor emeritus of the Texas Tech University System, a former U.S. congressman, and an old friend of Simmons'.
With a fire crackling in the living-room fireplace, one by one the pols reminisced about the late billionaire businessman. Began Hance: "All of us knew and loved him. He had a good sense of humor. When he called to congratulate me on becoming chancellor, I said, 'I dreamed last night that you gave Texas Tech $100 million.' Harold said, 'You must have had a nightmare.' "
Next, Huffines took a turn. He recalled Simmons as a self-made, hard-working, confident businessman who loved doing deals. "I didn't get to know Harold as well as you all do," the senator said. "But he was a great man: humble, generous, virtuous. And, what he did for Dallas! He believed in America, in American exceptionalism, and in the great state of Texas. He loved the Republican Party … I don't think we can find a better patriot—a virtuous patriot—and Harold was that. The least we can do is honor him with a couple of signs on Preston Road."
Meyer said he'd been most impressed by Simmons' charity work: "He said, 'I've done so well. How can I provide others with a helping hand?'"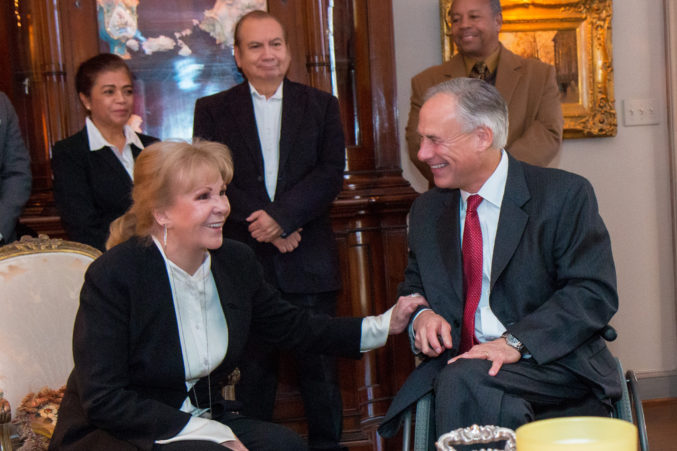 Then Hance turned toward Abbott and said, "You've been an excellent governor. Harold thought the world of you."
"I thought a lot of him," Abbott rejoined, recounting tete-a-tetes with Simmons at Dallas Cowboys games. Annette, sitting next to the governor, said: "I remember you visiting with him. I said to him, 'What were you two talking about?' And he said, 'I just asked him how much he needed.' "
In addition to Simmons' entrepreneurial and philanthropic bent, Abbott went on, the businessman was intent on "doing everything [he could] to protect the freedoms that have made America the greatest country in the world."
With that, everyone repaired to the library, where a mock-up of the highway sign was unveiled. Abbott delivered a champagne toast to Simmons, "the mastermind behind so many great things that have happened in Dallas and Texas." Fronterhouse lifted a glass to Annette—"Y'all were a great team, probably one of the most powerful husband-and-wife teams in Texas"—and added how it was going to be tremendous for drivers on Preston Road to "see those signs going up."
But it was his wife who had the last word. "Try not to run into anybody!" Annette Simmons said, and everyone laughed.
Get the D CEO Newsletter
Stay up to speed on DFW's fast-moving business community with weekly news reports, interviews, and insights.