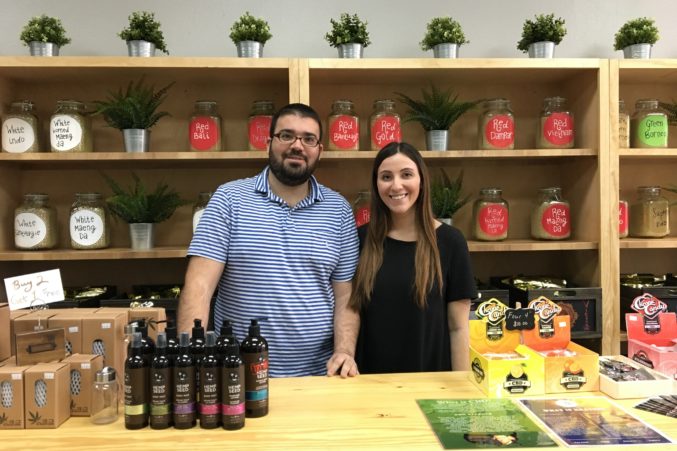 Hemp Shop Opens Its First Texas Location Off Knox-Henderson
CBD Kratom will have two Dallas shops open by early next year, providing herbal remedies aiming to boost health.
A couple from St. Louis has opened a pioneering hemp shop in Dallas-Fort Worth. The hope: Provide a welcoming environment for people looking for hemp-based health and personal-care products.
"There's no place to specifically get it," says Dafna Revah, who co-founded CBD Kratom with her husband David Palatnik. "A lot of people looking for it would rather go to a place like this."
The shop, which opened Dec. 5, is the company's first Texas location and is located off Knox and U.S. Highway 75. It carries oils, edibles, creams, capsules, crumbles, waxes, and pet products containing cannabidiol, a compound in cannabis said to aid with pain, mood, and mental function. The products all follow the federal legal limit of no more than .3 percent tetrahydrocannabinol, the compound responsible for creating a "high." The shop also sells kratom, an herb from the coffee family, in powder form. The supplement is said to increase energy and aid with pain and other ailments.
Revah and Palatnik started their first shop in Chicago in July of 2016, after customers in their St. Louis head shop Mr. Nice Guy started looking for hemp and kratom products. Since then, the couple has opened five more shops across St. Louis, Los Angeles, and now Dallas, with plans to open a second location in the Bishop Arts District in January.
"We had a lot of products in our smoke shops, but a lot of people don't want to go in there," Revah said, adding that the appeal of CBD and kratom is much wider than the products sold at the couple's head shops. The products also got a bad reputation from being associated with smoke shops, she said, limiting the appeal to what the founders consider to be health supplements. "We wanted to provide access to as many people as possible."
CBD Kratom also aims to educate the markets it enters about the supplements, which are rising as popular forms of herbal remedies. All of the shop's employees are required to complete weeks of training to learn every product and their benefits. The shop also refrains from giving medical advice, only informing patrons about the product's use.
Revah and Palatnik said they only carry products that have a good reputation with other sellers and have representatives that can explain the ins and outs of each item. They also require vendors to provide lab test results to prove their makeup. A lot of the products carried in their stores are also carried at other major retailers like Whole Foods. The difference is CBD Kratom also provides the education along with the items, the owners said.
"If a customer has a specific need … there is a big lack of knowledge [at major retailers]," Palatnik says.
But the lack of knowledge extends well beyond sellers, the founders said. In August of 2016, the Drug Enforcement Administration announced plans to reclassify kratom as a Schedule I drug, or a substance that has no "currently accepted medical use and a high potential for abuse." The move caused a public outcry, which then led the DEA to reverse its decision in lieu of further evaluation and feedback. The reversal was called "unprecedented" by experts and media outlets.
"They try to portray it as this dangerous drug … or fake weed like K2, but it's just not," says Palatnik. "It's a lot of false information."
The couple says its Dallas locations are the current focus for the company and could test the market for further expansion, which would be much further down the line. CBD Kratom operates under the umbrella of M&G, which also serves as the parent company of Mr. Nice Guy. M&G was founded in 2005 and generates more than $1 million in revenue.