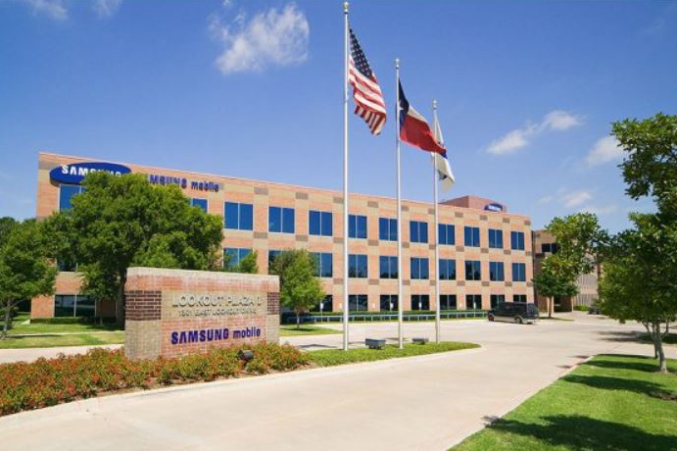 How Samsung's Richardson Office is Helping the Company Come Back
Tim Baxter says the company's 800 employees in Richardson are helping Samsung regain lost market share with its latest products.
Samsung Electronics North America has been putting out the flames of last year's phone crisis—when its Galaxy Note 7 phones were unexpectedly catching fire—and its Richardson office is playing an important role in its comeback.
Tim Baxter, who was appointed CEO of the North American operations earlier this year, says the Richardson campus of 800 includes research and development, customer service, and mobile product teams that are helping the company leverage new products as it regains previously lost market share.
"Our presence here and what they do in launching products is an extremely important part of of what we do," Baxter says of the mobile product team, which is charged with communicating competitive features, among other things, during the product's lifecycle. "It is shaping the feedback of the U.S. consumers … so we can bring the capabilities the U.S. consumer wants and needs."
The Richardson mobile product team, comprising about 20 people, identifies which features will help Samsung best compete in the marketplace. "They come in and say these are the four things we need to convey," Baxter said about the Richardson team. That message is then sent to the company's marketing team based in Manhattan, New York, which then develops marketing materials. Those materials include commercials that show off Samsung's live-texting feature, identified as an important focal point by the Richardson team, as well as its waterproof protection and wireless charging capabilities in a commercial that mocks iPhone users. (See the commercials below.)
Samsung is pushing its new products—the Galaxy S8 and the Note 8—after its suffered losses because of its fiery crisis last year. "It's a complete Samsung strategic effort that took place," Baxter said about the company's crisis recovery. "In spite of what occurred last year, we've continue to innovate … We also recognized we needed to innovate around our processes."
That included battery testing and improved protocols in R&D as well as customer service, he said. The company also launched new forensic labs in Richardson to test products and get real-time input from customers. There, the company can address customer complaints through overnight testing at its local labs, which launched at the beginning of the year. "Yes, we've learned, and yes we've applied those learnings," Baxter said.
Baxter, who has served the company for 11 years, said he's spent much of his time in his new leadership post getting closer to the consumer. He's hosted live streams, breakfasts, and other meetings to get user feedback and understand what consumers are saying. He says that in the first quarter of the year, Samsung's market share was around 20 percent. In the last two quarters, the company hovered around 35 percent, similar to levels prior to the Note 7 crisis, he says.
Baxter says the company now is at a point where new innovations and development will change the way consumers interact with their connected devices. And the company's Richardson operations play a key role in its future.
"North Texas is a vital part of Samsung's U.S. strategy," he said, adding that "vital functions" operate out of Richardson. "We do that not only because we have a history here, but because it has a strong talent pool, a strong telecommunications pool, a strong R&D pool, a strong entrepreneurial pool. All of those things [attracted] us to North Texas."