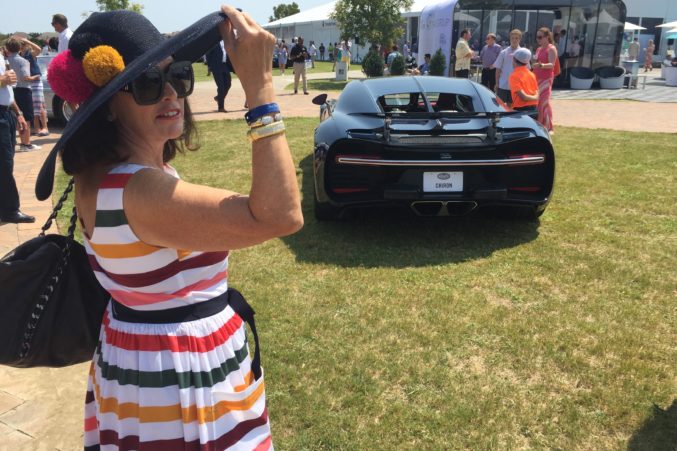 The Lady Knows Cars
Dallas' Lee Bailey, who's owned many Bentleys, Aston Martins, and Rolls-Royces, outshines the autos at a supercar showcase in Las Colinas.
When the people who put on the inaugural Park Place Luxury & Supercar Showcase at the Four Seasons Resort & Club Dallas invited me to attend Saturday's upscale-car show in Las Colinas, they were nice enough and all. But when I asked whether I could bring along a friend named Lee Bailey, their friendliness quotient shot off the charts. Suddenly I wasn't just attending the show and a private dinner at the resort with corporate types from Rolls-Royce in New Jersey. Now they were sending a driver and a new Rolls-Royce Ghost (price tag: $415,605) out to Dallas from Las Colinas to pick us up.
It was hard to fault their enthusiasm, I guess. Lee—who helped her (now-ex-) husband, Ed, build up an empire of 63 North Texas McDonald's franchises that eventually sold for a reported $100 million—has long been known as a hard-core owner and fan of luxury automobiles. The sort who drives 140 miles an hour on the open road, and is a regular at Monaco's Grand Prix Formula One race and the Concours d'Elegance in Pebble Beach. Even when she was a teenager back in central Ohio, she told me, she'd easily "shut down" all the Mustang and Camaro guys while racing them in her parents' 1963 Lincoln Continental.
Over the years, Lee has owned no fewer than 10 Rolls and Bentley cars—both brands that are sold by Dallas-based Park Place Dealerships, which was putting on the Las Colinas show, in part to celebrate its 30th anniversary. Her current fleet includes a Rolls-Royce Dawn convertible, she said, as well as a couple of Aston Martins. The latter are bi-turbo V-12s with QuickSilver Exhaust, which increases the horsepower, Lee said—and "also makes them louder."
Gliding out to the show in the blue (er, "Cobalto Blue") Black Badge edition 2017 Ghost—Lee owned a Ghost once, too—she knew all the car's extras nearly by heart. From the "Starlight Headliner," a $5,200 option that made the roof look like a star-filled sky, for example, to the "Rear Compartment Coolbox" ($2,900), where your snow skis are able to poke through the rear seat from the trunk. She was also familiar with the distinctive Rolls-Royce hood ornament—the figure of a woman leaning forward with her arms outstretched that's known as "The Spirit of Ecstasy." Lee said the sculptor modeled it after the woman who was the mistress of the Rolls founder, then added: "I guess she made him feel like he was flying."
At the sun-splashed car show at the Four Seasons, where Park Place Chairman Ken Schnitzer told us they'd "sold out" all 2,500 tickets, Lee was a walking, talking car encyclopedia, with tales and bits of trivia about nearly every vehicle on display. There were nearly 200 of them, from new Bentleys and McLarens and Porsches to vintage autos like a 1934 Alfa Romeo 8c2300 and a 1965 Shelby 427 Cobra. Eyeing the new Bugatti Chiron—it sports 1,500 horsepower and will set you back $3 million—Lee said, "If I had $3 million burning a hole in my pocket, I'd do this one. That's a good-looking car. It's much better-looking than its predecessor, the Veyron."
Passing an Aston Martin DB-5 from the 1960s, Lee said, "That's the James Bond car from 'Goldfinger.'" Spying a jet-black Jaguar XK 120 Roadster, she commented, "That's Travis Holman's." Travis is married to Stephanie Holman from "The Real Housewives of Dallas," it seems, and the Holmans recently bought Lee's home in the Turtle Creek area. "Travis is building a custom garage with lifts" there now to accommodate his cars, Lee said. Passing a tiny, red and yellow, Italian-designed "microcar" whose front door lifts straight up, she recalled watching an afternoon TV show back in Ohio whose host—named Flippo, The King of the Clowns—would climb out of a car just like it.
Soon enough we bumped into Gerry Spahn, head of communications for Rolls-Royce, who'd been looking around for Lee. Spahn wanted to show her the 2018 Rolls-Royce Phantom, which had just arrived here straight from Pebble Beach for its Texas debut. Big and grand and imposing, the new Phantom is Rolls' top-of-the-line, ultra-luxury sedan. It's been updated with a "21st century" feel, Spahn explained enthusiastically, with new electronics, a lighter aluminum architecture, and a "more beefy shoulder" for a tougher, meaner, more aggressive look. Lee appreciated Gerry's spiel, but she and Ed had owned a couple of Phantoms, and she wasn't really in the market for this particular half-million-dollar ride. Then Spahn said, "Do you know Andy?," referring to Aston-Martin CEO Andy Palmer. "Yes," Lee replied coolly. "Andy sang 'Happy Birthday' to me in Abu Dhabi."
Later, after Schnitzer had given out trophies for the show's top cars—and a check for $30,000 to the event's charity beneficiary, the Momentous Institute—we took the Ghost to the Four Seasons' LAW Restaurant for a private dinner with the Rolls-Royce people. (In the car, Lee switched out of her Chanel tennis shoes into a pair of Manolo Blahnik heels.) Over the dinner's first course, Heath Strayhan, who oversees the "Premier Collection" for Park Place Dealerships, said Park Place is one of the nation's top half-dozen dealerships for Rolls-Royce, smack in the mix with Rolls dealerships in Los Angeles, Chicago, Miami, Greenwich (Connecticut), and New York. In 2018 Park Place might sell four or five Phantoms, Strayhan predicted, although, he added, "we have more orders than we have allocation."
Then Spahn told a story about Lee that summed up her star status with these luxury car people … and explained why I'd ridden out here in a Rolls, instead of in my 1999 GMC Yukon with the back window that won't roll down. Visiting Cannes, it seems, Lee had bought a $135,000 de Grisogono "Grappolo"-style watch that has a face with orange sapphires and white diamonds. To complement her watch, Spahn told the table, she then decided she wanted an orange-and-white steering wheel installed in her Rolls-Royce convertible. Impossible, came the first answer from the company. Pressed Lee: "What part of 'The lady wants it' don't you get?!" (There may also have been some profanity involved.) Rolls soon relented, and Lee got the customized steering wheel she wanted to match her watch. "Now," she said, "the car sparkles."