Capital Factory is joining forces with the Dallas Entrepreneur Center to take the first step in building a Texas ecosystem for startups and investors.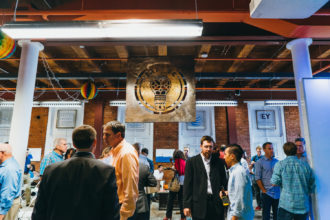 The accelerator, which PitchBook considers the most active investor in Texas since 2013, will connect Austin and Dallas startups with mentors, investors, business connections, work space, and training in both cities. With the partnership, members of the DEC will have access to Capital Factory's programming, which include hackathons and investment challenges; investors; and mentors out of the DEC's home base in the West End. They will also be able to use space at the Capital Factory in Austin. Similarly, Capital Factory members will have access to the DEC's programming, space, and network of mentors, many of which represent Fortune 500 companies.
"We believe there are some great synergies to be had for connecting all of Texas' cities together," said Josh Baer, who founded Capital Factory in 2009. "They're so different yet so close to each other … and some of the real opportunity is to get the cities working together to leverage each other's strengths."
Capital Factory's statewide expansion strategy will begin in Dallas and could continue with the DEC in other major cities in Texas, Baer said. Baer is working with DEC CEO Trey Bowles to explore future options. But unlike other accelerator growth models, none of Capital Factory's expansions will be franchises. Instead, the accelerator program will run as one program across cities. It plans to hire about four people over the next few months to help build its Dallas team. Capital Factory offers six months of office space, mentoring, programming, and access to investment in exchange for 1 percent equity.
Discussions about a possible partnership between the DEC and Capital Factory began about four months ago, when Dallas entrepreneur Ben Lamm connected Baer and Bowles. After building and selling Austin-based Chaotic Moon to Accenture, Lamm started his new company Conversable at the Capital Factory, which also was one of Conversable's first investors. Once Lamm moved to Dallas, he also took office space at the DEC. "Having offices in both Austin and Dallas is a competitive advantage that lets us attract the best talent and sell into all of the large businesses based in Texas," Lamm said in a released statement. Once Lamm recognized the advantage he had, he shared it with Bowles and Baer.
We've been thinking about a Texas strategy, but Ben really gave us the kick in the pants to get it going," Baer said.
The two groups will use the Union platform developed by 1776, an incubator based in Washington, D.C. The platform will serve as an online networking and training tool for entrepreneurs. It also will help facilitate office hours with more than 200 Capital Factory and DEC mentors both in person and via video conference.
There are unique benefits of each of these major cities that when brought together, the whole is greater than its parts," Bowles said. "The only thing greater than a strong Dallas ecosystem or a strong Austin ecosystem is a strong Texas ecosystem."
Get the D CEO Newsletter
Stay up to speed on DFW's fast-moving business community with weekly news reports, interviews, and insights.