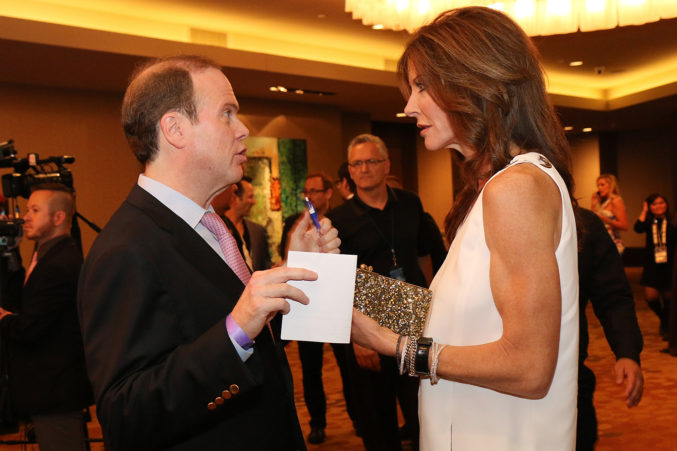 Alan Peppard Retiring After 30 Years With The Dallas Morning News
The Dallas native, who specialized in writing about Dallas-Fort Worth's 'bold-face' names, is staying mum about his future plans.
After three decades spent documenting Dallas and its "bold-face" names as a columnist and staff writer, Alan Peppard says he'll retire from The Dallas Morning News next month. The paper's Leslie Snyder made the announcement in an email to the DMN newsroom Friday morning. Snyder said that Peppard's last official day in the office would be Sept. 15 and that, until then, "he'll keep entertaining us and his column readers with tales of the rich, famous, and (sometimes) infamous."
Snyder's email included a message to his colleagues from Peppard, who wrote in part:
September 8th will be my 30th anniversary at The Dallas Morning News. In three decades, some things have changed but others have not. I still have the phone extension I got in 1987. My business card is almost identical though it no longer has the DMN's Telex number.

Johnny Carson was one of my professional heroes. He became the King of Late Night because he was a master of timing.

His interviews seemed conversational, but in reality he let the guest do 90 percent of the talking. Johnny became the host of The Tonight Show on Oct. 1, 1962. Thirty years later, he said it was time to leave the stage.

Following Johnny's lead, I will celebrate 30 years at The Dallas Morning News, reach back for the narrow opening in the curtain and leave the stage.

My last day will be Friday, Sept. 15. Then, I will retire from a life in newspapers.

As it is for many people, this career was neither my Plan A nor my Plan B. It was Plan C. Why did I stay? It was fun. Also, it gave me access to the world —not just to the world of the powerful but also to the world of the powerless.

At 508 Young, I befriended and worked with some of the most influential people in my life. Everyone here today and those who came before have enriched me beyond measure.

When I was small child, my mother and father faced each other in comfy armchairs, drank their coffee and exchanged sections of The Dallas Morning News. I sat on the floor with the comics and a Tonka truck. It was then that The Dallas Morning News became a part of my DNA.

I have professional plans that aren't quite ready to be revealed.

Regardless, The News will never be part of my past. It will always be a part of me.

"Time forks perpetually toward innumerable futures," wrote Jose Luis Borges. I'm taking a fork toward a new future.
Peppard, a Dallas native, graduated in 1986 with a political science degree from Southern Methodist University. He started working as a writer and editor at D Magazine while he was still an undergrad, then moved on after three years to The News. There, his columns appeared three times a week in the paper's arts and lifestyle section.
So, why's he stepping down now? And, when will he be ready to reveal those "professional plans"?
In an email Friday night, Peppard wrote:
"You remember after Forrest Gump ran back and forth across the country so many times? He said, 'I'm pretty tired. I think I'll go home now.' That's a metaphor for how I feel after 30 years of saying 'Look at me.'
"I'm feeling quiet so I don't have any specific plans to talk much about my professional future," Peppard went on. "If President Cuban needs me to be his chief of staff, then I will be chatty. I was born in Baylor Hospital, I attended SMU and I've never lived anywhere but here. I'm sticking with that plan. For my sanity, I need to stay close so I can walk around NorthPark with a credit card and leave a trail of retail inflation wherever I go."