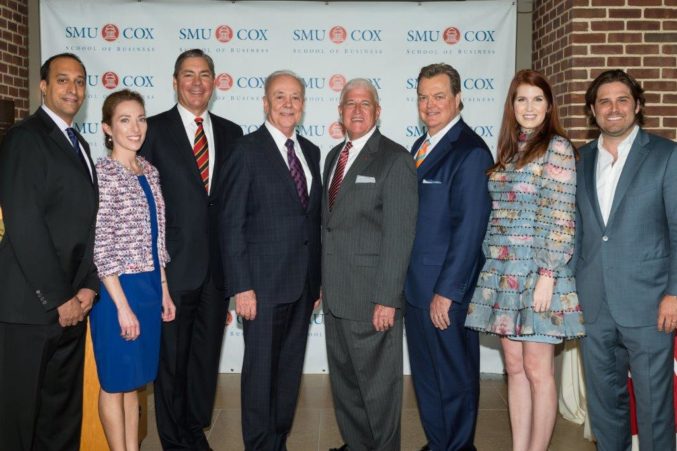 Tears And Laughter As SMU Cox Honors Six Alumni
Leaders at rewardStyle, Crow Holdings Capital Investment Partners, Cypress Growth Capital are among those honored.
There was humility, hearty laughter, and some misty eyes in the house when six alumni of SMU's Cox School of Business were honored at the school's annual Distinguished Alumni Awards Luncheon and reception on May 19. The event at the James M. Collins Executive Education Center at SMU was hosted by outgoing Cox School Dean Albert Niemi Jr.
The school's 2017 Distinguished Alumni honorees were: Peter Dameris, CEO of California-based On Assignment Inc.; Kirk Rimer, a principal and co-head of Crow Holdings Capital Investment Partners in Dallas; and Liz Youngblood, CEO of Adult Hospitals at the University of Mississippi Medical Center. Cox additionally honored three Outstanding Young Alumni. They were Amber Venz Box, president and co-founder of Dallas-based rewardStyle; Baxter Box, co-founder and CEO of rewardStyle; and Vik Thapar, a principal with Cypress Growth Capital in Dallas.
During the luncheon celebration, attendees heard Rimer (MBA, '89), who spent 21 years at Goldman Sachs before joining the Crow firm, admit that, as an SMU grad and newbie at Goldman in New York, he'd felt a bit intimidated to be surrounded by a roomful of Harvard MBAs. Until, that is, a supervisor addressed the group one day. "Anybody here go to Harvard Business School?" he asked, drawing a sea of raised hands. At that he threw down a $100 bill and said, "Great. Go across the street and get us some pizza and drinks." Later the supervisor admitted that he "loved doing that," since he'd gone to NYU.
Accepting her award, Amber Venz Box, who recently had a baby, teared up with gratitude that a "B student" like herself was being honored by SMU. When her eyes continued to mist, Amber (BA, '09) quipped something about new mothers always being emotional, then added, "I'm blaming the mom thing." Her husband Baxter (MBA, '01), meantime, said the Cox School helped him develop a "strategic mindset" about serving rewardStyle's customers. "SMU laid the foundation for our success," he said. Thapar (MBA, '09) also credited the Cox School faculty's expertise, especially in hedge funds and private equity.
rewardStyle is the No. 1 global monetization platform for retail brands and top style influencers. Crow Holdings Capital Investment Partners is an outsourced investment office for  a group of partner families. Cypress Growth Capital is an investor in emerging companies using flexible, customized royalty loans.