Addison's latest corporate relocation boasts international reach, a multimillion-dollar top line, and technology solutions for smart cities, connected devices, automation, and virtual reality, among other things. Softtek, a Mexico-based global IT company that generates upwards of $500 million in revenue, moved its U.S. and Canada headquarters from Miami to The Colonade in Addison last month.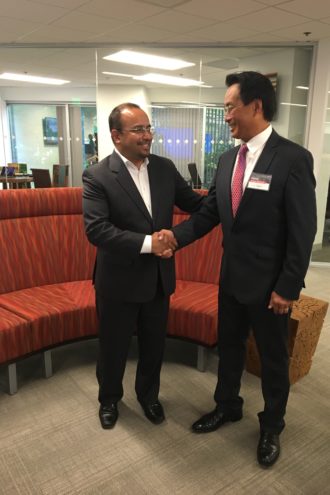 Wednesday evening, the company celebrated the opening of its new office, attracting esteemed guests including the CEO of the United States-Mexico Chamber of Commerce, the Consul General of Mexico, executives from Southwest Airlines, Brinker International, and Hewlett Packard Enterprise, and the newly sworn-in Addison mayor.
"We're one of the largest Latino companies that are privately owned," said Marcos Jimenez, CEO of Softtek's U.S. and Canada operations. "And now, we're going to be here. We are bringing a different view of how to develop technology."
The Addison headquarters currently employs 100 people at its 14,000 square-foot office, which formerly housed IT consulting firm Alsbridge prior to its sale to Connecticut-based Information Services Group. The space is double the size of its former location in Miami. Jimenez says Softtek plans to hire about 50 more employees for technology positions in the near future.
Before looking in North Texas, Softtek was planning to launch innovation labs in San Jose. Instead, after in-depth discussions following the DFW trade mission to Mexico City last year, the company reconsidered consolidating its innovation labs and office into one centralized location in Dallas-Fort Worth. The ease of travel and access to tech talent were deciding factors, Jimenez said. It initially sought sites in Irving, home of the local post of the U.S.-Mexico Chamber of Commerce, and Dallas, but chose Addison due to its location, office offerings, and surroundings. The deal did not include an incentive package.
"For us, it's not about the incentives," Jimenez said. "It's about the beautiful city that's very well-connected and a commute all around the U.S. that's easy."
"To be here … allows us to show how committed we are to this market," said Blanca Treviño, CEO of Softtek's global operation. "We're here for the long run."
The U.S. and Canada operations make up the largest part of the company, with more than 6,000 of 12,000 Softtek employees worldwide supporting that division. The company's move marks the second relocation of a major headquarters from a Mexico-based company to Addison—Cinépolis took its U.S. headquarters to Addison last year. It also supports a growing sector in Addison, says Orlando Campos, Addison's economic development director. The town is already home to mobile app development company Bottle Rocket, recently acquired machine-learning company Brainspace, global authentication and information services company Authentix, and fast-growing RMG Networks.
"Addison is a small town, but we can [attract] banks, insurance companies, and high-tech companies," said Addison Mayor Joe Chow, just three days after re-entering a role he served six years ago. Chow plans to focus on those three sectors as growth areas. "It could be a small Silicon Valley here."
Al Zapanta, CEO of the U.S.-Mexico Chamber of Commerce, said Softtek's relocation is the first of many to come. Since last year's trade mission—whose delegation included Dallas and Fort Worth mayors, DFW International Airport, and the chamber—the chamber has been fostering relationships with Mexican companies interested in the region, he added.
"There's going to be more," Zapanta said, adding that some companies are waiting on clarifications to the North American Free Trade Agreement, which supports trade between Mexico, the U.S., and Canada. "When we did [NAFTA], it did not include agriculture or energy, and the internet wasn't around yet. That all has to be added in."
When that happens, North Texas will likely be a target for Mexican companies, said Zapanta. And when they get here, if they're anything like Softtek, they'll celebrate in true Latino fashion—eating freshly cooked fajitas and toasting with shots of tequila.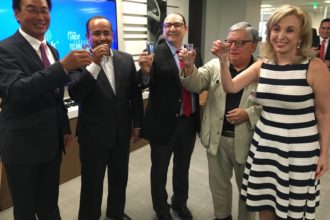 Get the D CEO Newsletter
Stay up to speed on DFW's fast-moving business community with weekly news reports, interviews, and insights.