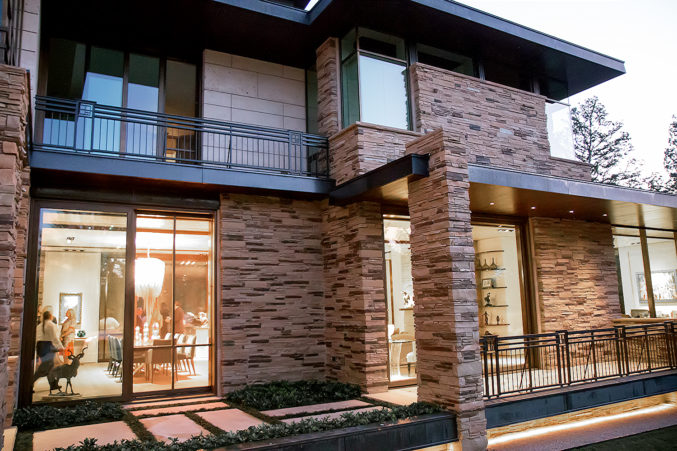 Catching Up With Energy Billionaire Trevor Rees-Jones
The oil-and-gas magnate has a new house in Dallas, a second big Texas ranch, and good works to focus on in Africa.
It took a couple of years to put up, but the spectacular new home of the press-shy oil-and-gas billionaire Trevor Rees-Jones and his wife, Jan, is now a fait accompli. And the house that's nestled up against the Dallas Country Club on several sides looks like it could have been designed by Frank Lloyd Wright himself.
Think lots of glass and stone, tall ceilings, hardwood floors, and harmony with the natural surroundings. That Wright feel was exactly what she wanted, Jan Rees-Jones said at the home the other day. First conceived with maybe 25,000 square feet of space, the house was "downsized" and built with 15,000 feet or so, once the couple realized they didn't need all that room.
The Rees-Joneses have side-by-side offices—a see-through fireplace connects them—and, in his, there's a photo of Trevor with Laura Bush and Rex Tillerson. Just like his friend the new secretary of state, who came from Exxon Mobil, Rees-Jones is an energy CEO, having founded Chief Oil & Gas in 1994.
The private Dallas company struck it rich fracking in a number of U.S. shale plays, and Rees-Jones has had excellent timing selling off some assets and keeping others. Even during a period of lower oil prices, Forbes magazine says he has a net worth of $5.2 billion—down slightly from $5.3 billion in 2015, but up from $4.4 billion four years ago.
Rees-Jones also has two big Texas ranches, where he likes to relax by collecting arrowheads and riding a mountain bike. His Cook Canyon Ranch near Ranger, between Fort Worth and Abilene, has hosted parties featuring entertainment by the likes of Jon Bon Jovi and the Eagles. In 2014 he snapped up the giant Hendrick River Ranch, which straddles parts of Throckmorton, Haskell, and Shackelford counties, north of Albany.
Lately, Rees-Jones said, he's been spending a lot of time in Africa. "I've been doing some hunting," he added with an enthusiastic, West Texas-style drawl. "But, I just like bein' around great wildlife." Through their Rees-Jones Foundation, the couple has also been supporting the CURE International Hospital in Ethiopia. The facility in Addis Ababa performs complex orthopedic surgeries and, thanks in part to the Dallas couple, has boosted its number of operations to 2,500 per year, up from 1,000 annually.
In June, Rees-Jones said, his Chief Partners LP will mark its 10th anniversary. The commercial real estate investment arm of the Rees-Jones family office so far has pumped more than $380 million into about 130 property investments, including Frisco Market Center in Frisco and Connection Park in Irving.
Meantime, you're apt to find the University Park-reared billionaire simply enjoying his new home. There, Jan has hung the colorful, contemporary art she prefers, while Trevor has displayed a number of sculptures and original paintings from his collection by western legends like C.M. Russell and Frederic Remington. To the right as you come in the front door, Remington's "Pony Tracks" is on the wall. Back and to the left there's "The Belated Traveler," one of the artist's eerily moody, nocturne paintings.
From the looks of things, moody's the last word you'd use to describe the Rees-Joneses these days.