DART, CBRE, Greyhound Seek Innovative Partners to Solve Challenges
The three entities told entrepreneurs at Dallas Startup Week where they need the most help.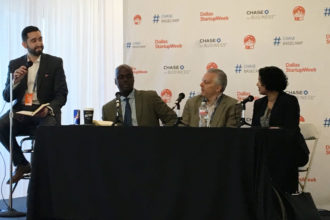 Chief information officers of Dallas Area Rapid Transit, CBRE, and Greyhound Lines Inc. are on the hunt for innovative solutions to help them grow, solve their customers' pain points, and push them to the leading edge of their industries. And those solutions could come from the local startup community, they said.
The three CIOs attended Dallas Startup Week to give entrepreneurs a look at how their companies are innovating. The overall message echoed across the board: Companies want solutions that help create a better user experience and meet their consumers needs.
"To drive innovation … you have to work with the entire ecosystem," said Chandra Dhandapani, CBRE chief digital and technology officer. Dhandapani previously helped launch one of Capital One's innovation centers, The Garage, located at the company's Financial Services division headquarters in Plano. She stepped into her new role at CBRE last summer.
CBRE is looking for solutions that can help make finding commercial real estate property more efficient. It's also keeping an eye on solutions within the connected-building space as developments get "smarter," though its unclear what the needs are there. Another priority for CBRE is developing the "workplace of the future," Dhandapani said, and that means finding new ways to engage employees. Last year, the company rolled out Workplace 360, an initiative that aims to increase mobility for employees, and increase collaboration and efficiency.
Similarly, Greyhound is increasing efficiency across its operations. The company, founded in 1914, has been aiming to attract millennial riders in recent years as part of its multiyear transformation. As part of the project, the company created a millennial council to help drive innovation. To date, almost every idea the council has offered has been implemented into the company. And for the past two months, it has been hosting an internal event that allows employees to pitch innovative ideas, offering big incentives for those that get implemented.
But beyond transforming its offerings, the company needs help with back-end processes, said Chris Boult, Greyhound's CIO.
"We have systems we use for project management," Boult said. "They're monolithic and challenging. We have no control on product feature set."
Boult is currently in discussions with startups offering customizable solutions.
As a publicly funded transit agency, DART works a little differently from corporations like CBRE and Greyhound. It has to answer to its 13 member cities. So any innovation the agency adopts have to be cost-effective and deliberate.
"Understanding our user base, segment, pain points are what we're working on," said Nevin Grinnell, DART vice president and chief marketing officer. "Why is it so hard to use our system?"
DART is also focused on transit-oriented developments, defined as moderate- to high-density developments located within walking distance of a transit stop. These developments mix residential, office, and retail uses.
"Our mission is to get people out of their cars," Grinnell said. "We can't do it alone."
So if a company has a solution that can meet any of these needs, these three entities are all ears.