The allure of a leisurely meal is real. Over the past few years, brunch in our mimosa-obsessed city has gone far beyond what it used to be. Our guide to navigating the late-morning repast, then, is both for those who crave a classic stack of pancakes and for others who prefer, say, an aromatic bowl of bun rieu with pork meatballs. Either way, when the sun comes up and the most important meal of the weekend is nigh, we've got you covered.
11 Must-Eat Brunches in Dallas
These restaurants gently push the boundary of what brunch is supposed to be and show us brunch as it can be, without being too stuck in tradition. Their offerings represent our city's creativity on a plate, with mezcal-spiked espresso on the side.
At this bar on the edge of Deep Ellum that deals in strong drinks and classic-car nostalgia, brunch is a racetrack of fun fare. Don't expect quaint quiches here. Thunderbird takes the "put an egg on it" mantra literally: Frito pies with a fried egg; Sloppy Joes with a fried egg. It's not innovative, but it's breaking some brunch formality rules, and we love it for that. The Changa of Champs is gas station food in hyperdrive, which is to say it is hearty and good, like Mom's breakfast casserole wrapped in a tortilla and deep fried. On the sweet side, Sticky Shifters—French toast sticks covered in Cinnamon Toast Crunch crumbles—are for the folks who ate sugary cereals in childhood like it was an Olympic sport. Dip them in bacon-seasoned whipped cream and maple syrup, and finish with Saturday morning cartoons.
3400 Commerce St.
If you ask co-owner Javier Garcia del Moral about brunch in Spain, he'd tell you that on weekends, "after 3 pm is when everybody's out, enjoying having a drink." And that's exactly what you'll find on Saturday afternoons (they're closed Sundays) at this little house-turned-dining nook. Diners may be munching on roasted eggplant or Spanish jamón and cheese croquettes as golden brown as a vacation tan earned on a San Sebastian playa. A dish of sautéed zucchini, tomatoes, onions, and peppers comes topped with a paprika-kissed egg that, once broken, spills a sunshine-hued river of yolk. On a warm day, post up on the patio, preferably with an icy Aperol spritz or refreshing G&T in hand.
321 N. Zang Blvd.
Mornings at the city's dedicated Argentine restaurant and vermouth bar in Bishop Arts start with a spiral of Argentine sausage in a cast-iron skillet that's topped with melty provolone cheese and peppers. Dip it—dip everything that arrives on the table!—in chimichurri, the restaurant's eponymous sauce. There are empanada Benedicts that, in lieu of English muffins, stow ham, eggs, and hollandaise in crispy empanada pastry boats. There's authentic Argentine pizza, thick and oozing with exorbitant amounts of mozzarella. There's the Vacipan Completo choripan, a sandwich of steak and eggs and, yes, more mozzarella.
324 W. Seventh St.
We revere José for its tile-lined bar, aguachiles, and marvelous rotating tacos on house-nixtamalized tortillas. But chef Anastacia Quiñones-Pittman's chilaquiles, with cotija showered everywhere, have verve; avocado molletes, zesty with chorizo and black beans, stand in for avocado toast. Between bites, sip The Squozen Margarita (their crystalline, tangy frosty marg with top-shelf tequila) and give thanks. You've got a lineup that's magnificently, superbly Mexican and still more than satisfies the brunch crowd.
4931 W. Lovers Ln.
When you desire Indian-French brunch, sink into a golden velvet banquette in the Bishop Arts newcomer and get ready for spices: eggs Benedict under a rich, velvety tikka sauce piled over tandoor-blistered naan puffs or the warm heat of mango-habanero syrup on waffles stacked with shaggy-coated chicken stained brick red. Don't miss the golden turmeric brunch punch—it marries coconut milk and Scotch—or sweet pink chai. On the savory side, a paratha is the base for a confetti of chaat with the crunch of pomegranate seeds, garbanzo bean patties, and tangy (yet soothing) sauces. The mother-daughter-owned spot brought us something new—with gusts of flavor we didn't even know we needed.
418 N. Bishop Ave.
Inside this bright and welcoming coffeehouse, which serves as a community gathering hub, brunch is minimalist yet remains a notch above most morning offerings. The chilaquiles are a favorite go-to. Order them with your choice of chorizo, pollo, carne, or veggies and topped with either vibrant verde or rich rojo sauce. For an omelet road less traveled, get your eggs with a side of chapulines for crunch (and protein). The sibling and neighbor of Ayahuasca Cantina naturally serves sublime cocktails. The liquored-up coffee libations—like the espresso-​spiked Oaxaca, made with Licor 43 and mezcal—deliver equal parts buzz and booze.
334 W. Jefferson Blvd.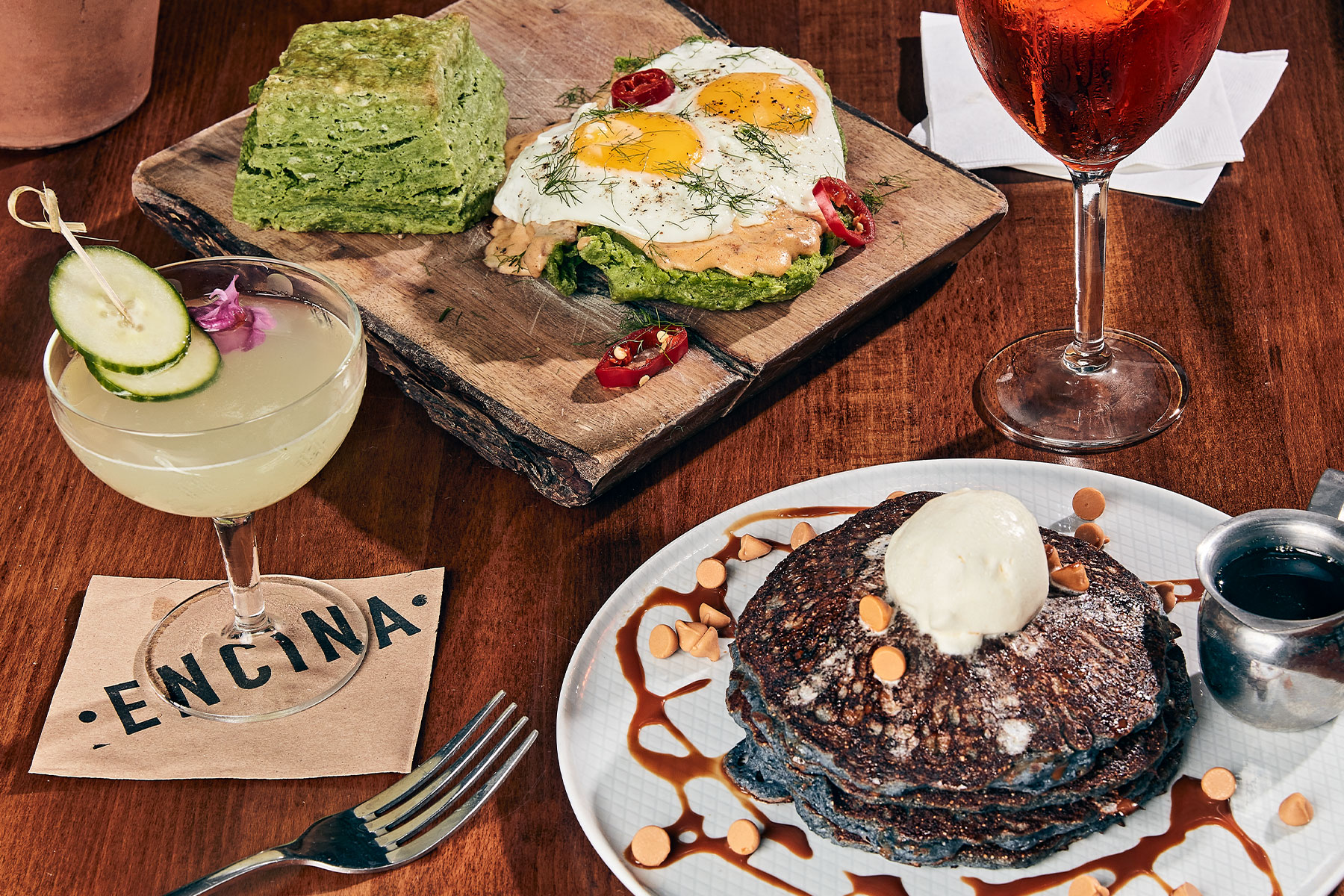 Former Bolsa chef Matt Balke and partner Corey McCombs continue to put out a quintessential Bishop Arts District brunch in the old Bolsa space. Grab mimosas and spritzes on the enclosed patio, with its laid-back vibe of reclaimed wood, and assemble a subtly rustic, adroitly prepared smorgasbord with a Southern swagger. Certainly, there's the iconic breakfast flatbread, but there are also green kale biscuits to smother in chorizo gravy, pork belly and grits, and hearty blue corn pancakes slathered with cajeta and speckled with tawny butterscotch chips. We love the retro winks and the delicately down-home friendliness.
614 W. Davis St.
Nick Badovinus has created the perfect lobster roll. So feel free to sit in the nautically nodding interior, or maybe grab a canvas chair on the sidewalk patio, and dive into one. Or try brunch-only dishes: crispy fried chicken that straddles thick slices of brioche French toast and strikes a brilliant savory-sweet accord with bourbon-peach compote. That luscious lobster also moonlights as a Benedict, deluged with a tart hollandaise that blankets it in sunny yellow. Breeze over the list of plentiful whites, rosés, bubbles, and spritzers to go with your seafood, or stick to a classic Bloody Mary (ask for it spicy). We'd go through a gale for this.
33B Highland Park Village.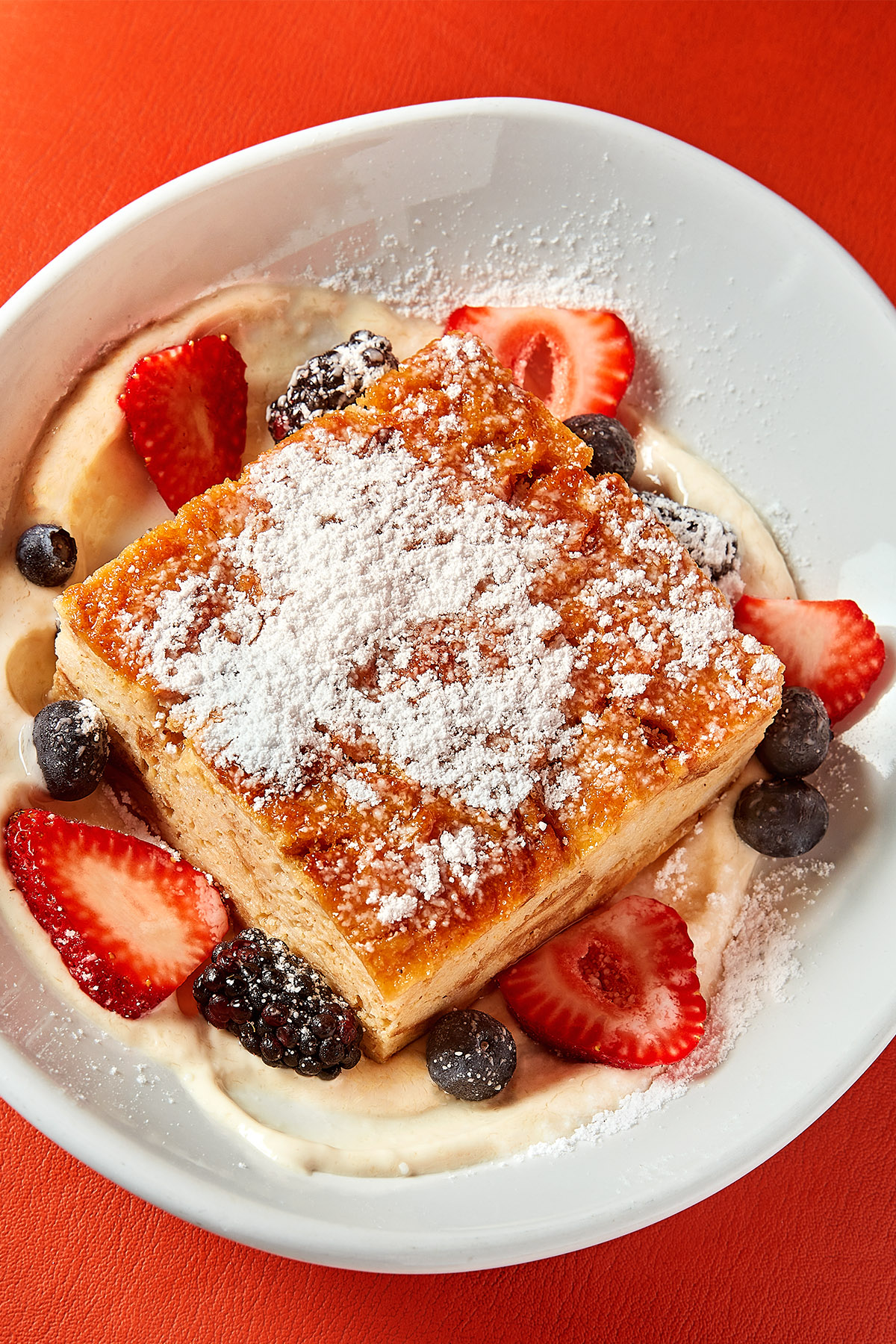 The Lower Greenville bar-cafe is exactly what everyone wants in their neighborhood: unpretentious service, tons of caffeine, and the speakers blasting Beach House and the Rolling Stones, which is the precise brunch playlist you need, trust us. Most important, the food is consistently satisfying in every sense. The menu isn't exhaustive, but it has everything for everyone: an açai bowl for that one friend (you know the one); French toast soaked overnight and served with a brown sugar crumble and maple cream cheese schmear for the sweet tooth; a vegan skillet with house-made tofu scramble; buttermilk biscuits with sausage like Grandma makes. As for drinks, there are many. On the list of coffee cocktails, the likes of which could surely wake the dead and buried (we're looking at the Long Island Iced Coffee that has a limit of two per person), the Voodoo Lady is a pleasant iced coffee and rum concoction made with your choice of milk or alt milk (oat, coconut). Bring friends, sit out on the patio, and compare notes on mimosa flights. Or go alone and sit at the bar while writing about brunch.
2900 Greenville Ave.
Brunch at the upscale neo-steakhouse brasserie can, of course, include steak. But more broadly, it's a place for a Champagne cart splurge; a dozen oysters; and a labneh-​dressed lobster roll, with chilled lobster meat fetchingly tucked into brioche with fines herbes and pink peppercorns. It's a place to appreciate craggy, griddled crumpets served on a slate plate with house-made jam (apricot or fig) and other such Euro-centric delicacies, such as salmon rillettes and tea-smoked kingfish salad with goat cheese. Sometimes you simply want to sit at the comfortable bar with a Midas touch and imagine that the weekend might last forever.
4514 Travis St., Ste. 132.
The goal is to make you feel like you are between jungle and beach. Either way, in the hands of rock-star chef José Meza (whose résumé is pitch perfect, with stints at lodestars Noma and Pujol) you escape to somewhere gorgeous and enticing with dishes that are comforting in a brunchy way but with flavors that catapult you beyond the ordinary. Start with a smoky tomatillo Bloody Mary made with mezcal or a frozen margarita dusted with toasted coconut. Avocado dip takes guac in a wholly different direction with brightness from ginger and purple endive leaves for dipping. A crunchy tostada serves as a pedestal for eggs and black beans smothered in a bright habanero sauce dotted with diced ham and peas, inspired by a traditional Yucatan dish. It's all unique, creative, elegant, modern—and then you come blinking back out into the sun.
4216 Oak Lawn Ave.
Dallas Brunch Mainstays
Expecting the unexpected can be overrated. For weekends when you want the comfort of reliable standards, these restaurant staples are for you. Sometimes you just want a perfect waffle. There's nothing wrong with that.
At Deep Ellum's redesigned Kimpton Pittman hotel, local sourcing goes into an ultra crispy redfish sandwich with sumptuous summer tomatoes and avocado, or a dainty mimosa with a pear-​cinnamon or elderflower-pineapple purée.
2551 Elm St.
This Vietnamese wonderland slipped into a Richardson strip mall offers everything from avocado smoothies to variations on com tam (literally "broken rice"), a breakfast staple with barbecued pork and sunny side up eggs.
9780 Walnut St., Ste. 340.
Chicken is the star at this Southern-leaning spot, where tenders are stacked on a Belgian waffle with jalapeño syrup or layered between dense buttermilk biscuits. Add pepper jelly, or maybe gravy. Ideally both.
6110 Frankford Rd.; 2405 Dallas Pkwy., Ste. 4, Plano.
We're happy to bask in Cali vibes, down to the cherrywood-smoked bacon, nitro coffee, and wine taps that let us keep trying 5-ounce pours of our favorite vino. Don't miss the newly added vanilla pancake soufflé.
500 Crescent Ct., Ste. 160; 3701 Dallas Pkwy., Plano.
It's essentially a French bistro, just with caviar and latkes. We love the skillet shakshuka: nestled eggs amid pools of yogurt with grilled sourdough. The double cheeseburger is a beautiful mess of caramelized onions on a brioche bun.
3215 N. Fitzhugh Ave.
Located inside the Joule hotel, CBD Provisions has a winning forager-chic meets Texas aesthetic, whether you want a fluffy omelet stuffed with chorizo, crème fraiche, and cheddar or a blueberry crostata with homemade ice cream.
1530 Main St.
Book brunch in the Airstream trailer out back. It's a groovy spot to enjoy Ida's biscuits doused in honey butter and house jam. Or order a plate of the creamy shrimp and grits with bacon—the real star of the show.
5001 Belt Line Rd., Addison.
You've come to one of the most Instagram-worthy scenes in Dallas to get tipsy on refreshing Passionate Feels—and we fully support that. Nosh on fun salads (broccolini and stracciatella, anyone?), tartines, and boutique brie or avocado toasts.
308 N. Bishop Ave.
At this inland port for the unabashed seafood enthusiast, dive into the smoked salmon board with dill cream cheese and fixings, caviar and blinis, or a lump crab frittata. The city's finest fishmonger will set you right.
4212 Oak Lawn Ave.; 6025 Royal Ln., Ste. 110.
The extensive cocktail menu includes coffee spiked with bacon and bourbon, but the real draw is the pancakes. We go straight for the pineapple upside-down option topped with house-made vanilla crème and cinnamon butter.
Multiple locations.
Here in Lake Highlands, pastries get tucked into baskets alongside fresh strawberry jam and sweet butter. Notable mains include the Benedict with French ham, red-wine mayo, and two breaded, deep-fried poached eggs.
9850 Walnut Hill Ln., Ste. 305.
We come here—and wait out those weekend Bishop Arts lines—for the flawless brisket hash or huevos rancheros with queso fresco, and, oh yes, the fluffy pancakes and brilliant beignets. Our favorite spot is on the patio, naturally.
316 W. Seventh St.
At the breezy little sister to Le Bilboquet, plates pop with bright-yellow local eggs— soft-scrambled on sourdough or in an omelet oozing Gruyère. Servers in Breton-striped shirts tend to regulars who sit at the bar for café au lait.
3230 Knox St., Ste. 140.
So, You Want to Go to Dim Sum?
When dim sum began several centuries ago, it was a snack-and-tea sort of meal. Today, it has evolved into the weekend outing we know and love.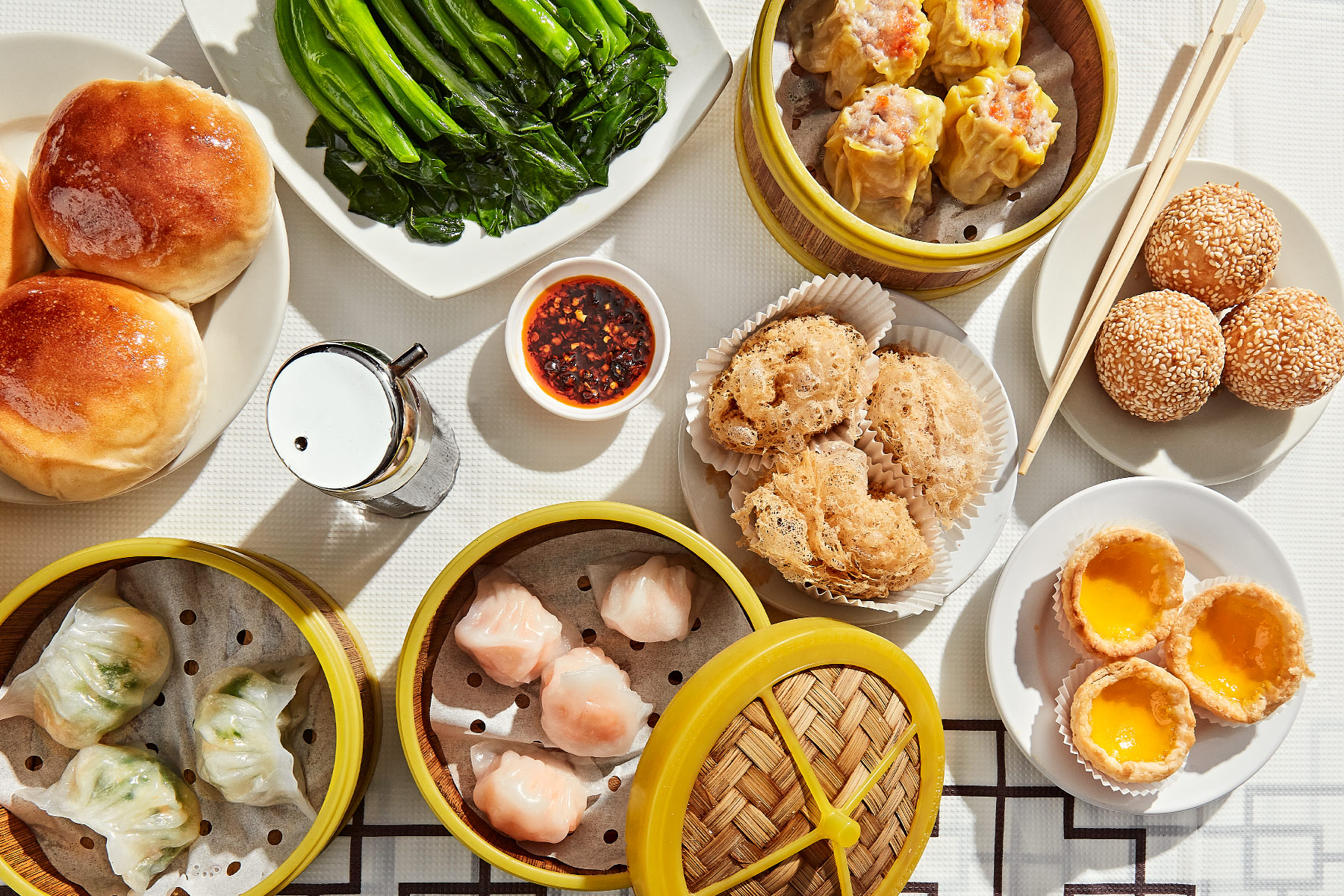 With gracious and efficient service, Kirin Court is known for its dim sum, which is served daily. On weekends, the line snakes down the stairs from the elegant dining room on the second floor. That wait? Well worth it for the stellar pan-fried taro or white radish cakes. Same goes for the shrimp and leek dumplings, whose translucent skins pop with freshness and flavor. Sticky rice bundles filled with pork and mushrooms are steamed in lotus leaves, which lend their fragrance. Dip them in Chinese black vinegar, soy sauce, and the incomparable, addictive, and insanely flavorful house chile oil. Finish the meal with something gently sweet: fresh-baked egg custard tarts whose crust is shattering and buttery.
221 W. Polk St., Ste. 200, Richardson.
The decades-old Asian dining oasis located in a Richardson shopping plaza boasts loyal regulars both Chinese and non—because dumplings are the ultimate unifier. Carts won't whiz by your table, so look to the menu for dim sum fare. We're partial to the xiao long bao, or "juicy dumplings" as it reads on the menu. You wouldn't be wrong to order a few baskets—the pork and crab is delightful, ditto the signature pork, but the Fiery Juicy Steamed Dumpling is a must. Its crimson-hued dough encases pork seasoned with tingly Szechuan peppercorn, and the broth intermingles with bright orange chile oil. The green onion pancake is wonderfully crisp and offers a crunchy counterpoint to all the delicate, tender dumpling bites.
400 N. Greenville Ave., Ste. 11, Richardson.
As carts shuffle past your table bearing steam buns and wrinkly dumplings filled with shrimp, don't be afraid to politely wave and point as a means of ordering. (During a crowded and busy brunch sesh, it's probably going to be necessary.) Chicken feet are a collagen-packed treat if you don't mind eating around tiny bones. Deep-fried shrimp balls are a crunchy fan favorite, as are the pork-mushroom-shrimp siu mai and almost floral-scented, lotus leaf–wrapped sticky rice. But don't sleep on the steamed egg custard buns and pineapple sweet buns with their crackly bright yellow tops. Pro tip: if it's not dim sum you seek, the roasted Peking duck dinner with pillow-soft pinch buns is some of the best around.
3555 W. Walnut St., Ste. E, Garland.
Eat Soup for Brunch!
Hear us out. Soup isn't just for sick days and cold nights. Bowls of bun bo hue, menudo, and savory porridge were born for late-morning slurping.
Mi Quang at Lá Me
There are other attractions, but we come for the sunny charms of mi quang, a soup with yellow turmeric noodles in a broth bobbing with hard-cooked egg, shrimp, seasoned pork, shredded lettuce, and roasted peanuts you accent with a showering of squeezed lime and a puffed rice cracker ready to perch jauntily on top.
9780 Walnut St., Ste. 140.
It's no secret that this Deep Ellum institution is a go-to for fine pulpo tacos or short rib birria. But we want to point you in a different direction: order the menudo. The deep-red broth obscures ridiculously tender cubes of tripe. It's simple and simply good, and better still when you slurp it alongside a glass of Champagne for a high-low brunch with a one-two punch.
2701 Main St., Ste. 120.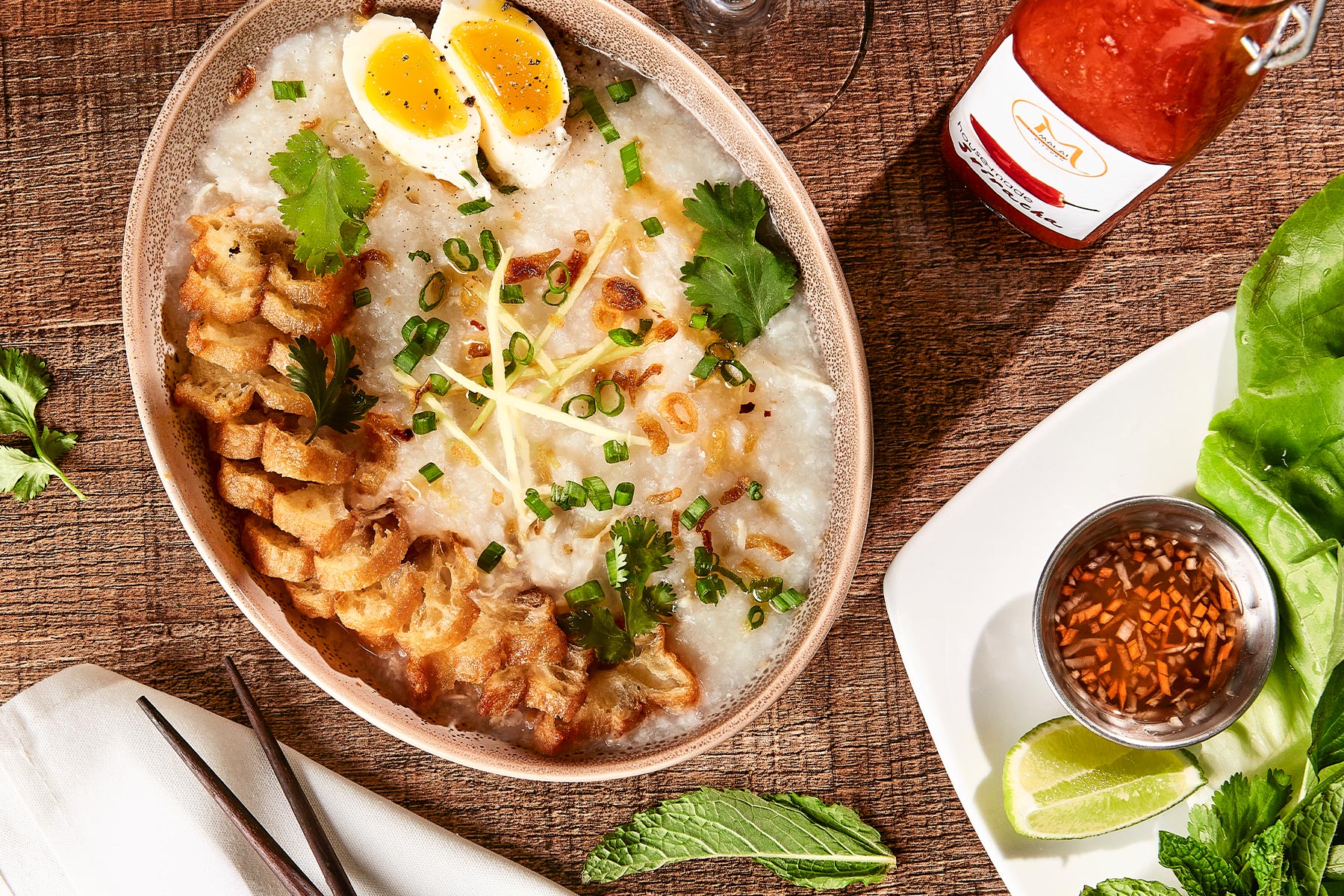 A steamy bowl of savory rice porridge can have myriad iterations and toppings. This one keeps it mostly classic. It arrives piping hot with curls of scallion. Eggs with jammy yolks bob on top like orbs of sunshine.
3699 McKinney Ave., Ste. 319; 1161 E. Southlake Blvd., Ste. 220, Southlake.
Named after its single, singularly soothing staple, Charm Juk ladles out Korean rice porridge, or juk. Bowls come topped with little mounds of powdered nori and sesame seeds and accompanied by soy-dressed mushrooms, spicy pickle, and marinated bean sprouts. There's nothing more comforting than the pine nut juk, a creamy, sweet bowl of goodness.
2625 Old Denton Rd., Ste. 302, Carrollton.
The fiery, oil-slicked beef soup is just what some mornings desperately need. Our favorite part: the homemade sausage cake studded with lemongrass stalk and the mounds of banana blossom and bean sprouts that tamp down the fire.
4413 W. Walnut St., Garland.
We routinely crave the crabby, tangy, sunset-​colored wonder that is bun rieu. Try Bistro B's, which has a light, fluffy crab cake and a broth based on the intense flavor of crawfish—their twist. The version at Phuong Nam, homey and beautifully executed, includes savory fried tofu, pork meatball, crab meatball, and a broth that's sweeter and more aromatic. Think of it as a tamarind-sour Vietnamese bouillabaisse.
Bistro B, 9780 Walnut St., Ste. 340; Phuong Nam, 4413 W. Walnut St., Garland.
This Is How We Day Drink
It's not hard to gin up a decent morning drink, but we respect any place that upgrades the average pre-noon cocktail to something worth seeking and, of course, worth drinking. These places have put a creative spin on the mundane mimosa or the basic Bloody Mary.
Hard Shake Mary
The Hard Shake Bar's version has ponzu to make it extra bright and kimchi juice to lean ultra savory, with skewered edamame and olives for garnish.
211 S. Akard St.
Je T'aime Matcha at Âme
Plantation Dark Rum, coconut cream, and bright green matcha tea powder take a spin on a cocktail shaker to become a lush, rich, and slightly caffeinated morning tipple.
The restaurant's take on the Paper Plane subs mezcal for bourbon in a coupe with Amaro Nonino, lemon juice, and Aperol. 2901 Commerce St.
If you want a hot morning drink that does double duty as a caffeine boost and booze buzz, then this Cafe Bustelo and Italian amari stunner is for you: fernet, Averna, vanilla cognac, and crème de cacao get your engine roaring in a vintage mug.
It uses the familiar whiskey and bitter base but adds a punch of coffee liqueur so that you don't sleep on the chicken and waffles (ahem, order that stat).
A silver julep cup bears a tipple of Italian amari—fernet, Averna—with house blackberry syrup and lemon. It sounds quite simple, and it is, yet the mixture is like grown-up lemonade with bitter notes that make this an easily chuggable drink.
Tomatillo Bloody Mary at Tulum
The vibrant green, tart, smoky tomatillo Bloody Mary can be made with mezcal (or tequila or vodka). Get it with mezcal.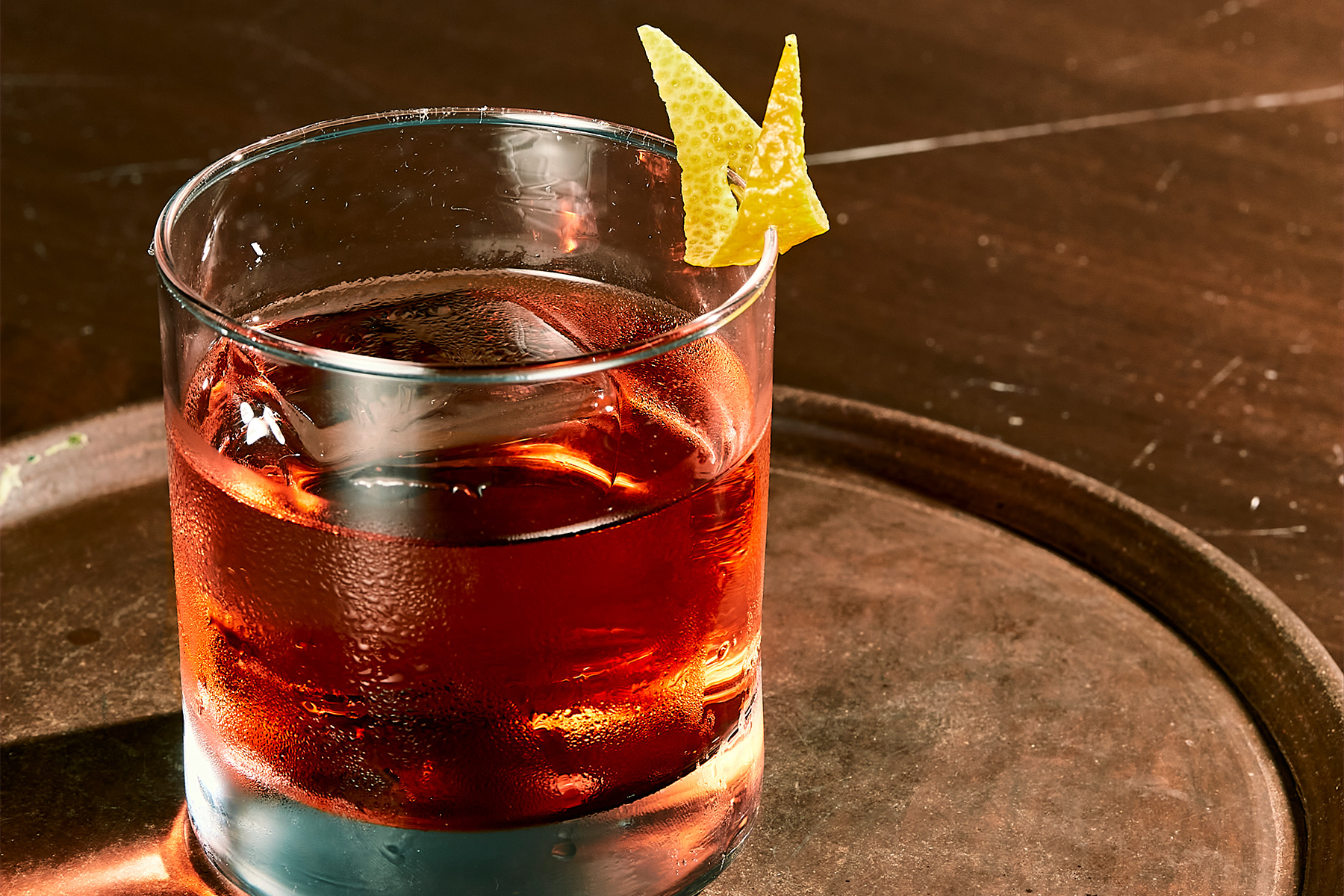 Any excuse to order a Negroni before noon is a good thing. This one, in which the coffee shop infuses Campari with Mexican-grown beans, should be the new breakfast of champions against which all morning cocktails are compared.
Not a particularly brunchy drink, but the thin ribbons of cucumber that delicately line a wine glass brimming with ice, gin, and tonic are an undeniably refreshing way to wash down a Spanish feast.