Just 15 minutes west of downtown Dallas is the city of Cockrell Hill, where mayor and civil engineer Luis Carrera, along with his son and landscape architect Luis Daniel Carrera, have been busy developing Stevie Ray Vaughan Park. It was a project that started last summer and will be open to visitors on April 22, with the inauguration kicking off a celebration starting at 2 p.m.
The park is located on the corner of Jefferson Boulevard and Cockrell Hill Road. Food and drinks will be provided by local food trucks and music and entertainment will include performances by the Stevie Ray Vaughan Tribute band, Texas Flood, along with other acts at the new stage area. The celebration will set a precedent for what the park will provide in terms of recreation.
"The idea of a park came after discussions of having a public outdoor gathering space for various events such as farmers markets, family movie nights, and public enjoyment." says Carrera.
Inspired by its namesake, Dallas native and Grammy-Award-winning artist, the late Stevie Ray Vaughan, the park is constructed at the site where Vaughan played his first gig in 1965 at the Cockrell Hill Jubilee, in what was then the Hill Theater. The Hill Theater was demolished in the 1970s after a fire and up until now, the area has been vacant and in need of a makeover.
"The vision for the park is to pay tribute to the legendary Stevie Ray Vaughan and create a space for public enjoyment, giving artists and musicians an area to promote their events and allowing families to simply enjoy the outdoors," Carrera says.
The park will have an area to accommodate four food trucks, a 25 x 25-foot stage, open lawn seating, a walkway, and plenty of shade trees for hot sunny days.
Vaughan's brother Jimmie Vaughan and his daughter Tina got a peek of the park last month during a visit to Dallas for the Jimmie & Stevie Ray Vaughan: Brothers in Blues movie. The Vaughans also got to see the work of muralist Steve Hunter on display at the park, which depicts key moments throughout Stevie Ray Vaughan's life.  
Parkgoers can learn about and connect with the blues legend while walking along the grounds where Vaughan debuted his musical talent in blues rock. There is no shortage of excitement about the future of park, and there have even been talks about a possible concert by Jimmie Vaughan within the next year.
Get the FrontRow Newsletter
Get a front row seat to the best shows, arts, and things to do across North Texas. Never miss a beat.
Author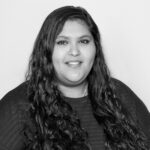 Aileen is the research editor for D Magazine and D Home. A proud Dallas native, she is happily getting the…