Polo "Polito" Plascencia, Kalid "Kalid Abdul" Robledo, and Alex "Bleu Santana" Olmos are CHROMA, a bilingual rap group that wears Dallas on its chest but sounds like a mix of A Tribe Called Quest and Tyler, the Creator.
Their heavy hip-hop influence and catchy melodies carry each listener through a mix of singing and rapping. They're a new Chicano rap group that still feels familiar to the Latinx community in Dallas. Representing the 214 proudly, the group is also in tune with its Mexican background by mixing Spanish and English lyrics. "It is a different avenue of expression, we get to represent that side of us," says Plascencia.
The three members have known each other since elementary school but didn't form a group until 2017. They bonded over music. It was only natural that creating music would bring the three together.
"I like expressing myself through different mediums, I always wanted to try music since I loved it so much growing up," Plascencia says.
CHROMA released their first mixtape in 2019, "The Year of the Puma." The twenty-something-year-olds dove into subjects that are significant to each of them.
"With the song 'Greyhound' we touch on the fear that some immigrants live with while being in this country," says Robledo, who moved to Dallas at the age of two from San Luis Potosi, Mexico.
The song was recorded around the time of the mass shooting in El Paso on Aug. 3, 2019, where a White gunman drove from North Texas to El Paso to kill Latinos. For CHROMA, these topics are a reality and they view it as their responsibility to address in their music. "That album was the truth of our youth," Robledo says.
The debut mixtape was a learning experience for the group and its sophomore effort is more polished. "Primavera" was more of a first step toward the band's full potential. The mixtape was a collaboration with the Arlington singer A-Wall, and their featured single "Whatcha Say?" has more than 3 million plays on Spotify.
CHROMA produced the album during the pandemic and managed to keep their sound and flow steady.
"It was interesting being apart but still being able to match each other's energy", says Olmos.
The group was able to pull off an album that exceeded their expectations, despite having to record and produce while not being physically together at times.
Their new single "Volaré", which translates to "I will fly" in Spanish, kicks up the tempo and nails down wavy choruses and funky beats. The lyrics are a play on the theme of flight and being able to achieve dreams and desires.
"Yo volaré a donde estés, por la cuidad…" (I will fly to where you are, around the city…) makes this the perfect tune for a late-night drive through the Dallas city streets. The band is eager to release new music for their listeners, many of whom they got to meet during a recent tour with A-Wall through major Texas cities. The crowds were welcoming, and the band was able to meet followers from their Instagram that frequently comment and show support on social media.
"Going to the corners of Texas and meeting people who make signs and bracelets for us…it's inspiring," Olmos says. This single is a taste of an anticipated project coming out early 2023.
For now, "Volaré" soars at the top of our playlist.
Get the FrontRow Newsletter
Get a front row seat to the best shows, arts, and things to do across North Texas. Never miss a beat.
Author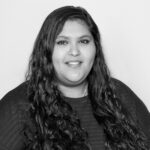 Aileen is the research editor for D Magazine and D Home. A proud Dallas native, she is happily getting the…